E.W. Scripps Co. (NYSE:SSP) recently reported second-quarter profit of 4 cents a share. This compares with the Zacks Consensus Estimate of a loss of 11 cents and a year-ago net loss of $11.20 a share.
Quarterly net revenue fell 22.7% year over year due to lower advertising sales at its television and newspaper divisions. Further, shrinking licensing revenue and royalty payments also hurt the top-line.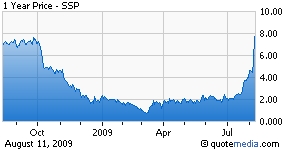 Newspaper revenue in the quarter declined 22.1% year over year to $113 million. This was due to lower local and classified advertising sales, particularly weak automotive, financial services and retail category advertising. However, circulation revenue grew 2.1% year over year to $28.6 million. Online revenue was down 25% to $7.3 million due to softness in print classified advertising. Newsprint pricing and ink costs dropped 37% due to lower paper usage.
In the Broadcast Television segment, revenue fell 24.1% to $61.1 million year over year. Advertising revenue shrank 26% to $37.3 million in the local and 29% to $16.9 million in the national segments, but rose 108% to $33 million in the political division.
Licensing and other media segments witnessed revenue decline of 21.6% year over year to $20.3 million. The global economic slowdown continued to affect licensing revenue as reduced consumer spending resulted in lower sales of licensed retail merchandise. Royalty payments also declined 21% to $18.4 million.
Through stringent cost cutting measures and efficient allocation of resources the company plans to improve its financial strength.
E.W. Scripps has a strong balance sheet with a long-term debt of $73.1 million and a debt-capitalization ratio of 14.7%. Capital expenditure (capex) was $24.1 million year to date and is expected to be below $50 million for the full year.