The average stock that has reported earnings this season has gained roughly 0.20% on its report day. (For stocks that report before the open, we use that day's change. For stocks that report after the close, we use the next day's change.) Below is a list of the stocks that have had the best one-day reaction to their earnings reports so far this season.
As shown, Taylor Capital (NASDAQ:TAYC) currently ranks first with a one-day gain of 19.03%, followed by Supervalu (NYSE:SVU) at +16.84% and iGate (NASDAQ:IGTE) at +11.38%. United Rentals (NYSE:URI) and Yahoo (NASDAQ:YHOO) round out the top five. Other notables on the list of winners so far this season include Johnson Conrols (NYSE:JCI), UnitedHealth (NYSE:UNH), Morgan Stanley (NYSE:MS), and Bank of America (NYSE:BAC).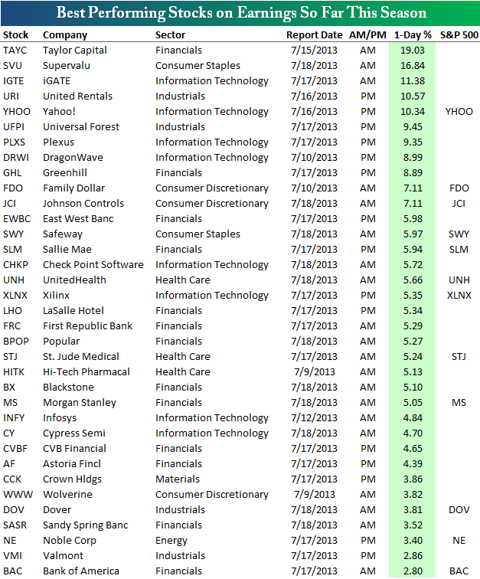 On the downside, JAKKS Pacific (NASDAQ:JAKK) has had the biggest one-day decline on earnings at -35.28%. SemiLEDs (NASDAQ:LEDS) ranks second worst at -15.85%, followed by Ultratech (NASDAQ:UTEK) at -11.15%. Other notables on the list of earnings season losers include Sherwin-Williams (NYSE:SHW), eBay (NASDAQ:EBAY), Intel (NASDAQ:INTC), American Express (NYSE:AXP), and Coca-Cola (NYSE:KO).