This article outlines the case for why Nokia (NYSE:NOK) is on a growth trajectory and why now is a great time to be an investor, as we are witnessing a turnaround in the making.
The Case for Growth
There are 2 business units within Nokia that will be the core drivers of revenue growth.
NSN specializes in research, development and marketing of mobile communication infrastructure and is an enabler of mobile broadband services. This is a market that has been experiencing sustained growth driven by consumer appetite for heavier internet consumption on the go.
Devices and services are releasing innovative new devices both in the high-end where the Lumia range is gaining traction running on Microsoft's (NASDAQ:MSFT) Windows Phone. They are also pushing the boundary on what a device in the $50-$100 range can achieve with Asha. Devices to meet all price points will be supported by the carriers who have a vested interest in breaking the duopoly of Google (NASDAQ:GOOG) Android and Apple (NASDAQ:AAPL) iOS.
Windows Phone vs. Android/iOS duopoly
Android has been a runaway hit accounting for over 70% of the market share in Europe, according to the latest Kantar world panel report ,with iOS in the second spot at 18%, leaving the rest to share single digits.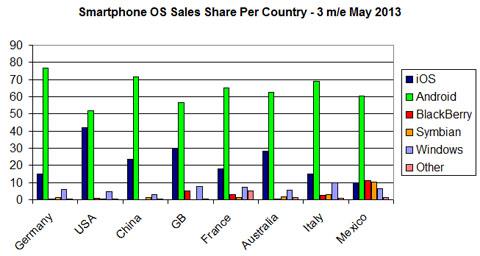 The above graph helps visualize the vast difference in sales share between the first two and the rest. It does seem, however, that Windows Phone is emerging as the third ecosystem, which means that Blackberry (NASDAQ:BBRY) is increasingly heading towards irrelevancy.
The main strengths of iOS and Android can be summed up as:
While this is the situation today, we will investigate some weaknesses of the leading mobile operating systems and make the case for Windows Phone and its leading manufacturer to make inroads and further increase their sales share.
Android weaknesses:
1. A Fractured development ecosystem as can be seen on the Android Developers Dashboard, a snapshot of which has been included below.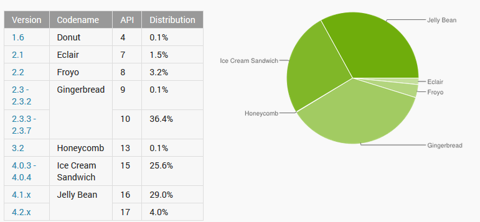 Roughly about 1 in 3 devices running on Jelly Bean, just over 1 in 3 running on Gingerbread and about 1 out of 4 on Ice Cream Sandwich, with some Eclair and Froyo leftovers. It is a developer's nightmare to attempt support for all major platforms and at the same time a fraudster's dream, as older versions are likely to suffer from multiple security vulnerabilities, which takes us on to the next point.
2. Security - Or lack thereof. Android is generating publicity for all the wrong reasons of late. Here is just a small sampling of the latest Android security scares to make headlines over the past few weeks:
Meaning of Android weaknesses
The Android image is getting tarnished by security flaws and is becoming associated with no-name generic Chinese manufacturers that have adopted it en masse.
IT

departments

are

pushing

back on Android adoption for BYOD (Bring Your Own Device) on security concerns, since it becomes more akin to Bring Your Own Danger.
The fractured

ecosystem

generates

more opportunity for viral apps than for developers who want to release their application with the broadest possible reach.
Weaknesses in Android present an opportunity for both iOS and Windows Phone. However, iOS too has its own headwinds.
Weakness in iOS
Security - If we should be concerned about Android we should be even more concerned about iOS,

as

contrary to popular belief, Symantec (NASDAQ:SYMC) has labeled iOS as the mobile OS with the most vulnerabilities in their most recent internet security threat report.
Documented Vulnerabilities per Platform

| | |
| --- | --- |
| Platform | Documented Vulnerabilities |
| Apple iOS | 374 |
| Android | 13 |
| Blackberry | 13 |
| Nokia | 0 |
| LG Electronics | 0 |
| Windows Phone | 2 |

More vulnerabilities doesn't directly correspond to increased threat, as that has been reserved for Android. However, such a vast difference in documented vulnerabilities compared to the other platforms does not inspire confidence either.

Lack of innovation in the devices released.

While

not

a weakness in iOS itself, excitement in the iPhone is waning on a global basis. The iPhone 5 released in 2012 is not substantially different to the one first released 6 years ago. As if that's not enough, Apple (AAPL) is dithering on whether it should create a smaller and cheaper iPhone or an iPhone with a different form factor and is merely playing it safe releasing another has-been on every launch, squandering the invaluable lead it has enjoyed against its competitors, who have caught up and are challenging the iPhone on specs and features.
It is without doubt that Apple instigated the creation of several new industries with the release of the iPhone, app store and iPads. This has rewarded Apple handsomely with a very large cash pile. However, looking forward, Apple needs to put its cash to good use and spur real differentiating innovation once again, as the competition is presenting real challengers when it comes to smartphone devices. Apple has remained largely muted on the innovation front. This has allowed the competition to cast themselves as the new innovators.
What iOS and Android weaknesses mean for Nokia
Competitor weaknesses can be turned into Nokia's strengths.
Security. With 78% of consumers concerned about mobile security threats and surveys (I, II) highlighting how mobile security is becoming a top concern in the enterprise, weaknesses in the leading ecosystems leave space for a new entrant that

addresses

security better. According to Symantec, Windows with its 2 documented vulnerabilities and Nokia with 0 deserve the attention of the security conscious consumer and enterprise.
Innovation. Since the last iPhone device launch, Nokia has managed to introduce a whole new range of devices working on Windows Phone 8 with new and innovative features not seen anywhere else (low-light OIS camera, wireless charging, high fidelity sound recording, 41MP PureView just to name a few).
Development fragmentation. Less fragmentation is what we want as it means more widely available applications and decreased effort by developers to multi-target.
While Android is weak on this count, Apple is the strongest with 94% of customers according to apple on iOS 6, which is admittedly impressive. Microsoft introduced fragmentation of its own by making the conscious decision not to allow upgrades to version 8 from version 7 devices. However, this is not nearly as bad as the situation in the market leader Android. Windows Phone 8 adoption is already up at 64% in June from what was just 31% in March according to adduplex. M

ore

than doubling the share of devices on the latest Windows Phone OS in the space of 3 months shows the momentum of the new platform and how fragmentation is becoming less of an issue as time goes on.
Nokia and Microsoft are developing a compelling proposition to both consumers and businesses, which I will expand on.
Nokia & Windows Phone - Consumer Segment
This is a weak area for Microsoft and by extension Nokia, which is reliant upon Windows Phone. The loudest drag by its absence is the collection of missing apps.
However, Microsoft is pushing ahead and keeping a lower profile this time around while focusing on shipping instead of making announcements.
Things Microsoft is doing to improve the situation in the consumer segment:
Expansion into retail with partnership with Best Buy (NYSE:BBY),

which

will

offer

a

retail

presence to Microsoft and its hardware partners like Nokia in 600 stores.

Attract

ing more developers by

enabling them

to monetize their apps easier by removing consumer purchase barriers through expansion of mobile operator billing connections (30 carriers connected across 20 markets so far, already ahead of Google play) and new payment options like PayPal and Alipay in China with over 800 million subscribers. Onboarding promotions offering publishing access to developers for $19 as opposed to the regular $99 also

decreases

the

barrier to entry and experimentation.
Addressing of issues with incremental general distribution releases (GDR) until Windows Phone Blue (8.1) is released that will reportedly fix many of the Windows blues. (Notification center, VPN)
Nokia has a partner who is hard at work to make the Windows Phone platform a retail success. On the political front the promotion of the Windows Phone Division head Terry Myerson to EVP of the Operating Systems group in charge of all operating systems shows just how important Windows Phone is in Microsoft's overall strategy.
Nokia and Windows Phone - Business Segment
The retail consumer is only one side of the opportunity in Windows Phone.
The corporate front probably presents the greatest opportunity for Nokia and Windows Phone. Microsoft has already done a large part of the job by gaining a significant foothold in the enterprise over the years and establishing their moat in the form of server and tools. Why is this important when one might argue that Windows 8 adoption rate has remained lackluster?
There is great opportunity presented in the form of the next corporate upgrade cycle. Corporations will not upgrade on every single new release that Redmond serves out. Here are some reasons of why we can expect the OS upgrades to pick up early next year.
Nokia stands to benefit, as the market leader of the business ready Windows Phone OS.
Integration with Microsoft's corporate moat and security will be in the spotlight for IT decision makers who want it all at a lower total cost of ownership. The Lumia range allows the IT departments to choose their cost of ownership of their mobile platform from the $120 mark of the Lumia 520 to the high-end 925 or even 1020. The platform readily integrates with Microsoft products and ticks the security check box were Android miserably fails and where even iOS has lost its shine.
A success story in corporate adoption could be the catalyst that brings the necessary critical mass to the platform that in turn will help capture even more developer and consumer mindshare.
Carrier Support
While Nokia notoriously languished in carrier support in the past, especially in the US market, it appears that there is a tide of change brewing.
Carriers are willing to push Windows phone more aggressively as they have a vested interest.
Incentivizing users to upgrade to the "new"

platform

is an easier promotional sell for the carriers. Someone is unlikely to replace their existing phone if they can already do all they need on it (whether Android or iOS). Promoting the novelty in Windows phone supported by excellent hardware from Nokia that differentiates itself from the competition can add a boost to a revenue stream for the carriers.
It doesn't look like the carriers are likely to be playing on Apple's terms. I

t

can, after all, result in a costly

exercise

,

according

to reports that

surface

d indicating an estimated shortfall of $14

billion

in iPhone commitments from Verizon (NYSE:VZ) that will need settlement in some way. In Russia, VimpelCom (NYSE:VIP), MegaFon and Mobile TeleSystems (NYSE:MBT) have separately decided not to offer the latest version of the iPhone,

according

to reports (I, II).
Carrier support will inevitably result in free marketing for Nokia from leading carriers around the world and improved in-store awareness by sales people and product placement.
While marketing efforts from the carriers have languished, AT&T (NYSE:T) Mobility renewed its commitment to its partnership with Nokia via its CEO, Ralph de la Vega, who was also present at the 1020 launch event. In response one question from Forbes blogger Joan Lappin, Elop responded by saying that we can expect more to come and constant improvement:
What you'll see with the launch of the Lumia 1020 is something far better than we've done ever before with AT&T but it won't be as good as we do with the next major launch later this year and on and on. [...] We're very pleased they're committed and standing behind us every step of the way as we grow with them."
If the trend of diversifying into Windows Phone that has been started by the likes of
continues with other carriers, one can see the growth potential for both Windows Phone and Nokia. Already, this is a formidable line-up of world leading carriers.
Asha Platform
With all these efforts in the US aiming to push the high end Lumias, one would be forgiven to think that Nokia's fate is soley attached to Windows Phone. While Windows Phone is a very important market for Nokia, it is only one of the cylinders in Nokia's growth engine. The other comes in the form of the evolution of what once was Series 40 and subsequently Asha. The New Asha platform.
Nokia has been releasing a series of devices targeting emerging markets that have smartphone capabilities but with a focus on long battery life and compression technologies that enable the devices to remain responsive even in areas where network coverage is slower or patchy.
Through its investment in Swype and acquisition of SmarterPhone, Nokia is now seeing the culmination of these efforts included in a single product. The Asha 501 retailing in emerging markets for $99.
Emerging markets are host to a very price sensitive consumer market. According to Jana Research 4 out of every 5 phones sold cost under $200, 1 out of 2 under $100 with 1 in 3 under $50.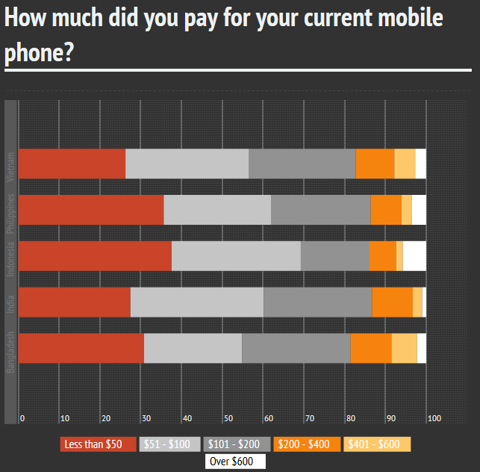 The Asha portfolio of devices is addressed to precisely this market segment at the sweet spot between $50-$100. Many users will experience the internet for the first time through such a device.
Peter Skillman of the Nokia design team showcases the innovations in the Asha platform and 501.
What one may find surprising is that the Series 40 is the most widely deployed platform in the world right now with an estimated 675 million devices in use every day and an app ecosystem of its own, generating 17 million daily downloads and growing. (Source: Nokia developer)
There are success stories such as Disney's (NYSE:DIS) UTV Indiagames that crossed the 100 million download mark on the Nokia store in June last year and the 200 million mark this past February. Yes, this was achieved on the Nokia Store.
It is also often overlooked that Nokia is still in fact expanding its very own ecosystem with the Nokia Store and enticing developers and users alike by removing payment barriers and growing support for carrier billing with a focus on emerging markets. This is a win/win for users and developers. It encourages people to download paid apps without the hassle/trust issues that a credit card carries and at the same time offers developers another reason to adopt the platform, increased monetization opportunity:
Nokia is also marketing the Asha platform and devices as enterprise-ready featuring mail for exchange.
Nokia's emerging markets strategy complements the adoption of Windows Phone for the high-end and allows Nokia to put its focus and resources on perfecting a single platform (s40 now New Asha).
Nokia Device Sales
While a valuation is forward looking, let's have a look at the device sales over the past quarters in order to establish if there is an emerging underlying trend, ignoring seasonality for this exercise.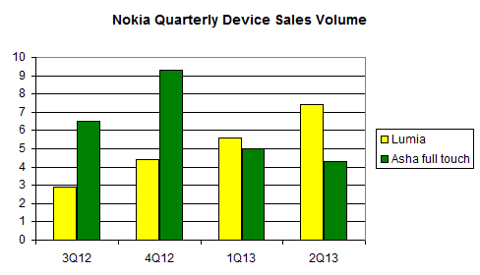 Results are mixed so far. It appears that Lumia is on a steady growth trajectory volume wise, whereas the Asha full touch volumes have been on the decline after 4Q12. The late release of the Asha 501 means that it could not have impacted sales during the past quarter. Its impact will be assessed in Q3. Elop set the tone for more focus in Asha:
Towards the end of the second quarter, we started to ship the Asha 501, which brings a new design and user experience to the highly competitive sub-100 USD market. While we are very encouraged by the consumer response to our innovations in this price category, our Mobile Phones business unit is planning to take actions to focus its product offering and improve product competitiveness.
Average Selling Prices (EUR)
| | | | |
| --- | --- | --- | --- |
| | Average | Smart | Mobile |
| Q1/12 | 51 | 143 | 33 |
| Q2/12 | 48 | 151 | 31 |
| Q3/12 | 43 | 151 | 31 |
| Q4/12 | 45 | 186 | 31 |
| Q1/13 | 47 | 191 | 28 |
| Q2/13 | 45 | 157 | 26 |
The introduction of the low-end high volume Lumia 520 has meant that the ASP of Smart Devices has come down $34 when compared to the previous quarter, but it is still ahead of the ASP of the same quarter last year.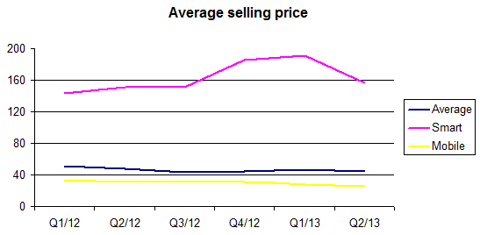 I expect the introduction of the high-end Lumia 1020 to counter the effect of the Lumia 520 on the ASP of smart devices, giving it a nudge upwards in the coming quarter. What appears to have gone on a downward spiral is the ASP of Mobile devices, down to $26 without a comparable increase in volume. However, this drop has contained the rate of volume decrease to approximately 4% qoq. While Nokia has shown that it can squeeze margin out of a $15 device, which is good on the short term, Nokia's success is tied to its execution in Smart Devices.
NSN
NSN is one of the world leaders in deployment infrastructure, coming second in terms of revenue in Q1 2013 only to Ericsson (ERIC), according to Infonetics Research. The report also forecasts that LTE infrastructure expenditure alone is forecast to grow at a 16% CAGR.
According to Ericsson's June Mobility Report, mobile broadband and mobile devices are expected to total 8 billion subscribers by 2018. Such growth will be supported by the carriers that perform the necessary capital expenditures to ensure their relevancy in this future market.
The same report also cites that the majority of people in Latin America will first become regular internet users over mobile networks. This also gives an added importance to the mobile devices that will enable such access. Nokia stands to gain both with NSN and through its competitively priced handset offerings.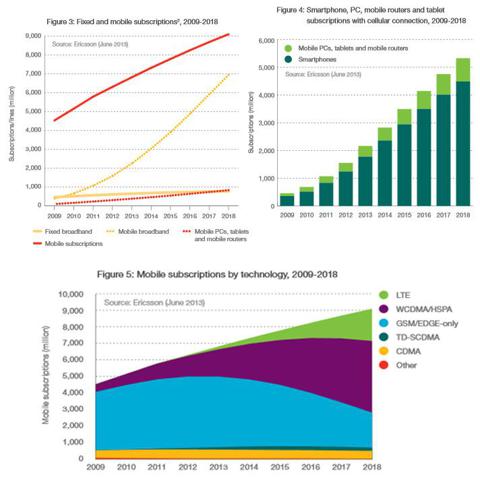 Nokia will now own one of the market leading vendors of 3G and 4G infrastructure as a wholly owned division.
Other authors have written about the recent NSN acquisition by Nokia (I, II) and the depressed valuation at which the transaction is being made. I just want to point out the kind of growth industry in which NSN is operating that can add to Nokia's bottom line considering the restructuring efforts that have taken place and are showing signs of success.
Specifically, the restructuring efforts have focused on the divestment of non core assets, in order to shift the focus towards the higher margin LTE business that can provide growth. The following divestments have been completed as part of restructuring efforts since December 2011, listed in reverse chronological order:
This has resulted in a leaner NSN, which is reflected in its recent financial performance, five consecutive quarters of positive operating margin and seven consecutive quarters of positive free cash flow.
The latest operating margin exceeded expectations at 11.8% ,which is already ahead of where the market leader Ericsson wishes to be. "Our ambition is to get to 10 percent," commented Ericsson CEO Hans Vestberg on the latest miss. Whereas, in the most recent quarterly earnings report Elop commented:
"We're pleased to report an underlying operating profit for the fourth consecutive quarter on a group level. We
benefited from another strong performance at Nokia Siemens Networks, which continued to deliver well against its
focused strategy. With our recent announcement to purchase Siemens' 50% stake in Nokia Siemens Networks, we
believe we will create value for Nokia shareholders and look forward to strengthening Nokia Siemens Networks as
a more independent entity"
The trend on a quarterly basis is showing sustained underlying profitability in NSN. This coupled with the fact that NSN is operating in a growth industry means that it merely needs to continue the trajectory it has established over the past few quarters to create value for shareholders. I expect Nokia's strategy to lead to an appreciation of the market valuation of NSN and by extension that of its parent company, Nokia.
Looking ahead
We're fresh from the recent release of the 41MP camera phone, that has generated plenty of positive press for Nokia. Innovation does not stop with this latest release. Nokia is teasing another event scheduled for 19th September without any indication as to what that could relate to.
In any case here is a brief list with product features in the pipeline that we can expect from Nokia:
Quad core processor on Windows Phone and support of 1080p resolution if the Visual Studio 2013 emulator shell is a good enough hint.
A phablet or even a tablet.
Support for stereoscopic 3D photo and 3D video recording. 3D objects that one will be able to print from their personal snaps by hooking up a 3D printer and tapping on "Print."
Array Camera
One of the more exciting innovations is coming in the form of Nokia's joint investment with Qualcomm (NASDAQ:QCOM) in Pelican Imaging, which has developed 'a "revolutionary new array camera for mobile devices, providing depth at every pixel"' in Pelican's own words. Indeed, it is as revolutionary as it sounds. The technology enables refocusing of images after their capture.
According to Forbes, we could expect to see such a camera on a phone as soon as 2014 as there is an agreement with an OEM. The OEM that happens to be on the board of directors of Pelican is Bo Ilsoe from Nokia Growth Partners.
If there is a device that will bring this technology to market next year, it will be a Lumia.
Nokia is on a mission to wow us consistently and build up the brand image of a true innovator.
Marketing
Finally, what will push these devices is a dose of effective marketing. Nokia is rethinking its Marketing strategy as that of a challenger brand. This translates to a change in tactics, from raising awareness (basically saying we're here too, folks) to showcasing what sets Nokia apart from its competition. Here is a sample of some recent infomercials to come out of Nokia.
Nokia is not alone in its marketing efforts. As mentioned earlier, the carriers have good reason to start putting some weight into marketing Windows Phone and Nokia. Nokia also stands to benefit from Microsoft's increasing efforts on this front.
In any case, marketing efforts are improving and one can't ignore the marketing effect of being constantly in the spotlight of the media with the buzz that continuous device launches every few months generates. While some of the prior launches have been corporate fails, it was refreshing to see Elop step in and deliver a great presentation with key team members on the launch of 1020.
Conclusion
While there are areas of weakness, most notably from the latest quarter Asha and feature phones, it's encouraging to see the pace at which Nokia is beginning to deliver. Overall, we're seeing a more focused Nokia in the Business Units that will make the difference. I have purposefully omitted Location and services and royalties from patents as I don't expect these to be the catalysts of Nokia's growth.
Having said that, I believe that Nokia is positioned for strong growth. I expect this to be led by NSN and the Devices and Services divisions, which will provide steady growth of the overall market cap of the company from the current $15B. We are witnessing a turnaround story in the making and any sell-offs or overall market weakness would present a great entry point for accumulating Nokia shares at an even further discount.
Continuous innovations, with the quality of Nokia on the back of growing ecosystems that are gaining traction (Windows Phone/Asha), increasing carrier support and improved marketing efforts will position Nokia as a growth leader in the smartphone industry, steadily recapturing market share that will enable the economy of scale to profitability.
While profitability in devices and services may take a few quarters to pan out, NSN is there already. Nokia is setting itself up for success with the solid partnerships it is forming. I am therefore an investor in Nokia's future and part of what I believe will be a successful turnaround story.
Disclosure: I am long NOK. I wrote this article myself, and it expresses my own opinions. I am not receiving compensation for it (other than from Seeking Alpha). I have no business relationship with any company whose stock is mentioned in this article.
Additional disclosure: Any information presented herein does not constitute investment advice and is the authors personal opinion. Investing in equities carries significant risks, consult with a licensed professional before making any investment decision.