The path which Italy must take to reach the recovery is narrow. The ECB has guaranteed that in the eurozone it won't be possible to recur to a higher inflation rate and has reminded Italy, a country that is going through a recession, that the economic recovery is only possible through the reforms. And that no exceptions will be made to the commitments that Italy has taken towards Europe.
The Italian government therefore has very limited room for maneuver as it attempts to meet its 3 percent budget deficit target.
It should, however, find ways to finance the recovery of the economy and get the country out of recession and that will not be done either with the VAT increase or with the confirmation of the IMU tax (municipal real estate property tax) on the main home. Even more serious might be the repercussions that would have a possible tightening of the tax burden on consumption, growth and employment.
And the latest figures estimated by ISTAT (the Italian National Statistical Institute), on consumption, unemployment and growth are not encouraging (let us use a euphemism).
Data on an economy that is not growing
Italian GDP data are troubling: In the first quarter of 2013, GDP fell by 0.6% compared to the previous quarter and 2.4% compared to the first quarter of 2012, according to recent estimates by ISTAT (as of July 16, 2013)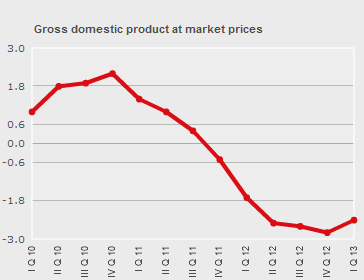 Source: www.istat.it/en/
In the first quarter of 2013 exports fell compared with the previous quarter by 1.9%, marking the worst result since the first quarter of 2009
Industrial production in April 2013 decreased by 0.3% from March, and 4.6% compared to April 2012. The -4.6% recorded is the 20th consecutive fall on a trend basis, as pointed out by Istat.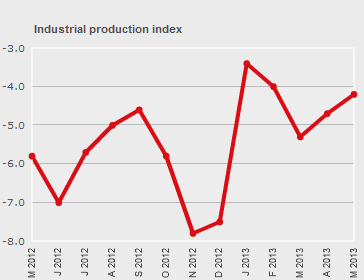 According to a study of Cgia, the association of craftsmen and small businesses of Mestre city (Italian: Associazione Artigiani Piccole Imprese Mestre), between 2008, and 2012, the failure of companies which are victims of delays or non-payment on the part of public and private clients have more than doubled (+ 114%). According to the Cgia the Italian government debt to companies is about 120 billion.

A way to find the necessary resources to be allocated for growth is collecting money from tax evasion. In the years 2000-2012, thanks to the fight against tax evasion EUR 807.7 billion has been recorded to the taxpayers' roll, but only 69.1 billion has been collected. But from the residual load of Euro 545.5 billion only a part is collectable, because EUR107.2 billion is related to persons that are in bankruptcy and Eur 20.8 billion is related to those taxpayers that will pay by installments due to their temporary objective difficulties.
Unemployment figures
The unemployment situation in Italy is very serious. According to recent OECD estimates that are written in its Employment Outlook 2013, the number of precarious workers under 25 years has doubled in 12 years, rising from 26.2% in 2000 to 52.9% in 2012. Although, as you can see from the figure below, the rate of youth unemployment (15-24 years) is 38.5% in May, 2013, it shows a decrease of 1.3 percentage points compared to the previous month. However, it is up to 2.9 points when considered on an annual basis.

Source: ycharts.com
Ministry of Labour and social partners are currently working to find an agreement on two possible solutions: the apprenticeship short (two years) and extension of tax relief for the transformation of fixed-term contracts into open-ended contracts. The second solution was also advocated by the International Labour Organization (ILO) during the presentation of its World of Work Report 2013: repairing the economic and social fabric. In the tab on Italy the ILO explains that ''Italy needs to put more effort to encourage the processing of fixed-term contracts into permanent jobs.''
Regarding the overall unemployment, this is 12.2% in May 2013, which is the new all-time high rate according to Istat.

Data on Consumptions
Istat in 2012 detects a decline in non-food spending by 3% below 2,000 euros per month, while spending on food remains virtually unchanged in 2012. The average monthly expenditure per household is equal, in current values, to 2,419 euros, a decrease of 2.8% over the previous year.

Food spending is practically stable: it decreased only 1.9% from 477 to 468 euro. This reduces the cost of bread and cereals, meat, milk, cheese and eggs, compared to an increase in spending for drinks.
With regard to the purchase of food Istat noticed that in 2012 the purchasing behaviour implemented by the Italian households changed in order to cope with the increase in prices. The Italian households reduced the amount "and / or quality" of at least one of the food items purchased and increased purchases from hard discounters, mainly at the expense of supermarkets, hypermarkets and traditional shops.
Istat announced that the inflation increases of 0.3% in June from the previous month and 1.2% in relation to June 2012 (+ EUR 604 in a year).
The non-food spending falls by 3% below 2000 euros per month: clothing and footwear (-10.3%), for furniture, appliances and household services (-8.7%) and for time leisure and culture (-5.4%), but an increase of 3.9% of the costs for fuel and energy.
The recession did not spare even the end-of-season sales. The first week of end-of-season sales closes with an average decline of 15% of customers spending over the same period of 2012, according to a survey conducted by Fismo-Confesercenti, on a sample of traders of some major Italian cities. The fashion shops complain that there is no queue of people anymore during end-of-season sales.
The fight against tax evasion and the payment of debts of the public administration will surely provide liquidity to be allocated to growth and employment, but now Italian households and businesses are asking something of the Italian Government: do not increasing VAT and cancel IMU tax on the main home. Can the Italian Government keep its promise?
Disclosure: I have no positions in any stocks mentioned, and no plans to initiate any positions within the next 72 hours. I wrote this article myself, and it expresses my own opinions. I am not receiving compensation for it (other than from Seeking Alpha). I have no business relationship with any company whose stock is mentioned in this article.