Quicksilver Resources, Inc. (NYSE:KWK) produces the majority of its oil and natural gas in six major geographical regions, namely Barnett Shale, west Texas, Niobrara, Horn River, Horseshoe Canyon and the Rockies.
The company faced challenges with the price of natural gas in 2012, when prices were at their lowest point in a decade. During the same year, it faced a 50% drop in the value of associated natural gas liquids. Although Quicksilver has been working diligently to diversify its product mix, natural gas and natural gas liquids account for more than 95% of Quicksilver's production. The company posted a decline in revenue and earnings for the year 2012 -- which continued to decline in the first quarter of 2013.
As of December 31, 2012, the company reported that 88% of its reserves as proved developed. It reported proved reserves of approximately 1.5 trillion cubic feet, which comprise 76% of natural gas equivalents, 23% of NGL, and 1% of crude oil and condensate.
Key Takeaway
The company has been successful in two new oil projects, with the Niobrara play in northwest Colorado being the most

successful. After

successfully drilling test wells, Quicksilver executed an agreement with Shell Western E&P to combine their respective acreage positions.
The company has also begun producing oil from two of its initial test wells in west Texas.
In 2012, it was confirmed that Quicksilver made a major gas discovery in the Horn River Basin in northwest British Columbia. Within the same year, it launched its first multi-well drilling pad online. The eight wells on this pad tested individually at rates between 23 and 34 million cubic feet of gas per day, proving to be by far the best wells in the company's history.
The federal and provincial governments of Canada are supporting aggressive plans to export natural gas from the Canadian west coast. With this encouragement and a compelling economic arbitrage to Asian markets, several LNG projects have been announced and permitted. This has sparked significant interest from countries and companies who wish to secure long-term gas supplies.
Quicksilver has primarily focused on cutting down its capital expenditures during the forthcoming years in an effort to generate positive operational cash flow and create a strong current asset base. The company estimates the capital expenditures during 2013 to be approximately $120 million for all six of its locations. It has already incurred $24 million of which roughly $11 million was used for drilling and completing projects, $7 million to purchase land, and $6 million for capitalized interest and overhead costs.
Concerns
Quicksilver plans to sell parts of its large asset base [pdf] to reduce its debt. Compared to its equity, Quicksilver's long-term debt-equity ratio stands at -175%, with a reported long-term debt of $2.1 million for the first quarter, which ended March 31, 2013. This is compared to a negative equity of $1.3 million. Quicksilver is focusing on de-levering its balance sheet.
The company has sold off its net property, plants and equipment over the past years to meet its long-term liquidity obligations. Since 2009, the company has disposed of parts of its proven reserves and assets. On April 30, 2013, the company closed on a deal to sell 25% of its interest in the Barnett Shale to TG Barnett Resources LP, a wholly owned U.S. subsidiary of Tokyo Gas Co., Ltd for $485 million. Some of the proceeds -- $250 million -- were used to reduce borrowings under the Combined Credit Agreements, with the remainder retained as cash. The company has a negative return on investment and equity, thereby eroding the wealth of its stakeholders. The company's financial position is crucial with massive debts along with a nominal equity fund and assets.
The company recently floated new debts to pay its earlier debts, which relate to its 7 1/8% Senior Subordinated Notes Due 2016, 11 3/4% Senior Notes Due 2016, and 8 1/4% Senior Notes Due 2015. Due 2016, 11 3/4% Senior Notes Due 2016, and 8 1/4% Senior Notes Due 2015, in June of this year, which led to a rise in the debt equity ratio of the company.
The company has also seen a decline in production and revenue throughout the past three years in all of its locations except Horn River, which has shown marginal growth within the same time frame. During the first quarter of 2013, Quicksilver posted a total production of 357.5 MMcfe of Natural Gas, NGL and Oil--generating revenue of $132K, which was a decline from 2012.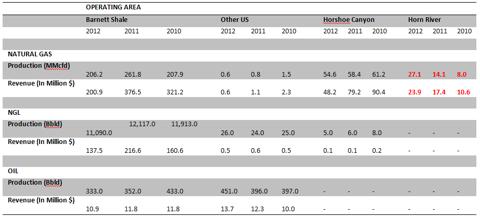 Long-Term Debt Takes Quicksilver On Its Decline
Contractual Obligations - Quicksilver must meet these, amounting to $273.4 million, with a quick ratio of .50 during 2012.
Commercial Commitments - The company has these due to the surety bonds and standby letters of credit in 2013, amounting to $69.7 million.
Scheduled Interest Obligations amount to $174.4 million for the year, which include the company's senior notes and combined credit agreements based on the amount of outstanding debt and current interest rate. These are due in 2015 and 2019 as well.
Gathering, Processing and Transportation Contracts - A payment of $85.5 million is to be paid on a monthly-basis contract, undertaken for natural gas process.
Drilling Rig Contracts from the use of third-party drilling rigs for development and exploration amount to $3.1 million in 2013.
Purchase Obligations - The company is under contract to purchase goods and services for use in field and gas plant operations, which amounts to $5 million.
Asset Retirement Obligations and Operating Lease Obligations for the year 2013 amounts to a total of $5.3 million.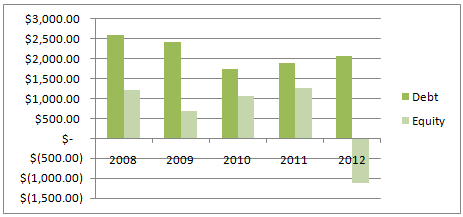 Chart: Long-Term Debt-Equity financing for the past five years
Stock performance
The following performance graph compares the cumulative total stockholder return on Quicksilver common stock with the Standard & Poor's 500 Stock Index (the "S&P 500 Index") and the Standard & Poor's 400 Oil and Gas Index (the "S&P 400 Oil & Gas Index") from December 31, 2007, to December 31, 2012, assuming an initial investment of $100 and the reinvestment of all dividends, if any.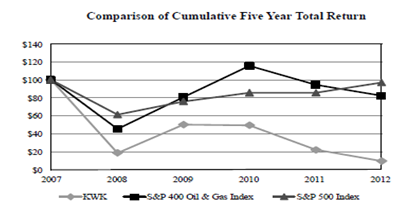 The stock of the company has plummeted by 38.1% since the beginning of the year.
Conclusion
The company has been piling up debt throughout the past five years and continues to report a decline in income and revenue. I am bearish on the company with declining revenue, income and assets year after year at an increasing rate. The company's return on investment [TTM] is -93.28% versus the industry's 5.13%. To cope with the deteriorating performance the company needs to focus on reducing its capital expenditures and refinancing its debt structure.
Disclosure: I have no positions in any stocks mentioned, and no plans to initiate any positions within the next 72 hours. I wrote this article myself, and it expresses my own opinions. I am not receiving compensation for it (other than from Seeking Alpha). I have no business relationship with any company whose stock is mentioned in this article.