Shares of mining companies have taken a beating this year. The performance of the S&P/TSX Global Mining Index tells the story as it has declined nearly 30% since the beginning of the year. Leading the poor performance are the shares of gold and copper miners. The decline is not without merit as prices for both of these metals have declined significantly from the historically high prices achieved in the last couple of years. Today, I will focus on the copper miners; specifically in what I consider the best pure-play copper company of all: Southern Copper Corporation (SCCO).
Company Profile
Southern Copper Corporation is one of the largest copper producers in the world. The company's parent, Grupo Mexico, through its wholly-owned subsidiary Americas Mining Corporation owns 81.3% of its outstanding shares while the remaining 18.7% are publicly traded. The company's operations are concentrated in Peru and Mexico. The following image displays the geographic location of said operations: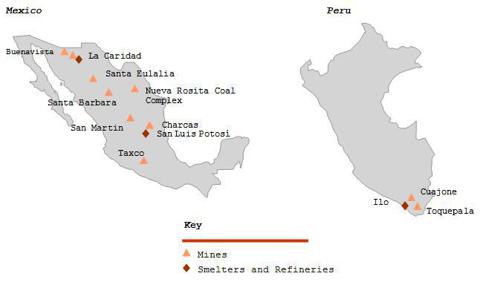 Peruvian operations consist of two open-pit copper mines (Toquepala and Cuajone) and a smelting and refining complex and port facilities in the coastal city of Ilo. All these facilities are connected by an industrial railroad network owned and operated by the company. For the year ended December 31, 2012, the Toquepala (23.8%) and Cuajone (24.9%) operations accounted for 48.7% of the total copper produced by the company. SCCO also owns a 44.2% interest in Compania Minera Coimolache, owner of the Tantahuatay mine, a gold and copper project in the northern part of Peru. This project is 40% owned and operated by Compania de Minas Buenaventura (BVN). It also conducts mining operations in Mexico where it operates two open-pit copper mines (Buenavista and La Caridad), a smelter and refinery, a copper rod plant, five underground mines that produce zinc, copper, silver, lead and gold as well as a coal and coke mining complex. The Buenavista (31.4%), La Caridad (18.9%) and underground mining (1.0%) operations accounted for 51.3% of the total copper produced during FY2012. Based on company presentations, it claims to have the highest reported copper reserves in the industry, which amount to 67.1 million tons (MT) of copper based on a copper price of $2.00 per pound. Based on current reserves and production, it also claims to have the highest mine life when compared to its closest competitors in the industry (105 years). The company is active in its exploration activities and currently is evaluating projects in Ecuador, Peru, Chile and Argentina.
Industry
Copper is a malleable and ductile metal that is a very good conductor of heat and electricity as well as being resistant to corrosion. Due to these properties, it is used in a variety of applications such as electrical and electronic products, transportation equipment, industrial machinery and equipment, building construction, infrastructure and consumer products. During the past decade, the explosive growth in the Chinese economy and its massive urbanization process has led to a sharp increase in copper demand and prices. China now accounts for more than 40% of world copper consumption. Companies have responded by increasing their production and exploration efforts in order to keep up with the increased demand for copper. Most of this increase in production has come from South American countries such as Chile and Peru. These two countries account for nearly 40% of world copper production with Chile being the dominant copper producer as it supplies nearly 30% of the world's copper. However, for 2012 to 2016, Peru is expected to be the leading contributor to world copper production capacity growth.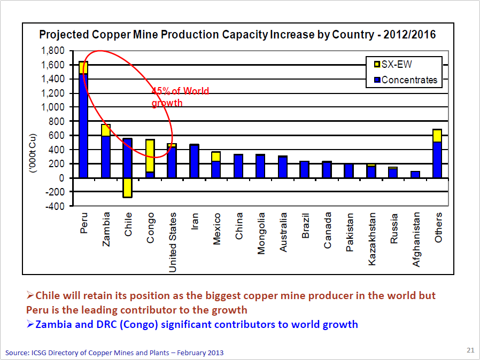 Source: Review and Outlook for Copper Lead and Zinc, International Copper Study Group
In the last couple of months, copper prices have decreased substantially. This decrease is mostly attributed to a slowdown in the growth of the Chinese economy, increases in copper inventories as well as policies implemented by the Chinese government to slow down the appreciation in property prices. As a result, copper miners have taken a substantial hit in their share prices and quality companies like SCCO are selling at an attractive price.
Financial Performance
In the last five years, SCCO has increased sales by approximately 8% per annum, from $4,850.8 million in 2008 to $6,669.3 million in 2012. For the same time period, its gross profit margins have ranged from a low of 42.7% in 2009 to a high of 55.3% in 2011. One of the things I like to look for in a company is consistency. Southern Copper has demonstrated the ability to deliver solid performance on a consistent basis. The following table presents SCCO's Return on Assets, Return on Equity, Operating Profit Margin and Return on Invested Capital for the last 10 years: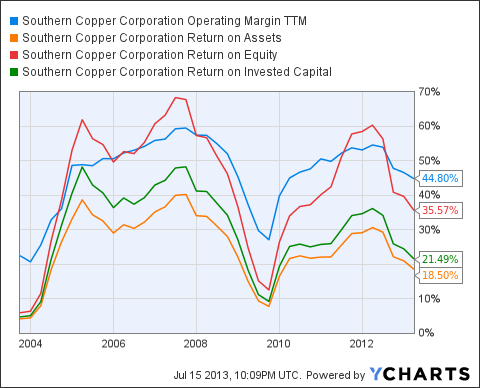 SCCO Operating Margin TTM data by YCharts
Although the chart shows some volatility in all measures, I believe this to be as consistent as one can ask for a commodity business. Note than none of these measures has ever been negative for the past decade on a rolling twelve month basis; not even in 2008 and 2009, when copper prices dropped to even lower levels from what we are experiencing today.
The company has increased its debt levels in the last three years by approximately $3 billion dollars. Most of this debt was incurred to finance the company's capital expenditure program. Although, I am one that does not like to see high debt levels in commodity companies, I believe that this increase in debt levels is manageable. Nearly $2.3 billion of the debt incurred had a maturity of 30 years at the time of issuance while the remaining $700 million had intermediate term maturities of 10 years. With TTM Return on Invested Capital currently standing at 21.49%, profitability would have to decline by more than 50% for a prolonged period for this increase in debt to be a problem to the company's financial well-being. Moreover, SCCO's capital expenditure program seems to be destined (at least in the near-term) to expanding and increasing production in currently-operating mines; therefore increasing the probability for returns to be achieved in a shorter period of time and at a lower risk than would be the case when making investments in exploration or development projects.
Southern Copper is not a company that is suitable for the income investor. Just looking at the following chart showing its 10 year historical dividend and payout ratios should make it easier for any investor to reach said conclusion: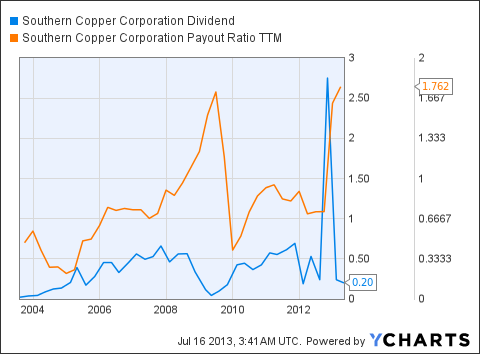 SCCO Dividend data by YCharts
The company has had an erratic history of increases and decreases in quarterly dividends. Additionally, its dividend payout ratio has been extremely high in recent years (sometimes exceeding 100%). Based on the fact that copper, molybdenum, zinc and silver prices are down significantly in the current quarter and that the company is just starting an aggressive capital expenditure program, I expect dividends to be lower for the foreseeable future as management utilizes available cash to fund expansion and to maintain an acceptable level of liquidity. It may even prefer to utilize available liquidity to continue with its $1 billion share repurchase program (of which approximately $120 million remain). Management has previously demonstrated that they are willing to repurchase shares at depressed prices as evidenced by the nearly 47 million shares it has repurchased under this plan at an average price of just $18.72. We should get more clarity in this aspect once the company reports second quarter results next week.
Valuation
When analyzing valuation ratios for any company, one should not only look at these ratios on a stand-alone basis. Although this may give us a good picture of whether a company's shares are undervalued or overvalued, it is of no use if they are not compared with the ratios of its closest competitors. Finally, one should try to find an explanation for the differences in these ratios, if any. When looking at valuation ratios, I like to focus on five main ratios: Forward Earnings Yield, Price to Book Value, Price to Sales, Enterprise Value to EBITDA, and Price/Earnings to Growth. For SCCO, these ratios are the following (as of July 17, 2013):
Forward Earnings Yield - 7.64%
Price to Book Value - 4.58
Price to Sales - 3.57
Enterprise Value to EBITDA - 6.94
PEG - 1.15
At first glance, these ratios do not seem to suggest that any undervaluation exists. On the contrary, they suggest that the stock may be fairly valued or even slightly overvalued (if looking at the P/S and P/B ratios). As a matter of reference, I like to see companies with higher earnings yields (over 10%) and P/S and P/B ratios closer to 1 (and preferably under). The EV/EBITDA and PEG ratios are inside the ranges I usually like to see: under 7.00 and under 1.5, respectively.
The following table compares these ratios with the ratios of SCCO's closest competitors:
Valuation Ratios - Peer Comparison
| Company | Forward E.Y. | P/B | P/S | EV/EBITDA | PEG |
| --- | --- | --- | --- | --- | --- |
| BHP Billiton (BBL) | 7.4% | 2.41 | 2.41 | 7.04 | 3.98 |
| Freeport-McMoRan (FCX) | 12.9% | 1.49 | 1.48 | 4.61 | 0.72 |
| Anglo American (AAUKY.PK) | 19.0% | 0.69 | 0.90 | 4.68 | 0.63 |
| Rio Tinto (RIO) | 13.6% | 1.66 | 1.53 | 5.55 | 0.51 |
| Peer Median | 13.3% | 1.58 | 1.51 | 5.12 | 0.62 |
Source: Yahoo Finance
When we compare SCCO's valuation ratios with those of its peers we see that it does not compare favorably. When comparing its ratios with the median ratios of the peer group, it appears to be overvalued by a significant margin. The only one of its competitors to which it compares favorably is BHP Billiton as it boasts a better Forward Earnings Yield, EV/EBITDA and PEG ratios. The rest of the peer group has more favorable valuation ratios than SCCO. When specifically compared to its closest competitor of the group, Freeport-McMoRan, it still looks relatively overvalued across all ratio categories.
Why would these ratios differ so much? Does the market believe that SCCO's prospects are better than those of its peers and thus would warrant a premium? Or does the market believe that prospects are weak for these miners (with lower valuations deserved) and it will eventually do the same with SCCO? To answer these questions I like to look at the differences between the firms to see if there is anything that would warrant a premium valuation over the rest of the comparison group. First of all, a very significant difference is the fact that while SCCO is basically a pure-play copper miner (77% of sales in copper as of 1Q 2013), the rest of the peer group are more diversified into other basic materials mining as well as across geographic regions. Before its purchase of Plains Exploration and McMoRan Exploration, FCX was at a same level of copper sales concentration (over 75% of sales). However, with their purchase of these oil and gas exploration companies this percentage will most likely drop to below 60%. Therefore, although diversifying is good for spreading risk it may also be the case that the market is applying some kind of conglomerate discount to these miners. But what about BHP Billiton? Why wouldn't a conglomerate discount apply to the world's "mining supermarket"? I believe the answer is: performance. BBL has the best performance metrics of this peer group. Its ROA, ROE, Operating Margins and ROIC are higher than any of the other companies (only rivaled by SCCO) on top of paying a healthy, growing and seemingly safe dividend. In my book, this merits a premium valuation over the rest of the group. My verdict regarding SCCO's valuation ratios is: although they seem to be on the high end, its superior performance metrics over the rest of this peer group (excluding BBL) would warrant a higher valuation. However, based on its concentration on copper and its lack of diversification across geographies this premium should not be as high as that of BBL. I wouldn't be surprised to see the market adjust its valuation of SCCO slightly downward if we continue to see a sustained downtrend in copper prices.
Advantages
The company has various advantages that I believe makes its shares an attractive investment candidate for a growth portfolio. These are listed below:
Low cost operations - An important measure for many mining companies is its operating cash costs per pound of mineral produced. This measure gives a good estimate of the cash generating capacity of a company's mining operations. Mining companies calculate this measure in different ways. I like to calculate it in the following way:
Unit net cash costs per pound = (Cost of Sales (less depreciation, amortization and depletion) + SG&A + Treatment and Refining (TC) Charges - By-Product Credits)/Total Pounds Produced
For the quarter ended March 31, 2013, SCCO's unit net cash costs per pound amounted to approximately $1.30 per pound of copper. This measure will differ from the one reported by the company in its Form 10-Q which was $0.91 per pound mainly because reported measures do not count expenses such as royalties, costs of metal purchased from third parties, workers' participation expenses and inventory changes. As a matter of comparison, its closest publicly-traded competitor (Freeport) reported unit net cash costs of $1.57 per pound for the same period and Codelco, a Chilean copper miner and the world's leading copper producer with over 10% of world production, reported cash costs of $1.70 per pound for Q1 2013. In any commodity business, the ability to produce at a lower cost than your competitors is usually the only competitive advantage one can have. Low cost operations provide for superior margins when commodity prices are high and act as a safety net when prices decline. SCCO is in a privileged position when compared to the industry's global cash costs.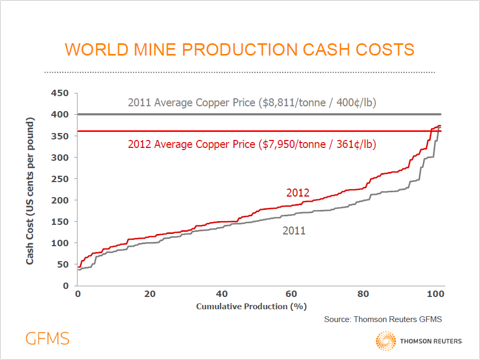 Source: Copper Survey 2013 by Sanjay Saraf, Thomson Reuters
Large reserve base in developed and operating mines - As mentioned earlier, the company claims to have the largest copper reserves in the industry which amount to 67.1 million tons. Of this amount, 85% is located in currently developed and operating mines while the remaining 15% is located in the development projects of Tia Maria, El Arco and Anangueo. Additionally, of the 85% of reserves located in developed and operating projects, nearly 75% consist of proven reserves. Reserves are divided nearly evenly between Peruvian (42%) and Mexican (58%) operations. Expansion in currently developed mines tend to be less risky than exploration or development projects; therefore it should be able to reap the benefits of its capital investments in a shorter period of time and with less risk of disruptions or delays.
Proximity of mining operations to revenue-generating markets - Although Asia, and specifically China, is the main driver of the demand for copper in the world, SCCO's revenues from this region account for approximately 17% of total sales. Conversely, revenue from North and South America (where the company's mining operations are located) account for nearly 70% of the company's total sales. Its two closest competitors, Codelco and Freeport-McMoRan, generate approximately 60% and 35%, respectively, of their revenues from Asia. Without taking into account the impact on reduced demand from the Asian region on copper prices, any decrease in demand from Asia should have a less dramatic effect on SCCO's sales when compared to its competitors. It also gives the company the opportunity to continue increasing sales to Asian countries without fear of concentration while also giving it a more balanced country sales mix. Finally, proximity to final sales destinations can translate into lower transportation costs.
Exceptional performance measures - Whether measured by ROE or ROIC one thing has remained clear, SCCO has achieved exceptional performance over the past couple of years. During the last 5 years, ROE and ROIC have consistently been over 30% and 20%, respectively. These measures dropped significantly during 2009, when the global financial crisis took its toll on copper prices. Even with copper prices going as low as $1.30/lb. in 2009, the company's ROE and ROIC remained over 10%. I believe copper prices won't go that low for the foreseeable future (unless another global crisis unfolds) which should permit management to continue creating value for shareholders by achieving returns well above SCCO's cost of equity and WACC.
Risks
There are certain risks (both short and long term) that investors should take into account when analyzing SCCO's prospects. These can have a huge effect on the outcome of this investment. The following is a list of the major risks I believe one should consider in this case:
Further decrease in copper and by-product prices - Being a pure play copper mining company, SCCO's fortunes depend primarily on the price of copper. Additionally, prices of its main by-products (molybdenum, zinc and silver) play an important role in keeping unit cash costs low and profitability high. A perceived slowdown in the Chinese economy and a build-up of copper inventories contributed to the lower copper prices experienced in the quarter ended on June 30. Additionally, the prices of all the company's by-products (especially silver) were down during the same quarter. For these reasons, I believe that SCCO's second quarter results will not be pretty and third quarter results are well underway to suffer the same fate.
Rising production costs - Commodity companies are price takers. This means that they are not able to price their products to a level that generates an acceptable profit after deducting costs but instead must sell their products at prices determined by the market (which are out of their control). Therefore, rising costs are a threat to these companies' potential profits. Although we have already determined that SCCO is one of the lowest cost producers in the industry, when one examines their quarterly and annual financial reports one can identify a trend of rising costs. This is not a problem isolated to this company as competitors are facing the same problem. Fuel, power and labor tend to be the biggest costs for copper miners.
Regarding fuel and power costs, SCCO has some advantages and disadvantages. Peru is one of the mining countries with the lowest power costs but the company is dependent on a single provider for these inputs and internally generated power capacity is minimal. Any changes in pricing from these providers could have a material impact on said costs. Water supplies seem to be adequate for the foreseeable future. On the other hand, Mexican operations depend on government enterprises to purchase fuel and power. Once again, changes in pricing policies of these providers can affect costs adversely. Operations in Mexico have two advantages: the ability to import natural gas from the United States via a pipeline (which lowers costs) and the construction of two power plants by the company's parent to supply energy for part of the mining operations. These power plants are expected to be completed in 2013 and 2014 and, as disclosed by the company's CFO in the 1Q conference call, each plant should generate cost savings of approximately $25 million. Water supplies for these operations are also adequate although costs have been experiencing a rising trend in recent years.
Peru and Mexico are two of the major mining countries with the lower labor costs. The company has collective bargaining agreements in place with its unionized workers which account for 69% of its employees. Peruvian unions (8 in total) negotiate their collective bargaining agreements at the same time. The agreements currently in place were signed during the first two months of 2013 and have a duration of 3 years. Labor costs for Peruvian operations are expected to increase in the next three years by 6.5%, 5% and 5%. However, the successful negotiation of these agreements should lower the probability of strikes (which have been minimal in the last three years). Mexican labor relations are more complex and have been more problematic for SCCO. Salary provisions are negotiated annually while other benefits are negotiated every two years. These short-term agreements increase the risks of strikes and as well as of rising labor costs. Mitigating this risk is the ability to conduct separate negotiations for each mining operation which reduces the risk of a major stoppage to all operations. In recent years, labor relations seem to have improved although two mines (Taxco and San Martin) have been on strike since 2007 and have shut down operations completely.
Rapidly increasing mine production capacity - According to International Copper Study Group estimates, mined copper production capacity should reach approximately 28 million tons by 2016 which means that production capacity should increase by approximately 8 million tons.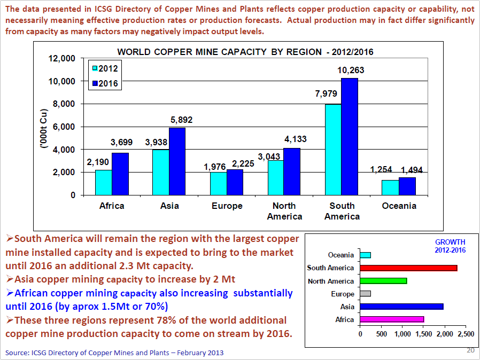 Source: Review and Outlook for Copper, Lead and Zinc by Don Smale, International Copper Study Group
An increase in production capacity of this magnitude without a corresponding increase in demand has the potential to create excess supply of copper which would exert downward pressure on copper prices. However, actual production is not expected to reach that level. Several factors should take care of lowering actual production levels such as: declining ore grades, increasing capacity in countries with high political risks, strikes, project delays, lack of financing, increasing costs and higher incentive prices (the minimum price required to motivate miners to develop new projects which according to estimates is between $2.70 to $3.00/lb.). It remains to be seen whether the current decline in copper prices has any effect on reducing current production and projected capacity expansion. If no reduction on projected capacity occurs, we may see a period of over-supply and low copper prices which should affect share prices, especially those of copper dependent companies like SCCO.
Recommendation and Conclusion
The current environment is a tough one for many copper mining companies. Much uncertainty exists both on the demand and supply sides. Will Chinese demand pick up or is this the beginning of a sustained period of lower demand? Will production continue its increasing path and lead to the dreaded over-supply that will send copper (and share prices) plunging? We may have answers to these questions in the coming weeks when companies start releasing their earnings reports and conducting their conference calls. Until then, I think that caution is the best policy.
Current copper prices will keep SCCO's shares trading below intrinsic value. Copper demand will remain strong with China leading the way and other developing economies such as India and Brazil continuing to increase demand. I truly believe that the catalyst that will send copper prices higher will come from the supply side. I expect that due to the low price environment we are experiencing, production problems will start plaguing the industry. We may start to see production cutbacks, project delays and worker layoffs as companies try to reduce costs to remain profitable. As can be seen in the cash cost curve presented above, current prices would imply that nearly 10% (or even more as the curve tends to shift upward yearly) of production will not generate positive operating profits. As we start experiencing these production issues, inventories will start falling and prices should start rising to my $3.50-$3.60/lb. estimate.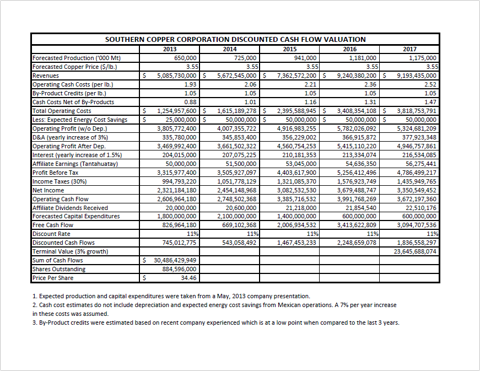 As of today, my calculated fair value of Southern Copper shares is between $33-$36 per share. I believe this to be a fair price if copper prices rise to a sustained level of $3.50-$3.60/lb. (as I believe they will). Using the midpoint of $3.55/lb. for copper, my target price would be $34.50. This would suggest that SCCO's shares are between 16%-27% undervalued. However, there are too many short-term risks and there is a very high probability that this quarter's results will not be pretty. This would send its share price even further down; probably to the $22-$24 range. At those prices, it would be undervalued by nearly 50% and that would give you a really attractive margin of safety. This is a well managed company with an excellent track record that deserves the valuation premium it receives when compared to some competitors. I wouldn't mind starting a position at the current price; but, due to the proximity of its earnings release, a better move would be to sit back, wait for the earnings report and get in at a better price. For those who would like to take advantage of both sides of the trade, you can consider a short position going into or right after the earnings release and then start a long position once the share prices reaches a level that gives you a comfortable margin of safety. For those of you that already own shares, you can consider buying puts or writing calls as a way to achieve downside protection or profit from the possible near-term share decline.
Disclosure: I have no positions in any stocks mentioned, but may initiate a long position in SCCO over the next 72 hours. I wrote this article myself, and it expresses my own opinions. I am not receiving compensation for it (other than from Seeking Alpha). I have no business relationship with any company whose stock is mentioned in this article.