Shares of Responsys (NASDAQ:MKTG) have jumped 35.53% in the past month, mainly attributed to the anticipation of the company being taken over by a large player. SalesForce.com's (NYSE:CRM) acquisition of ExactTarget (NYSE:ET) has fueled this speculation. In terms of fundamentals, Responsys is also doing well. During the last quarter, it posted an increase of 23% in revenue year over year. The company is actively pursuing new solutions and has increased its R&D and sales and marketing budgets to increase its product offerings and its reach to customers beyond large enterprises. It has been able to increase average contract length from 17.2 months in 2011-12 to 20 months in 2012-13. Let's look at some of the key items that make Responsys a good buy.
Growth in the Top Line Is a Priority
Responsys has been expanding in the international market either through acquisitions or starting its own operations. The company's revenue share from the international market increased from 18% to 21% year over year from the first quarter of FY 2012 and the first quarter of FY 2013. It has also announced more investment in its sales and marketing efforts as a percentage of revenue in order to boost its product sales. This will help the company increase its top line in coming quarters; however, EBITDA margin growth may slow down a bit. In the long term, this will help the company increase both its top line and bottom line.
Click to enlarge images.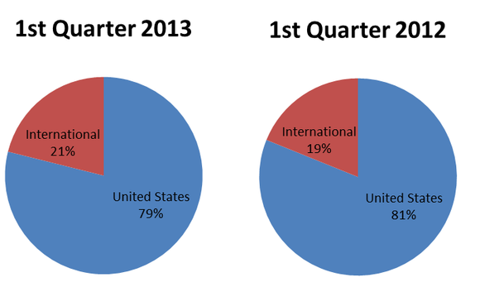 Increase in R&D and New Products Will Help to Gain New Customers and Increase ARPU
Responsys has also planned to accelerate the launch of new products. The company has announced an increase in its R&D budget for this. The new products will allow the company to cross sell them to existing customers and increase its ARPU. The new products will also help Responsys increase its customer base and thereby add a new stream of revenue.
Targeting Small and Medium Companies in Mid-tier Will Help Increase Its Top Line and Bottom Line
The company has been targeting enterprises and large companies. It is now expanding its customer base by targeting SMBs, which have been reluctant and hesitant when it comes to digital marketing spending. This segment of the market possesses huge opportunity for the company. This will help Responsys increase its revenue and also its EBITDA.
Subscription Dollar Retention Rate Expected to Be Above 100%
In the last three years, the subscription dollar retention rate has been above 100%. We believe that this key matrix indicates how well the company manages its existing clients and whether it can generate added revenue from existing customers. We believe that Responsys will keep its subscription dollar retention rate above 100% because the company's expenditure in digital marketing will keep increasing. That will help increase its dollar retention rate.
Acquisition of ExactTarget Has Increased Speculation Regarding the Acquisition of Responsys
With the recent flurry of acquisitions of SaaS-based marketing service providers, Responsys is emerging as a candidate for takeover by a large player looking to enhance its SaaS platform. Recently, Salesforce.com acquired ExactTarget, which offers email marketing to customers. In the future we can expect more consolidation in the industry.
Conclusion
With the sudden surge in acquisitions and large companies' future plans to expand their SaaS-based solution services, we believe that Responsys is a potential candidate for acquisition. The future looks bright from a standalone perspective as well. The company has been able to increase its product offerings either through acquisitions or through investment in R&D. The new product offerings will help Responsys cross-sell its new products to existing customers and also acquire new customers. The increase in its sales and marketing budget will help it acquire more customers from its traditional enterprise customer base, thereby increasing its revenue. So I recommend this company as a buy.
Disclosure: I have no positions in any stocks mentioned, and no plans to initiate any positions within the next 72 hours. I wrote this article myself, and it expresses my own opinions. I am not receiving compensation for it (other than from Seeking Alpha). I have no business relationship with any company whose stock is mentioned in this article.