There is a company that caught my attention recently. It's in the stem cell sector and trading at a very low price, but what really made me pay attention to it was how few shares were changing hands on a daily basis and how relatively small their float is. A sudden swing in volume could make this stock fly up in price. Since releasing this story to our premium subscribers on BiomedReports early on Tuesday morning, the stock moved up 26% after only 188,000 shares traded hands. Now before I get into who the company is and what they do, I want to talk about Wall Street's hottest sector - and of course, our favorite sector - biotechnology.

As I've told you before, this sector presents fantastic opportunities that will shape not only our future as investors, but more importantly, the future health and well-being of mankind. Some of these biotechnology companies are on the verge of conquering, not just treating, diseases and there is a big difference.
The speculative bubble covering roughly 1998–2001, which we all know as the "dot-com boom", saw equity values rise rapidly for internet and computing technology companies. Who wouldn't want to roll back the clock and jump on some of those small-cap stocks that became pillars for the information super-highway? Companies like Google (NASDAQ:GOOG), Yahoo (NASDAQ:YHOO) and Amazon (NASDAQ:AMZN) come to mind.

Going back a bit further, to the mid eighties, who among us would pass up the opportunity to buy shares of a small company whose rise to dominance in the operating system market was matched only by the ensuing rise of a stock price that created four billionaires and countless of thousands of millionaires? That company, of course, was Microsoft (NASDAQ:MSFT).
While some people draw countless parallels between that recent era and what is happening now in biotechnology, I think many others can argue that many distinct differences do truly exist.
Either way, the one thing that I think we can all agree on is that a few of those "pillar companies" - the ones that helped serve a key function and support in the industry as a whole - were the ones that became great investments.
The fact is that investors looked at these companies and said, "Hey, I can see where this is going to serve an important need in the future," or "I get how this is going to become more important and valuable or even profitable over the years." Those companies became the winners. Their stocks survived the bubble pop and still thrive today.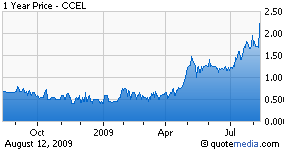 I may be going way out of the way in trying to paint this picture for some of you, but it's exactly that type of scenario that came to mind when I found out about this company called CRYO-CELL International (OTCPK:CCEL), principally engaged in the collection and preservation of umbilical cord (U-Cord) blood stem cells for family use. The Company stores over 175,000 cord blood specimens worldwide for the benefit of newborn babies and other members of their family. The Company is a private family cord blood stem cell bank and handles business operations, including the processing and storage of specimens, which are stored in commercially available cryogenic storage units at the Company's facility. It also developed C'elle, a technology related to menstrual stem cells.
I remember lots of hype recently surrounding another cord blood storage company that sold more sizzle than steak and ultimately fizzled after various stock promoters cashed their checks. I assure you this is not that kind of scenario.
Yes, it's a stem cell stock play, which makes it attractive because so many already consider that the new wave of the future is medicine. But more importantly, it's clear to see how the service/product this company provides will become increasingly important and valuable, and unlike that other company I was just talking about, this is a company with real, state of the art facilities and a good-looking balance sheet.
Unlike so many speculative plays in biomed, this is an already established and profitable company. They've got about 6.3 million in cash and during this last quarter, they made 1.2 million in income for the first nine months.
Already there are at least seventy diseases that are being studied in the area of stem cells. Recently, many of us saw shares in stem cell related companies spike and continue to climb after the Obama administration lifted key restrictions and even encouraged more research and development in that area of medicine. It's a growth area with incredibly promising applications and treatments, so the logical investor might even see this as a "no-brainer."
I like it for lots of other reasons as a long term investment too.
The company provides a product that's reimbursable by insurance. Through marketing efforts and partnerships - particularly some key partnerships that will be announced in China - they are making more people aware of their valuable service.
I'm sure I'll take great pleasure in writing more and more about this company as I set out to conduct interviews and do more research, but already I'm impressed with the fact that they're encouraging more people to store, because the more they store, the more chances they'll have of potentially using those important stem cells in case these catastrophic diseases strike.
The company and its founders pioneered ways to make it affordable for everybody to store their own Umbilical blood cells and they quickly became the only product endorsed by Lamaze. They've had a big push with hospitals and doctors and may actually be the only stem cell company in the marketplace that's actually already making money.
Right now, there are over two thousand trials running through various stages that the FDA is aware of which involve stem cells. Once the FDA starts approving these different procedures and treatments, the whole sector is going to get major play.
In fact, at one point, this stock traded as high as $12.00, but that was during a time when enthusiasm for the promise of stem cells first caught the attention of the investment community. The whole sector took off, but once people realized that it was going to take years to go through the entire regulatory process (a process that was even somewhat stalled until recently) most of these stocks pulled back down.

In the very near future, we're going to finally start to see some FDA approvals start coming through in the stem cell arena. We're going to start to see more and more research, with even more and more positive data. Interestingly some of that research will come from key CCEL partners themselves because, not only is the company doing storage, they are also involved in significant research and development.
So, there you have it. Here's a company that's in a strong area and has a great cash position. They've been quiet intentionally, busy working away at developing their market and now other news outlets like this one are going to start to tell their story - perhaps with a little more help from key announcements and developments which we may see to start unfolding in the last half of this year.
Again, I will continue to dig deeper and update you on my findings. In the meantime, I encourage you to compare other private and primary cord blood companies in the U.S. I think you'll see why I like CCEL so much.
Disclosure: Long CCEL