By Sumit Roy
Natural gas surged 6% to last trade near $3.83/mmbtu after the Energy Information Administration reported that operators injected 58 billion cubic feet into storage, below the 64 to 70 bcf build most analysts were expecting. The injection was above last year's build of 28 bcf, but below the five-year average build of 72 bcf.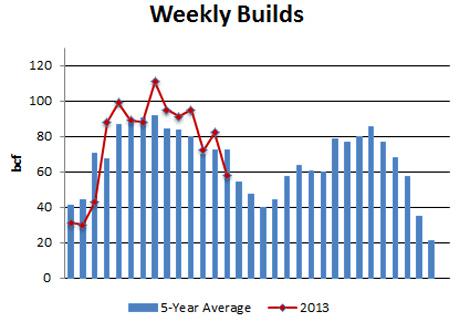 In turn, inventories now stand at 2,745 bcf, which is 418 bcf below the year-ago level and 29 bcf below the five-year average (calculated using a slightly different methodology than the EIA).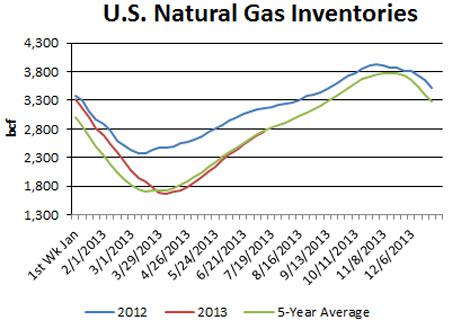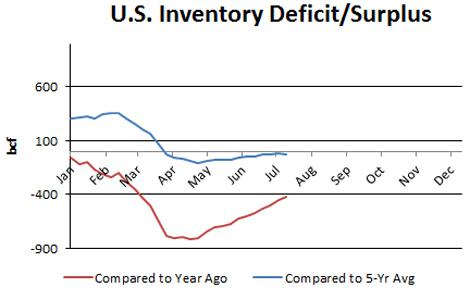 The weather last week was warmer than seasonal norms, but cooler than last year. The Edison Electric Institute said that utilities generated 89,557 GWh in the week ending July 13, which was 0.34% above the same week a year ago.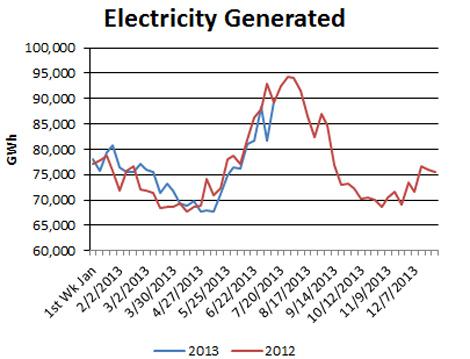 Looking forward, the NOAA's six- to 10-day outlook calls for warmer-than-normal temperatures across the West, but normal to cooler-than-normal temperatures elsewhere.
NOAA Six- to 10-Day Outlook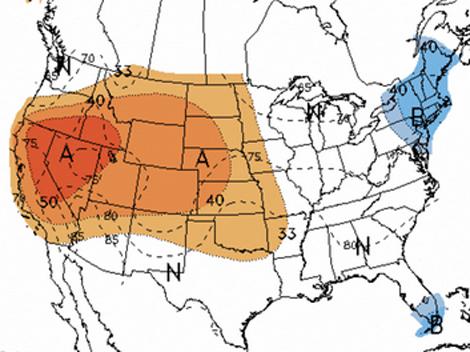 Meanwhile, the number of rigs drilling for natural gas in the U.S. rose by seven to 362 last week.
Natural Gas Rig Count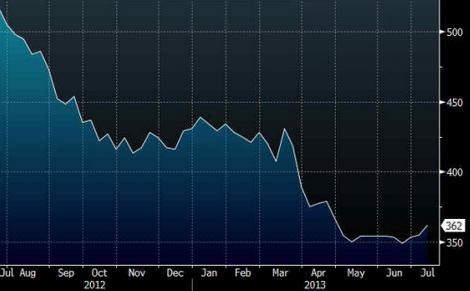 Natural Gas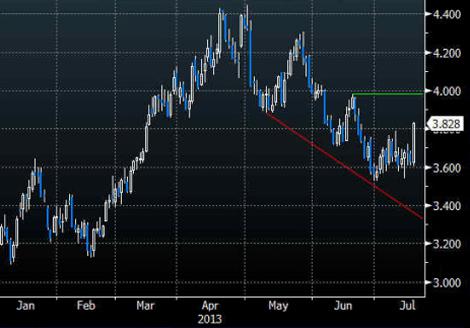 Bottom line: The latest inventory data from the EIA were neutral-to-bullish as the deficit vs. the five-year average rose from 15 bcf to 29 bcf. While the latest injection looks unequivocally bullish on the surface, based on the weather, it wasn't as impressive. Last week saw above-normal temperatures -- 89 cooling degree days (CDDs), according to the NOAA. Normal weather for the week is considered 78 CDDs.
However, what is "normal" rises during the next three weeks, peaking around 87 cooling degree days during late July. The five-year average injection for those peak CDDs is between 40 and 47 billion cubic feet. Thus, on a weather-adjusted basis, last week's build looks rather large. Moreover, temperatures are expected to moderate to seasonal levels in the coming weeks; thus, it's highly unlikely that the inventory deficit vs. the five-year average will widen significantly from here. In fact, our view continues to be that inventories will swing into a surplus in the coming weeks, pushing prices lower.