About 2-3 months ago, we forecasted a relatively normal to cool summer for many Midwest and Eastern populated areas and over the last few weeks, it has been nothing of the sort. How come? While we do believe in global warming, there are a host of other climatological variables that play a huge role in our climate. Most recently, the MJO (which we often refer to) being in phase 1 in the Atlantic, combined with weak La Nina conditions and more importantly, a west based NAO (Northern Atlantic Oscillation Index) have all helped breed a massive Bermuda High that for the time being has baked western Midwest crops and brought near record heat indices to the east this week. However, this is all going to change with perhaps a normal to cool late July and August solution for key U.S. natural gas consuming areas.
If you are trading natural gas, I see a short-term trading affair with lower prices next week as cooler weather sets in but some short covering ahead of Thursday's EIA.
Unfortunately, we are not able to comment about our view for the grain market, nor how severe a Brazilian coffee frost may or may not be, later next week, but below we discuss the natural gas situation.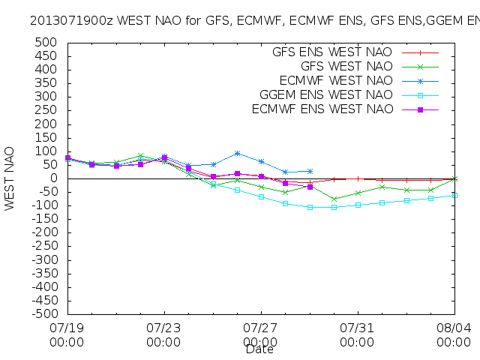 The NAO index has been west-based and positive since early July. This means, there has been low pressure in eastern Canada and to the west of Greenland. This, combined with weak La Nina conditions has helped to build a Bermuda High in the east. But notice the NAO going more negative by several computer models (above). This will kill the Bermuda High and with more neutral El Nino conditions the next few weeks and blocks in western Canada, a much cooler solution may result well into August.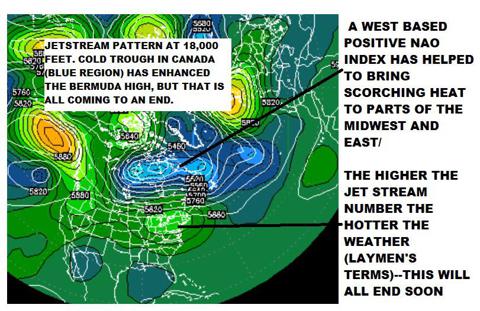 Above you can see the Bermuda High over the east (yellow circle aloft in the jet-stream). Notice the cool pool (+NAO) over central and eastern Canada. This will weaken with time, perhaps even for most of August.
Natural Gas Rallies on Bullish EIA

We told clients recently that we felt Thursday's EIA might be less bearish or a bit bullish as you can see on the chart below. Next week's EIA may also be less bearish given the recent heat. Natural gas traders will weigh in the cooler forecasts for next week, versus EIA levels not quite as bearish as they were later in May and June, which was a primary impetus in pressuring natural gas prices from $4.40 in May to $3.55 recently. The rally back in prices and the ETF (NYSEARCA:UNG) is probably not going to last given the forecast for a normal to cool August and the hurricane season not as robust as some feel, perhaps. Natural gas will be a 'traders' market in my opinion, with likely lower prices next week, potentially a rally into or after the EIA, the middle part of next week. After that, traders will focus in on U.S. weather once again, which for now, does not appear to be bullish for the month of August.
Perhaps not a precipitous drop in prices, like we had during the cool summer of 2009, but nevertheless, anything more than a 5-8% rally in prices will likely be met with selling, heading into mid-late summer.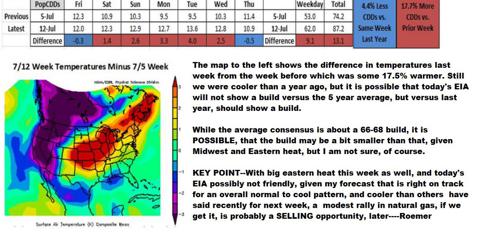 Source of Graphic Only (CWG). Comments -- Roemer
This is what we told clients before the release of the EIA on Thursday that a potentially less bearish or bullish number might be released. Next week's may be friendly as well, but heading into late July and August, we will probably exceed the 5-year average in injections given normal to cooler weather
Disclosure: I have no positions in any stocks mentioned, and no plans to initiate any positions within the next 72 hours. I wrote this article myself, and it expresses my own opinions. I am not receiving compensation for it (other than from Seeking Alpha). I have no business relationship with any company whose stock is mentioned in this article.