"'It's romantic for the first 15 years when you're turning 65 and retired…But aging in place among 90-year-olds? 95-year-olds?' Many of these people…won't realize that they can't mow the lawn or pay for repairs until they're really elderly, and the market for the their homes has collapsed even further." - from "The Great senior Sell-Off Could Cause the Next Housing Crisis" in the Atlantic Cities, March, 2013, an interview with demographer Arthur C. Nelson.
In late May, I made the case against the "Great senior sell-off," an idea promoted by demographer Arthur C. Nelson in an interview with The Atlantic Cities called "The Great senior Sell-Off Could Cause the Next Housing Crisis." At that time, I mainly focused on addressing Nelson's claims and concerns one by one. I concluded that the concept of a senior sell-off said little new beyond the implication that growing, economically vibrant cities/regions will likely absorb the passing of housing stock from boomers to younger generations just fine and declining areas will suffer even more. I doubt that the passing of the baby boomers will ignite a full-fledged housing crisis.
In this piece, I take a broader view of related research that suggest seniors are not likely to be massive sellers of homes no matter what the demographics are regarding the size of any particular cohort of age groups. To the extent that baby boomers will behave like elder generations before them, the majority of their housing stock is not likely to transition until the obvious precipitating shocks of abrupt changes in health, nursing home admission, or death. Moreover, with life expectancy projected to hit 80 only for those born in the year 2020, those people still clinging to homes in their 90s will represent quite an achievement on multiple fronts! I believe there is little to fear from 90-year olds finally deciding to sell their homes, even in the worst housing markets in the country. Any "crisis" is likely to be less about housing in general and more about the potential reduction in value of inheritance (bequests) in those parts of the country not enjoying sound economic growth. (For background on recent research refuting fears that baby boomers will significantly slow down economic growth see "Will Baby Boomers Drag Down Growth?", April 13, 2013).
I begin with a quote from the 2013 Q2 earnings call from Toll Brothers (NYSE:TOL) in response to a question from an analyst concerned that "a lot of people that I meet with are always talking about the fact that we are have an aging population that soon will want to downsize and leave their large homes or go to something in condo even go into assisted living." She wanted to know whether TOL is preparing for the demographic shift by, for instance, moving more to a mix of attached and condo living. Her question reflects a reported trend, not supported with hard data, in an April, 2013 piece in CNBC titled "Boomers a Boon to Urban Home Builders." Boomers are reportedly leaving suburban homes in communities with aging neighbors living in homes of questionable value and fleeing to urban cores where "the action is" and where children have tended to migrate after college. Here is TOL's response (Seeking Alpha transcripts):
"I don't think it's because of the phenomena. I think it's because of opportunities that are presented to us. But there's no doubt after discovering the urban business, that they were doing pied-à-terre offering that is geared to, not just the young professional hedge fund manager, master of the universe, but is also geared to the people that have made it and decided they want to go back to the city. And therefore, the answer to your question is, we aren't following what we see to be the change in the demographic. But we don't turn down any opportunities on that basis to do large single-family luxury homes or even the executive size of single-family home."
Perhaps the demographic shift is too far out in the future to worry about any downside implications, but clearly TOL is not worrying about it. Instead, the company is focused on the business opportunities that arise whenever anyone decides to buy a new residence. I argued in Part 1 that such business opportunities could generate an economic boom for areas smart enough to attract migrating boomers even as the areas left behind have to figure out ways to replace the minus sign on their side of the equation.
In Part 1 I ended with a snippet from the AARP's "Home and Community Preferences of the 45+ Population - 2010" research study. From this study, the AARP concluded that "there is an overwhelming desire for people ages 45 and older to remain in their current home and community as they age." That is, we seem to have an innate desire to stay put amongst family, friends, and a well-established network in our advanced years. Yes, Nelson calls this romantic, but there is a lot of practical reality here.
Here are two key figures from the full study that support this conclusion:
A Strong Desire to Stay In One's Home
A Strong Desire to Stay In One's Community
It is perhaps easy to dismiss these results as being from people who have not faced up to the physical limitations that Nelson references in one's last years of life. However, this core desire to stay put forms the basis of past research in this area which confirms that the elderly are unlikely to become massive (net) sellers of homes.
I first examined a general study from the Congressional Budget Office in 2009 titled "Will the Demand for Assets Fall When the Baby Boomers Retire"? The CBO notes that over the next 50 years the ratio of older Americans to younger Americans in asset accumulation phase of life while increase by 75%. The looming danger is that this will produce a large drop in the demand for assets relative to supply. However, the CBO concludes:
"Several factors suggest that baby-boom retirees, like retirees in earlier groups, are not likely to draw down their assets quickly in retirement. Many will retain their assets as a buffer against high and unanticipated medical expenses and against the risk of out-living their assets. Some will preserve assets to leave as bequests to family members or others. In addition, wealth is distributed unequally among baby boomers. Those with great wealth generally would not spend a substantial portion of their assets to finance the consumption they chose in retirement, whereas the less-well-off would have few assets to liquidate."
Interestingly, the concentration of wealth amongst boomers in the U.S. - around 1/3 of boomer wealth is controlled by just 1% of the boomer population and the wealthiest 10% control 2/3 of the wealth - places a kind of buffer on the broadest impact of asset sales. The wealthiest of the population are not likely to liquidate substantial portions of their holdings, instead choosing to try to secure the future of their descendants. The CBO also notes that longer life expectancies, high medical costs, and the uncertainties of health risks, provide plenty of incentive for the elderly to draw down slowly on their assets in case they are needed as buffer against precipitous shocks. Maintaining a home is the largest buffer most people own.
Most importantly, the CBO points out the following from the literature:
"There also is little evidence that elderly people will draw down housing wealth in retirement. On the basis of data from SCF [the U.S. Survey of Consumer Finances] and HRS [the Health and Retirement Study], some researchers report that households start accumulating housing wealth early and that home ownership does not decline in old age (Venti and Wise 2001; Yang 2006b). The steady share of housing wealth held by older people could reflect the high transaction costs of trading houses. Moreover, instead of selling, some people who have a large amount of equity choose to keep their homes as potential collateral for loans to meet unanticipated expenses (Yang 2006a)."
These are profound findings that cast doubt on the likelihood of broad senior sell-off, so I dug a little deeper into studies form these researchers.
Steven F. Venti and David A. Wise wrote a working paper in 2001 for the National Bureau of Economic Research titled "Aging and Housing Equity: Another Look." The paper was prepared for the conference on the Economics of Aging, May 17-20, 2001. Here is a key conclusion:
"We find that in the absence of a precipitating shock - death of a spouse or entry of a family member into a nursing home - families are unlikely to discontinue home ownership. And even when there is a precipitating shock, discontinuing ownership is the exception rather than the rule. On average, families that move and purchase a new home tend to increase home equity. We find, however, that income-poor and house-rich families are more likely to reduce equity when they move, while house-poor and income-rich households are more likely to increase housing equity.

Overall, accounting for discontinuing ownership and moving to another home, housing equity increases with age until about age 75 and then declines slightly as households grow older…Families that remain intact reduce housing equity very little, about 0.11 percent per year for two-person households and 1.15 percent per year for one- person households. We conclude that, on average, home equity is not liquidated to support general non-housing consumption needs as households age."
The focus here is obviously on the use of housing to finance non-housing consumption and not on the likelihood of downsizing to fit a lifestyle choice, but the overall implication confirms that the elderly generally prefer to maintain home ownership. These liquidation percentages are not nearly enough to even form the seeds of a senior sell-off. The authors also cite numerous studies that are consistent with their findings (if only I had time to read and analyze them all!).
Nelson's quote that leads this piece zeroes in on seniors in their 90s. The choice to characterize the ownership behavior of the elderly in their final years of life may be associated with a related Venti and Wise finding:
"We find that on average there is no reduction in housing equity among persons who continue to own homes, even as they age through their eighties and even into their nineties. Indeed, persons who sell one house and buy another tend to increase housing equity, on average. Large reductions in housing equity are typically associated only with selling and discontinuing home ownership. Giving up ownership is most often associated with the death of a spouse or entry into a nursing home. In these cases, home equity may be used to pay medical expenses or indeed to support more general consumption of a surviving spouse, although we have not attempted here to document such expenditures. In general, however, we find that home equity is not systematically converted to liquid assets to support non-housing consumption…

…Again, the conclusion is that for the most part housing equity is substantially reduced only after a precipitating shock. In the absence of a shock, the reductions in housing equity by movers represent a small fraction of initial housing equity."
There are two parts to this finding. For those elderly who continue to own homes - those who sell one home and then buy another - their equity tends to increase. Those who finally significantly reduce their housing equity do so only when forced by a precipitating shock. I see no reason to believe that aging baby boomers are any different than the set of elderly studied in this research.
Bottom-line - the lifestyle choice families make with housing is a deep-running commitment:
"…we believe the findings here, as well as our earlier findings, suggest that families purchase homes to provide an environment in which to live, even as they age through retirement years…It may be appropriate, however, to think of housing as a reserve or buffer that can be used in catastrophic circumstances that result in a change in household structure."
Fang Yang wrote a working paper for the Federal Reserve Bank of Minneapolis titled "Consumption Over the Life Cycle: How Different Is Housing?." Yang builds a complex mathematical model to represent the choices families make to (typically) accumulate housing wealth early in life and to hold onto it later in life. Yang cites numerous studies which support the model's overall results that "… elderly households do not decrease their housing consumption." Importantly, transaction costs and the (stark) reality that new housing will likely only be consumed for a very short period of time, act as constraints on the desirability of selling a home in one's later years.
Yang reproduced this chart from the SCF that shows the steady, aggregated accumulation of housing wealth through the age of 80.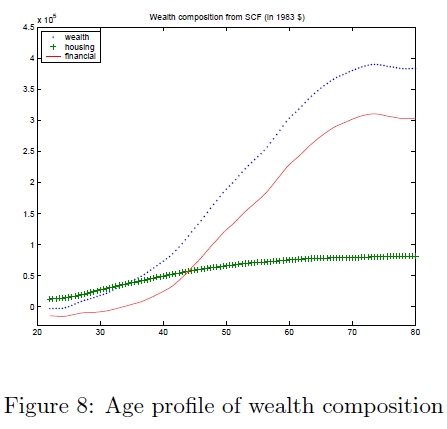 Wealth composition from the SCF in 1983 dollars
This graph shows mean net worth, housing stock, and financial assets versus the age of the head of the household. Note that in the aggregate, the elderly tend to hold onto their assets. Again, this is not the kind of behavior that will seed a senior sell-off.
These earlier studies focus on the supply side of housing amongst the elderly whereas Nelson is also concerned about the demand side. I addressed the demand side concerns in Part 1. However, I will say here that these studies suggest that to the extent poor market demand increases the cost of moving - primarily by reducing the ability to afford the lifestyle sought in another location - the elderly will likely respond to poor demand by adjusting their lifestyles to continue fitting right where they live. Markets have a habit of adjusting in all sorts of surprising ways.
For now, it seems that buying a home remains extremely important to younger people. In April, 2013, a USA Today article quoted a study by Coldwell Banker indicating, astonishingly, an increasing number of "Millennials" who purchase homes together BEFORE getting married: "Almost a quarter of married homeowners aged 18 to 34 bought a home together before they were married, compared with 14 percent of those aged 45 and older." This is an important statistic because it suggests that younger people may not ultimately delay buying homes as much as previously assumed given student debt levels and a generally moribund economy. In other words, the demand for the housing of transitioning elderly may very well show up just when economists or demographers like Nelson assume it will not.
So, overall, while I can understand the concerns over the potential of a senior sell-off, I see every reason to be skeptical that is the most likely scenario for transitioning the housing stock of the baby boomers to future generations. I am certainly not concerned that selling baby boomers will initiate a new American housing crisis.
Either way, be careful out there!
Disclosure: I have no positions in any stocks mentioned, and no plans to initiate any positions within the next 72 hours. I wrote this article myself, and it expresses my own opinions. I am not receiving compensation for it (other than from Seeking Alpha). I have no business relationship with any company whose stock is mentioned in this article.