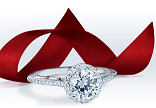 Blue Nile Diamonds could be a girl's best friend, but the stock (NILE) could turn out to be her worst nightmare. The online certified diamond and jewelry store is suffering through this recession just like many other retailers, but investors seem oblivious to the pressure. With a current price near $53, and expected earnings (which may be optimistic) for 2010 of $1.01 the PE is north of 50… certainly not a value analysts best friend.
Over the past five months, the S&P has rallied more than 50% as investors begin to price in the possibility of an economic recovery. At the same time, Blue Nile has seen its price increase by 190% all the while posting declines in revenue and smaller earnings numbers each quarter. In June, the stock lost 28% in just a few weeks of trading when investors became concerned about the recovery. But as the market hit new recovery highs, investors quickly regained their confidence and have bid shares above the highs set in May and June.
Last week NILE reported earnings for the second quarter, and honestly did a great job of spinning the report so that it sounded positive. Revenue came in at $69.9 million which was down 5.2% from the same quarter last year. However, management noted that this decline was much shallower than the 23% and 11% revenue declines seen in the previous two quarters. So once again the news is "less bad" and investors are celebrating poor numbers instead of the alternative horrible numbers. To quote Diane Irving, CEO:
Our financial performance reflects the way in which the Blue Nile brand and our compelling value proposition are resonating with consumers.
One of the common misconceptions with this company is that sales are driven by wealthy clients who are buying large ticket items that amount to ten thousand or even hundred thousand dollar purchases. In actuality, the company receives the majority of its revenue from small purchases - particularly engagement rings. And as the economy takes its toll on individual consumers, these relatively small purchases are becoming even smaller.
Blue Nile is not only expensive when compared to earnings. The stock also appears to be over-priced based on price to sales, price to book, or any other valuation methodology. Currently the market capitalization of the stock is about $775 million. That compares to stockholders equity of roughly $28.6 million. So currently investors are paying more than 27 times the book value of the company. At the same time, annual sales of $295 million (according to the high end of guidance from the press release) also puts the stock at more than 2.5 times sales. The company does not pay a dividend and about the only positive metric you can find is that the debt level is relatively meaningless (although there is a large accounts payable balance).
Still, shorting a runaway stock like NILE can be a dangerous proposition. There is no guarantee that just because the stock is expensive, that it will immediately trade lower. Normally, I would suggest an options play on this type of stock, but the options for NILE are illiquid and unattractive. So it looks like the only way to benefit from a decline would be to take a plain vanilla short position. In order to execute that trade, I want to first see the stock begin to trade in my direction. Remember that with such extreme valuation, once this stock begins to move lower we should see plenty of action so you don't necessarily need to catch the first part of the move.
Aggressive traders may consider logging each new closing high, and then placing a "sell stop" order 7% to 8% below the high closing price. Tuesday the stock closed at $52.15, so if using the 7% level, we would want to short the stock when it hits $48.50. If we get a new closing high today, then we would adjust the entry point a bit higher. This way each successive close higher gives us a bit of a better entry point, but once the selling train leaves the station we will be on board.
Once the selling begins, we will likely see both multiple contraction (possibly to a PE of 20 to 25) and lower revisions to 2010 expectations (lets say they drop to $0.90). If this happens, we will be dealing with a stock priced at $18 to $22.50 and that represents an attractive profit for our short near $48.50.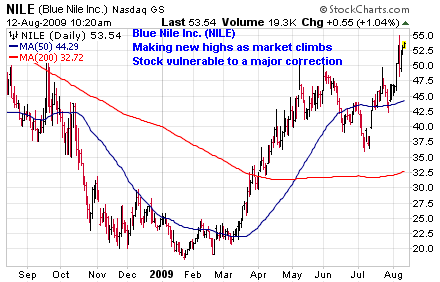 Disclosure: Author does not have a position in NILE