It seems that Meredith Whitney knew precisely what she was talking about with her call on municipal bonds on '60 Minutes' a few years ago. The question we have is how much of a stigma this may remove from the whole process as Detroit is a well known city and thought of as bigger than it truly is. Will this make smaller towns, cities, counties and the like more willing to go down this road? That is the big question this morning but something that only time can tell us.
Readers should also be aware that the earnings from tech yesterday were pretty disappointing with Microsoft and Google continuing the trend of big caps reporting results which have lagged. It might be a hiccup, maybe a situation where the optimism got a bit out of hand on the analysts' part or something more serious. Bottom line is that we now have this big question to work around. We hope the answer is as simple as the continued adaptation of mobile devices.
Chart of the Day:
Is this a company you would invest in? Probably not. The city's population is now less than half of what it used to be and just over 1/3 of the population is employed with over 15% of the population unemployed. It is an old city, a dying city and a city which has seen far better days. It is always possible to have a renaissance, however Detroit has rotted to its core as it has been bled dry unions and poor management. This is a cautionary tale of what happens when responsibility is ignored and everyone tries to 'get theirs'.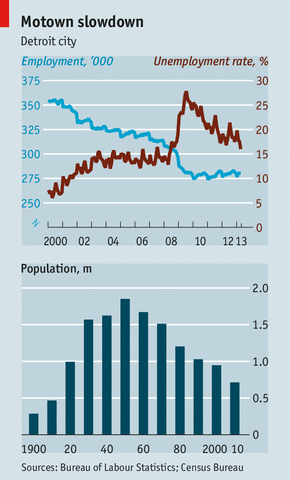 Source: BLS
We have no economic news due out today.
Asian markets finished lower today:
All Ordinaries -- down 0.35%
Shanghai Composite -- down 1.52%
Nikkei 225 -- down 1.48%
NZSE 50 -- down 0.55%
Seoul Composite -- down 0.22%
In Europe, markets were trading mostly lower this morning:
CAC 40 -- down 0.28%
DAX -- down 0.39%
FTSE 100 -- down 0.37%
OSE -- up 0.62%
Housing
This quarter's results from Sherwin Williams (NYSE:SHW) were disappointing and the shares fell accordingly yesterday, dropping by over 8% to finish at $167.94/share, on the news. It did give us reason for pause on our being bullish all things housing, but we figured that there were plenty of other housing related names due to report soon and sure enough Whirlpool (NYSE:WHR) came out and provided a much rosier outlook than previously announced.
Shares in Whirlpool are trading higher this morning, reaching $124/share in pre-market trading, after the company reported revenues exceeding estimates and margin improvement. The company did miss on their EPS figure however based off the results from this quarter and the trends the company sees they did raise their full year guidance in-line with the consensus numbers. The company will also resume share repurchases. Readers can find the company's press release here.
Technology
Many of the big technology names have been reporting rather disappointing quarterly results which miss on the top line, bottom line and in some cases both. The online retail names which specialize in the bidding and clearance segments of the business have reported rather dismal results, but oddly enough Overstock.com (NASDAQ:OSTK) reported results which surprised investors on the top and bottom lines, especially after the disappointments from peers. Many will remember that Overstock.com was left for dead, but the company has managed to turn the ship around and saw revenue for this past quarter rise 22% while also beating the consensus estimates by $0.03/share. Analysts are expecting the company to continue the turnaround and sport strong results with both revenues and earnings expected to rise by double digits during the current quarter.
When one sees a chart that rises from the bottom left to the upper right, it is obvious that there is momentum at play and the company has the ball rolling in the right direction.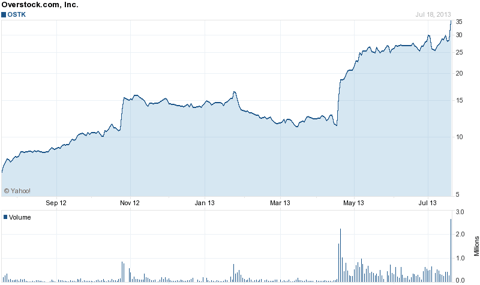 Click to enlarge
(Click to enlarge)
Source: Yahoo Finance
Consumer Goods
Carl Icahn had some great comments at the 'Delivering Alpha' conference this week, especially as it related to Bill Ackman. The two have placed opposing bets on Herbalife (NYSE:HLF) which initially saw Ackman seeing a large gain, but ever since Icahn has entered the trade it seems the shares have done nothing but move higher. Usually management teams do not roll out the red carpet and invite Icahn and his designated board appointees in, but this was one of those rare times. After the rollercoaster that shareholders have been on over the past eight months or so, the shares are once again very close to setting new 52-week highs. Yesterday shares rose $2.28 (4.37%) to close at $54.44/share which is just short of its current 52-week high of $56.39/share set back on July 31st of last year. Shares were within $1 of taking out that high yesterday so it will be interesting to see whether we take that out over the next few days. It would certainly not be good for Ackman's position.
Initially Ackman had his way with this position, but the stock has recovered as other hedge fund managers have decided to teach him a lesson about broadcasting a short position in a thinly traded stock.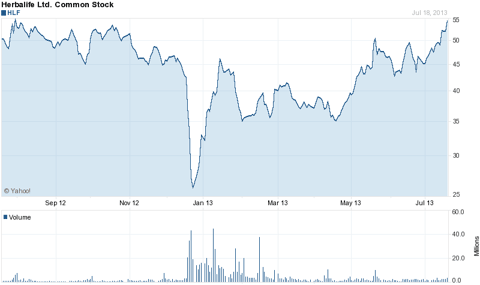 Click to enlarge
(Click to enlarge)
Source: Yahoo Finance
Retail
Whereas Ackman appears to have been wrong on his Herbalife shares, we were wrong on SuperValu (NYSE:SVU) and our call on the company. A lot of what we do is try to manage risk in a manner so as to earn the highest returns while assuming the lowest risk possible. When no one came to the bidding table and then possible deals fell apart, we thought for sure the company was toast. That was not the case though and the company has managed to pull through those rough times and create value for shareholders. The shares now trade at levels higher than where we originally became worried about them and yesterday advanced another $1.14 (16.87%) on volume of 29.1 million shares to close at $7.91/share as the company reported a smaller loss than expected and their efforts to cut costs appear to be working. The company's conference call can be found here.
Disclosure: I have no positions in any stocks mentioned, and no plans to initiate any positions within the next 72 hours. I wrote this article myself, and it expresses my own opinions. I am not receiving compensation for it (other than from Seeking Alpha). I have no business relationship with any company whose stock is mentioned in this article.