On June 30th, Cisco (NASDAQ:CSCO) closed its acquisition of energy management start-up JouleX. While the street reacted with indifference to the news of the acquisition, there is significant value in the acquisition, which analysts have overlooked.
Risks to Cisco in Ethernet Switching
Cisco is currently the undisputed leader in switching technology, capturing above 60% of the total market and dwarfing competitors. Cisco certification has become the de facto standard for network administrators across the globe. However, competition has worn away at Cisco's market share over the past 5 years, rival HP's purchase of 3Com vaulted it into 2nd place globally and rivals such as Juniper are increasingly growing their business in specific niches, such as carrier switching.
Cisco's revenue from switching, as seen from the segment data below, has been flat for the past 3 years. The company has been forced to enter the server market, a high growth but lower margin segment due to entry of server vendors in the switching market and the rapid emergence of software defined networking.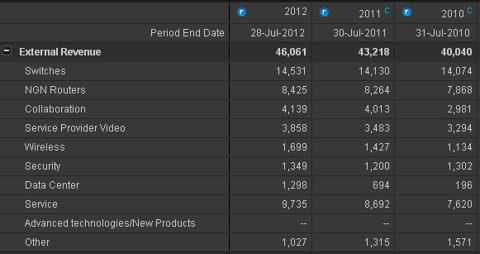 Source: Thomson Reuters Eikon
Cisco Energywise
Cisco's existing Energywise solution has been around for years but has largely failed to add much value to customers. While Energywise allows for monitoring power usage and turning off devices, this is a standard PoE feature that is available on most PoE enabled devices sold by competitors. Energywise does extend power management to compatible devices from Cisco and a limited number of 3rd party vendors.
An obvious limitation of all PoE control measures is that they only control devices connected to PoE switches, so many of the most power hungry devices which require more power than available through PoE aren't connected to Energywise at all and thus cannot be controlled.
As a result, Cisco attempted to develop partnerships where manufacturers would specifically support Energywise in order to extend its functionality. This effort bore little fruit however, partnerships with end device manufacturers are very limited. Lenovo was the only PC maker to support the system.
Cisco enhanced Energywise by developing partnerships with 3 energy management providers, JouleX, Verdiem & Nimsoft, to provide free or trial basis energy management software that allowed users to jump right into inexpensive power management technology and upgrade as they realized cost savings. With estimates for total PC idle power loss alone at $2.8 billion, businesses will see real savings from software energy management solutions, which require far less capital investment.
Enter JouleX
JouleX's claim to fame is a software solution that allows administrators to monitor and modify power usage without the need for specialized hardware to measure and regulate energy usage such as power meters on each device. This is accomplished by supporting as many network vendors as possible at the switching end. On the devices side this is accomplished either by supporting as many different protocols as possible, from SNMP for network devices to WMI for PCs. This wide support means JouleX offers control over more than just PoE devices and can be extended to any device that is capable of connecting to a network.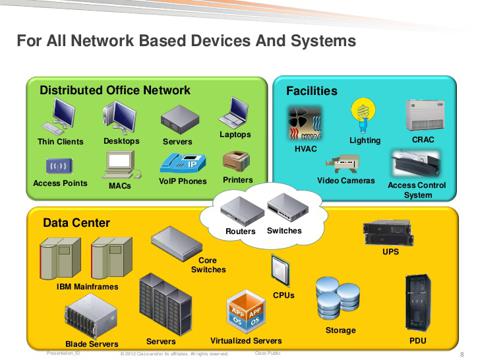 Source: Cisco Live! Presentation
JouleX's software also provides advanced power saving measures, such as analyzing power usage and automatically suggesting policies to reduce power usage, identifying under-used equipment that could be virtualized and calculating the ROI of replacing older equipment with newer and more power efficient versions.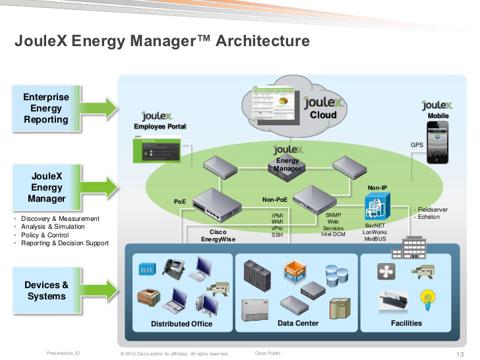 Source: Cisco Live! Presentation
JouleX has developed partnerships to enhance compatibility with products from companies such as Siemens and Canon as well as working with vendors from Intel to Juniper who mentioned JouleX's solution in their own marketing materials.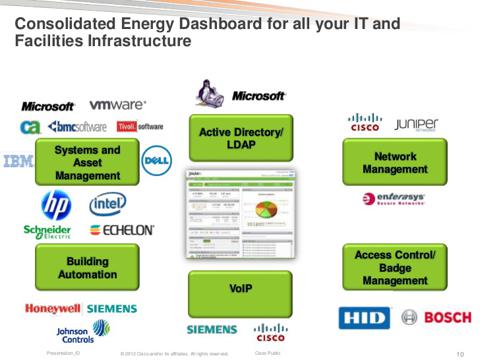 Source: Cisco Live! Presentation
Why JouleX Matters
The acquisition of JouleX doesn't just provide Cisco with the most complete and fully featured power management solution of any network vendor, it also deprives competitors, such as HP (NYSE:HPQ) and Juniper (NYSE:JNPR) of the same. While there are other energy management software vendors, few have the ability to work across as many different devices and platforms as JouleX. This makes Cisco's energy management solution uniquely able to break any form of lock-in achieved by enterprise hardware vendors.
Generally speaking, software sells for a significantly higher margin than hardware. Cisco's ability to bundle JouleX licenses across the range of switching equipment could significantly increase overall margins while also offering customers a compelling cost cutting measure.
By ensuring that all Cisco hardware, from VOIP phones to UCS servers, is fully compatible with JouleX, Cisco can increase the lock and can more effectively cross-sell hardware as well, allowing the benefits of JouleX to spread beyond switching.
Cisco's main competitors in the Ethernet switching space have no comparable product to JouleX. Competitors do offer software tools that allow switches to turn PoE off and on through policies though none have the ability to extend that control to non-PoE devices nor provide analytical capabilities across a network. Other vendors also lack JouleX's ability to automatically analyze and optimize power usage across a network, calculate per device cost, provide what-if scenario calculators and otherwise give administrators fine-tuned control over the energy cost of each device on the network.
Competitors in the software energy management space are few in number and most are still private companies making financial assessments of their value very difficult. The most suitable candidate for a comparison would be CA Inc. (NASDAQ:CA), the enterprise software and cloud services vendor whose Nimsoft product manages all things IT including power, Nimsoft is also an Energywise partner. CA Inc., has maintained a gross margin above 85% versus an average gross margin of 65% for Cisco during that same time period. While Cisco's gross margin has declined over the past 5 years, having been forced to enter lower margin businesses and face increasing competition in its core markets, CA Inc. has grown its gross margin.

Source: Thomson Reuters Eikon
Conclusion
Cisco's move several years ago to sell servers drew a great deal of worry from analysts who didn't see the growth potential but instead focused on the risks of competing with partners and entering a lower margin business. Cisco's management was vindicated through its rapid growth and revenue generation while avoiding damaging partner relationships.
The market has missed the growth potential possible with JouleX, as evidenced by the less than 1% change following the acquisition announcement on May 29, 2013.
Energy management software is the perfect complement to energy management hardware and has the ability to significantly improve overall gross margins. While the market for these solutions isn't yet large enough to generate significant returns, Cisco will not only gain a first mover advantage but it will hold a significant competitive edge against both hardware only vendors and software only vendors, being the only switching vendor to combine both in a compelling platform.
Cisco's management has shown that they recognize high growth opportunities and I believe that the purchase of JouleX for $107 million will significantly reward investors in the future.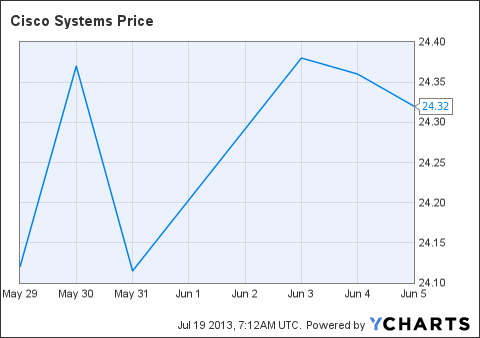 Disclosure: I have no positions in any stocks mentioned, and no plans to initiate any positions within the next 72 hours. I wrote this article myself, and it expresses my own opinions. I am not receiving compensation for it (other than from Seeking Alpha). I have no business relationship with any company whose stock is mentioned in this article.