It's hot across the United States and the rest of the country is realizing what it feels like to live in the South -- minus the humidity, which can make 100 degrees feel like 120 degrees. The bottom line is that power usage is increasing and with the load being handled by nuclear power plants as well as those powered by coal, we should see some interest in those commodities moving forward. With natural gas powering the excess demand in many cases, as well as being the fuel source of choice for many merchant plants, it too should see strong demand over the next few days (and storage drawdowns).
This is reason to be bullish, but readers must keep in mind that it is not a long-term story. For those wanting to watch power consumption and where demand growth is coming from and where it can go, we would advise looking at areas where the oil boom has already firmly put down roots and then look to other regions where those roots have not yet dug in. As an example, we know for a fact that power demand in the Texas-Oklahoma oil area has seen tremendous growth, as has the North Dakota-Montana Bakken area. Our belief is that Colorado and Ohio will be next, with Ohio seeing a multiplier effect due to its big manufacturing base that will benefit from the materials demand.
As we are focusing on electricity and the markets, we want to point out that JPMorgan Chase will probably receive a fine from U.S. authorities that will top the recent record fine handed out to Barclays earlier this week. The story can be found here, and we recommend taking a look at it because it discusses the Federal Energy Regulation Commission's new powers and how it is going after companies on the wrong side of the law.
Charts of the Day
It is extremely hot across the U.S., with a lot of attention focused on the Northeast. This image says a lot, but does not tell the whole story.
Click to enlarge images.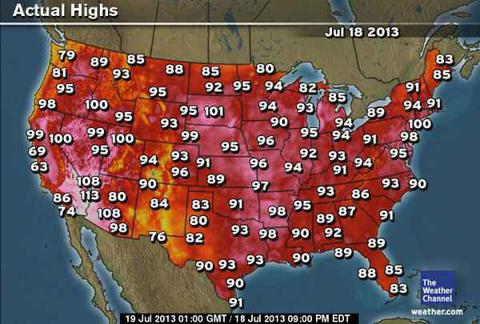 Source: The Weather Channel.
This image shows the difference between the actual highs and the normal average highs. In some cases there are differences of over 20%, and around some major metropolitan areas the differences are in the double digits -- which requires far more electricity than normal. We are watching this closely and would not be surprised if the aging infrastructure led to some brownouts or blackouts.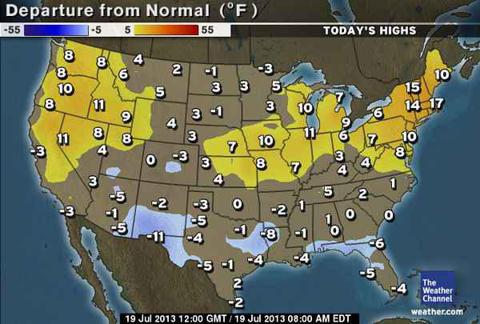 Source: The Weather Channel.
Commodity prices this morning are as follows:
Gold: $1291.40/ounce, up by $7.20/ounce
Silver: $19.465/ounce, up by $0.076/ounce
Oil: $108.40/barrel, up by $0.36/barrel
RBOB Gas: $3.1486/gallon, up by $0.0388/gallon
Natural Gas: $3.793/MMbtu, down by $0.019/MMbtu
Copper: $3.1245/pound, down by $0.007/pound
Platinum: $1425.50/ounce, up by $10.70/ounce
Oil and Natural Gas
Readers will remember our call to go long Apache (NYSE:APA) shares at their 52-week lows based on valuation and the possibility that a deal to monetize some of its assets could be close at hand. Well, the company announced yesterday that it would be selling its mature Gulf of Mexico assets (continental shelf area) to Riverstone Holdings, LLC for $3.75 billion, while keeping a 50% stake in the unexplored blocks being sold. The deal is significant for a number of reasons, one being that the company has monetized slow-to-no-growth assets that can now be redeployed into more lucrative areas the company wants to focus on. The balance sheet will improve and this deal allows the company to return capital to shareholders.
In addition, we will have an industry veteran returning to the U.S. For those who do no know, Riverstone Holdings is a fund that John Browne, BP's former CEO, is a principal in. We like the deal as it offloaded some liabilities related to future work that needed to be done on the assets, gives the company a pile of cash to work with, and allows it to keep a good bit of the potential future upside in these properties. The company's press release has a lot more details surrounding the deal and can be found here. We are still bullish on Apache shares and think they are a good long-term hold.
The shares were extremely cheap when we made our long call, but they have recovered a bit. We still see value here and given the divesting of its Egyptian assets, we think that the company will see investors appreciate its portfolio much more. It is all about managing risk in the oil industry these days, and Egypt is simply a scary wildcard at this time.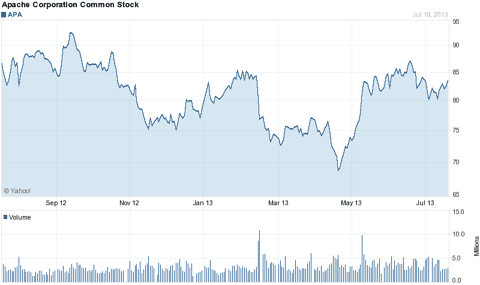 Source: Yahoo Finance.
While Apache has been rising due to promises from the company that it would begin to monetize assets, EXCO Resources (NYSE:XCO) has been outperforming the industry after becoming a buyer of assets recently. We stated we liked the transaction it entered into with Chesapeake Energy (NYSE:CHK), which appeared to be beneficial for both companies, but EXCO shares have continued to rise on the back of that deal. After rising nearly another 5% yesterday, we saw shares finish the session at $8.91/share, or a few cents away from taking out its 52-week high of $9.08/share set on Oct. 17 of last year. The deal was a game changer as it gave EXCO more liquids production at a fair price and speeds up its transformation of transitioning toward a larger producer of oil and natural gas liquids.
The company has surprised us and admittedly caught us off guard. We like the acquisition for what it does to its transformation efforts, and the diversified production base takes a lot of risk off of the table. Wilbur Ross did it again.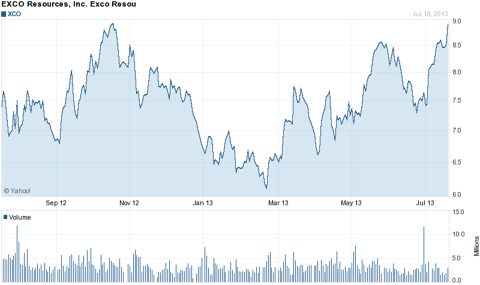 Source: Yahoo Finance.
The rally over at SandRidge Energy (NYSE:SD) continued yesterday, with shares rising another $0.34 (6.58%) to finish at $5.51 on volume of 16.95 million shares, which was above the three-month average for the second day in a row. Yes, oil prices have continued higher and, yes, natural gas has seen some bullish signs lately. But, no, that is not what pushed these shares higher yesterday. Leon Cooperman's comments from the "Delivering Alpha" conference did it, and yesterday will turn out to be a follow-through rally on the back of short-covering for those who look. These sales that other oil companies are engaging in right now are also paving the way for SandRidge to do a deal at some point in the future, but one has to recognize that this is like the housing bubble a few years back -- inventory needs to be cleared.
Coal
We missed the Bloomberg report concerning Walter Energy (NYSE:WLT) a few days ago (available here). It is not a groundbreaking revelation, but it is important to take note that the dividend might not be around in a significant manner for much longer, and it highlights where the company stands in regard to its debt. Yes, we realize that it is an old story now, but the way this was handled poorly the first time is something to remember as these negotiations are under way.
Are the adults back in charge as it pertains to coal? The last time refinancing talks came up, Walter shares dipped below $10/share and were halted a couple of times. This time we did not even notice anything was up. Readers should note that the dividend will probably be eliminated for all intents and purposes.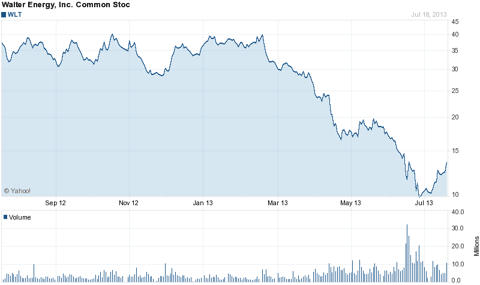 Source: Yahoo Finance.
That is the cautionary statement, but investors found reasons to be bullish on the coal names yesterday, with Walter leading the way among the larger names as shares rose nearly 9% to close at $13.56. Arch Coal also had a good day, rising over 5% to close at $4.12/share. Volume was strong across the board, and we saw some commodity people discussing the possibility that natural gas storage levels could be drawn down at a rate exceeding current estimates due to the heat wave on the East Coast. That would obviously give the natural gas bulls reason to bid up prices, but it would also create an argument to get long thermal coal as it could see demand pick up as it becomes more economical.
It is a story that has been told before, but every time we see reasons to get bullish on natural gas we like to remind readers why coal names also seem to rise.
Disclosure: I have no positions in any stocks mentioned, and no plans to initiate any positions within the next 72 hours. I wrote this article myself, and it expresses my own opinions. I am not receiving compensation for it (other than from Seeking Alpha). I have no business relationship with any company whose stock is mentioned in this article.