The consumer staples sector is usually expected to outperform late in a business cycle when the economy is slowing and sector earnings tend to be less cyclical. With the continued yo-yoing in the economic mid-cycle (if the recent taper discussions are any validation), the consumer staples group has had some manic relative performance to the S&P 500 broad index.
Based on the fiscal cliff concern and weak economic data late last year, there was a push toward the defensive, low-volatility sectors. However, optimism for any improving economy has been building, notably since the April jobs report in early May. With that optimism and "taper-on" discussions, there has been a reversal to underperformance. This business cycle, driven largely by monetary policy, has seen the back and forth between late-cycle defensives and early-cycle sectors, and has ignored the classic mid-cycle sectors including Industrials, basic materials, and energy.
Figure 1: Consumer Staple Relative Performance to S&P 500
Click to enlarge images.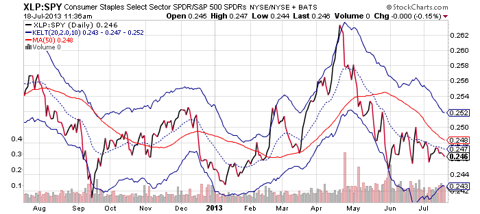 Despite the recent weak performance compared to the broad market, valuations in the consumer staples sector remain fully valued at current prices. Figure 2 and Figure 3 detail current valuations of 95% of the market capitalization of the Consumer Staples Sector ETF (NYSEARCA:XLP). (We kept out those companies with insufficient history due to spinoffs, such as Kraft (KRFT) and Mondelez International (NASDAQ:MDLZ).)
In Figure 3, the solid black line reflects a demarcation line of fair value. Companies valued above the line are pricing in additional growth and/or margin improvement expectations, while companies below the line are pricing the opposite. As a quick reminder, the EV/IC valuation multiple is the company's enterprise value (EV) divided by its invested Capital (IC). Companies that generate economic profits will have a return on capital (ROIC) that is greater than its cost of capital (OTC:WACC). A company's firm value should be greater than the invested capital of the firm when ROIC is greater than WACC. Expected growth in invested capital and expanding profitability of the deployed capital (rising ROIC) should generate an additional multiple premium.
Figure 2: Consumer Staple Valuations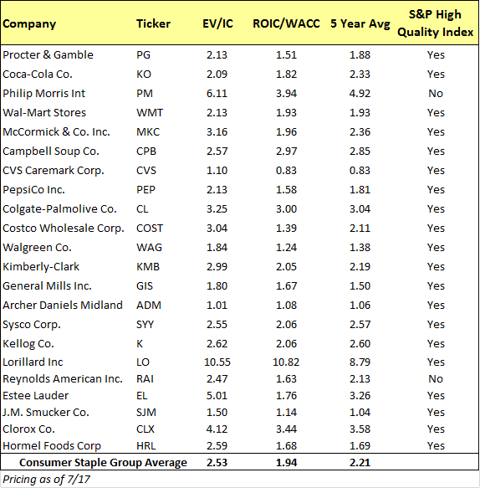 Figure 3: Consumer Staple Valuations Plot
As the valuation table shows, using a normalized basis over five years of quarterly history, the consumer staples group is fully valued and valued above its theoretical valuation based on profitability and cost of capital. We are less concerned about groupings above the fair value line and look for companies that fall below the line. This is more of a value-oriented approach, which looks for a catalyst that would cause a positive revaluation in the stock. In this current environment, only one company is trading in the (slightly) undervalued region -- Campbell Soup (NYSE:CPB).
From an invested capital and profitability perspective, Campbell Soup presents an interesting dynamic that highlights a catalyst and reason for further diligence by investors when such a situation arises. Last summer, Campbell Soup announced the purchase of Bolthouse Farms for $1.6 billion in cash, which it funded with debt. From a capital perspective, the acquisition hit the books in the October quarter of last year, increasing the estimated invested capital to $7.2 billion from $5.2 billion the previous quarter. At that time, Campbell traded at an EV/IC multiple of 2.10x compared to 2.46x the previous quarter.
While the book value increased, the company had yet to benefit from the operating profits of the acquisition, thus driving the return on invested capital down to 12.7% vs. 17.0% the previous quarter. A key catalyst for Campbell Soup to reflect a higher valuation is the return to a long-term ROIC in the 17%-18% range. The company's five-year average ROIC is 18.9%, although it has been slipping since late 2010. The five-year average EV/IC implies an ROIC of roughly 18%.
Despite a modest estimated undervaluation, the valuation gap has significantly closed due to the strong year-to-date performance with Campbell now trading at an EV/IC of 2.6x vs. 2.1x roughly a year ago. Therefore, from our perspective, the market is now pricing in a fair amount of profitability improvement from the acquisition. Figure 4 highlights Campbell's enterprise value as a combination of the underlying invested capital (blue area) and market value add (brown area), which is the premium to the underlying capital.
Figure 4: Campbell Soup Enterprise Value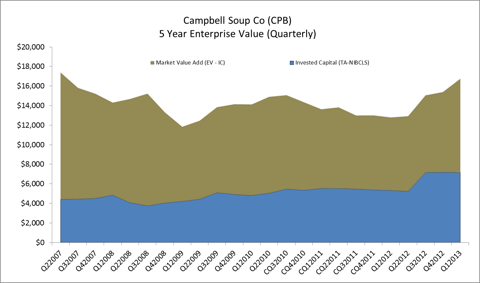 Conclusion
For an economy that seems to be yo-yoing just above stall speed, the consumer staples sector remains a reasonable area for investors to have core investment positions in. At this time we don't see much in the bargain bin, with Campbell Soup showing modest undervaluation despite the strong run year to date. However, as my review yesterday of Coca-Cola (NYSE:KO) showed, valuations and outlooks remain reasonable.
Disclosure: I am long KO, CPB, PEP, CL, GIS, SYY, LO, K, CLX. I wrote this article myself, and it expresses my own opinions. I am not receiving compensation for it (other than from Seeking Alpha). I have no business relationship with any company whose stock is mentioned in this article.
Additional disclosure: Clients of Smith Patrick Financial Advisors own securities mentioned in this article at the time of this writing. This is article is written for informational purposes and we believe investors should perform their own due diligence before making investment decisions.