Intel Corporation (NASDAQ:INTC) long investors may have to wait awhile longer before shares gain traction. Back in April, Seeking Alpha editors published an article I wrote offering readers three simple benchmarks that I believe will telegraph corporate fortunes and a corresponding stock move. In this article, we will re-visit these benchmarks, confirm why I believe they indicate 2013 will be lackluster, and add two other observations that may further influence the shares for the remainder of the year.
What Are the Benchmarks?
The three fundamental benchmarks I follow to forecast Intel Corporation (INTC) business performance are:
Margins
ASP (Average Selling Price)
Dividend Growth
Let's break these down and analyze current results.
Margins
What I'm looking for: Gross Margins stop going down, stabilize and reverse trend
Gross Margins have been drifting downward since the middle of 2010. Intel 2013 2Q earnings suggested a bottom may be at hand. Gross margin (Net Sales less Cost of Goods Sold) came in at 58 percent. That was aligned with Intel Corporation (INTC) management's forecast when providing second quarter guidance several months ago. Margins improved two points from the first quarter, and were equivalent to reported gross margin for 2012 fourth quarter.
One quarter does not a trend make, but at least the data point headed in the right direction. Furthermore, it backed up a statement by CFO Stacy Smith on the April 16, 2013 first quarter conference call:
So as the gross margin improves, we expect that Q1 is the bottom. It's up a bit in Q2, and then a back half that's back into the low 60s...
(The bold emphasis was mine.)
Current Analysis: Neutral on balance. One improved quarter is good, but we have yet to see a sustained trend reversal. Alternatively, blowout revenues to offset lower margins could be acceptable. I don't see that happening this year.
Average Selling Price (ASPs)
What I'm looking for: ASPs may remain flat, but cannot deteriorate
Average Selling Price offers investors a look at the inter-relationship between price and mix for Intel Corporation (INTC) products. If ASPs are falling, and revenues are not increasing rapidly, then there's trouble brewing on the horizon. A chip price war could spell trouble for high-margin Intel Corporation (INTC). Thus far, this has not materialized.
First quarter results showed that ASPs for the PC Client Group and Data Center Platforms were stable.
Please find below from the latest earnings release. It's on the very last page of the document.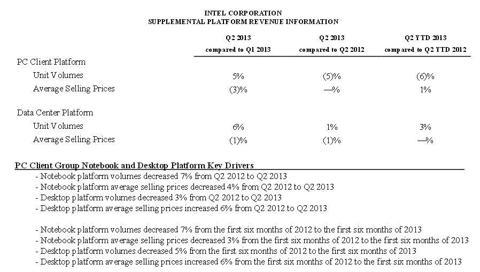 ASPs for the PC Client and Data Center groups fell three and one percent, respectively. This isn't especially good news. While I'm happy to see that first-half ASPs remained stable, the modest declines in the second quarter were going in the wrong direction.
Current Analysis: Generally negative; tipping the wrong way
Dividend Growth
What I'm looking for: Leadership's confidence in the business will be reflected through the dividend
For value/income stocks, I suggest dividend growth is an excellent proxy for director and management's long-term business optimism. Over the last five years, Intel Corporation (INTC) has defined itself as a generous dividend payer, boosting the dividend by an annualized 14 percent. Last year saw a 7 percent bump in the payout. It's now the highest yielding Tech stock in the S&P 500. The 3.9 percent yield puts the shares in similar company with many Utility stocks.
Previously, Intel Corporation (INTC) management has stated that the cash dividend target payout is 40 percent of Free Cash Flow.
Here's a table I created showing Intel Corporation (INTC)'s FCF for the past few years:

Please note that in 2010 and 2011, Free Cash flow was over $2 a share. The directors declared dividends within stated guidelines. However, last year saw FCF fall to $1.43 a share. Even if no increase was announced, the payout would have been about 58 percent; yet the directors continued the trend and increased the dividend anyway. The current annual rate is now 90 cents a share.
Based upon management guidance provided in conjunction with the most recent earnings release, I find it difficult to project 2013 FCF / share greater than $1. Therefore, simply maintaining the current payout would take up most of the free cash.
I watch with particular interest the anticipated third quarter dividend declaration. I expect this to come sometime between July 25 and the end of the month. My view is that a token increase is likely. If so, this will further confirm my thinking that the shares will be moribund for the year. It means that the board of directors concur that the business is in a transition mode and cannot afford to raise the dividend "on the come." They will have elected to wait for greater financial clarity on the direction of the business.
Current Analysis: Undetermined outcome, but anticipating a negative result based upon current information
Corollary Observations
There are two other signals that I believe support my thesis that Intel Corporation (INTC) shares will be range bound for 2013.
First, a look at the share repurchase plan offers some insight. To their credit, Intel Corporation (INTC) directors have previously enacted share buyback plans that actually lowered the number of shares outstanding. While management and employee options were stewed into that mix, the bottom line did show a real reduction in the number of diluted shares outstanding. This has had a net positive impact on EPS.
However, the last two quarters have seen a significant decline the in the number of shares repurchased. This has reversed the downward trajectory of total shares for the first time in a number of years.
Here's a quick chart showing the total shares outstanding at the end of the last several quarters. Notice the totals for the first two quarters of 2013. Indeed, shares outstanding have risen slightly:

Corporate directors have the latitude to apportion shareholder return of capital via dividends and share repurchase. If the board has already knocked back the share repurchase plan, can the dividend be far behind? We shall see.
Finally, I believe the appointment of new CEO Brian Krzanich will have the general effect of dampening FY 2013. This isn't a knock on Mr. Krzanich at all. Wise new CEOs rarely come in and try to make an immediate "big splash." They listen, learn, and assemble the leadership team they want. This take a good six months to a year. In the meantime, the general mantra is keep corporate affairs tracked, execute current strategies, but don't turn everything upside down and dump it out on the floor.
My expectations for Krzanich runs along these lines.
Conclusion
While I understand Intel Corporation (INTC)'s general business, I am not a semiconductor technical expert. I try to evaluate businesses by focusing upon several key benchmarks that I believe are proxies for the overall health of the enterprise. In the case of Intel, I see the aforementioned metrics as appropriate.
My current analysis of these benchmarks lead me to the conclusion that 2013 will be a trough year for the company. Do I see a corporate collapse? No. Do I envision a powerful second half upswing? No.
Having bought shares some time ago, I plan to hold the stock, collect the dividend, perhaps write some call options, and "wait till next year."
Please do your own careful due diligence before making any investment. Good luck on all your 2013 investments.
Disclosure: I am long INTC. I wrote this article myself, and it expresses my own opinions. I am not receiving compensation for it (other than from Seeking Alpha). I have no business relationship with any company whose stock is mentioned in this article.
Additional disclosure: I am long both Intel common stock and long call options.