We wrote last week that we were surprised by the sudden sell-off in shares of Youbet.com (UBET, $2.75). To our dismay, somehow the market seemingly knew last week that Youbet.com would miss Wall Street expectations for 2Q09. If that sounds a bit fishy, we're with you, although perhaps the downtrend simply gained momentum for those who wanted to take some chips off the table -- please see 10-day graph below relative the S&P 500's flat to slightly higher performance:
click to enlarge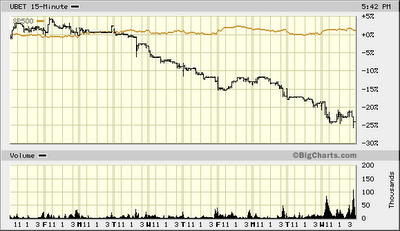 The company reported 2Q09 revenue of $30.2 million and EPS of $0.03, below Wall Street estimates of $30.8 million and $0.06, respectively. Since Youbet doesn't provide guidance, forecasting can be a challenge, but we thought EPS of $0.06 was reasonable. We knew online wagering margins would be pressed lower by new content and also thought the company's tote segment might remain a nagging problem given lower industry-wide wagering. On the conference call, management highlighted several things that impacted results, which we detail on our blog for those wanting more information.

Let's look at the online business, which is our primary focus:
Youbet Express gross revenue increased 9% Y/Y to $24.6 million on wagering "handle" that increased 13% Y/Y to $128 million (new content offset 9% decline in "same track" wagers). The handle growth is a notable deceleration from the +30% Y/Y increase in 1Q09 when new content first returned (same track increased 4% Y/Y in 1Q09).
Net revenue declined 4% Y/Y to $8.8 million with the net yield down 120 basis points to 6.9% on new content included and "an increase in player incentives".
Gross profit declined 5% Y/Y and operating expenses were down only 6% Y/Y, leading to a 2% Y/Y decline in income from continuing operations to $2.6 million.
Income from operations represented a 10.7% margin on gross revenue, down 130 bps Y/Y, but was 29.1% margin on net revenue compared to 28.5% in 2Q08 and 27.1% in 1Q09.

Finally, just like last quarter, if Youbet operated only the ADW segment, EPS would have been $0.06, illustrating the earnings power of the business (untaxed because of large NOLs, which should still offset taxes over time).
We are disappointed by the segment's slower top-line performance and relatively flat bottom-line since we expected at least some incremental profit with the new content. While pleased that the net margin is holding up, the economy is now clearly impacting the online business (fewer racing days, plus new content to wager on/choose from Y/Y and strained consumers = lower same track wagers). We think some investors may wonder about competition given Churchill Downs' results last week (see earlier post), but we think Churchill benefited from a very easy Y/Y comparison with the new content versus reduced levels.

Management was asked about market share on the call and said that YB would need to see Oregon Racing Commission data before commenting on 2Q09 share. They also pointed to the following:
Average number of weekly unique wagerers increased 7% Y/Y (versus 10% in 1Q09)
Average handle per unique weekly wagerer increased 5% Y/Y (versus 18% in 1Q09)
We note that 2Q09's net yield of 6.9% is actually higher than the 6.3% realized in 2Q06 (when YB last carried the Kentucky Derby and other Churchill content), which we believe reveals prudent yield management. Still, we look for more color on market share and need to keep an eye on customer acquisition/retention costs.

Although we expected more, the fact that the company's top-line continues to grow in the current environment is a positive and differentiates the company from most other gaming companies today. An 8/11/09 MarketWatch article relayed recent data from the Nevada Gaming Control Board showing June gambling revenue down 14% Y/Y in Nevada with Strip revenue down 15% Y/Y. Amazingly, the share prices of major gaming companies keep moving higher in the face of poor fundamentals on stabilization/recovery hopes that are squeezing shorts. Below, we include a one-month chart for Youbet, Churchill Downs (NASDAQ:CHDN), Las Vegas Sands (NYSE:LVS), MGM Mirage (NYSE:MGM), Penn National Gaming (NASDAQ:PENN), and Wynn Resorts (NASDAQ:WYNN). Youbet is the laggard but should be one of the few profitable companies this year (along with CHDN and PENN):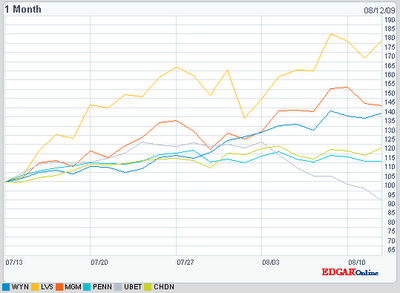 We acknowledge that hotel/casino companies have established franchises and significant hard asset values. However, they also have huge fixed cost structures that are a major drag in tough times.

Lastly, we know UBET short interest ticked meaningfully higher in July as the stock traded in the $3s (to 1.1 million shares from nothing; still only 3% of float - please see blog for table). So, no doubt "the shorts" will be all over YB's "miss" and we know the tote segment remains a challenge.

The good news is that the uncanny sell-off over the past week may have already discounted the lower-than-expected results. Moreover, here's the reality: the company remains profitable with an improving balance sheet (net cash of $5.6 million, up $7.8 million Y/Y) and isn't going anywhere. As noted in prior posts, the company owns an established, asset light business model with a leading online wagering franchise – brand, customers, platform, marketing partners, and track relationships – that is difficult to replicate. Even dialing back forward estimates slightly, assuming 2009 free cash flow of $12 million, the stock trades at a 10% FCF yield.

Disclosure: long UBET