Our group has initiated a position in 3D Systems Corp. (NYSE:DDD) over the past week. We believe the recent consolidation gives long-term traders an opportunity to initiate a position and we expect new highs going into earnings on the 30th of July. This article will explain why we like DDD, both fundamentally and from a technical point of view. We own the January $45 calls, risking 1% maximum in our portfolio.
The 3D Story
3D stocks have been on fire lately. We have seen a big run up in a number of 3D stocks. Look at Proto Labs Inc (NYSE:PRLB) which made a huge run in the last six months, the stock rising from $40 to the current price of $60. The same can be said with respect to ExOne Inc. (NASDAQ:XONE) which has also risen from $25 to $61. The hype in 3D stocks continues and we expect new highs in the near future. On the other hand, DDD has had a nice consolidation over the last few months and is now setting up for what we believe are new highs.
Recent News
On July 15th, DDD completed the acquisition of Phenix systems. Avi Reichental, CEO of DDD stated, "Phenix systems is a strategic and differentiated addition to our extensive 3D content-to-print portfolio." DDD paid $15.1m for this acquisition. Phenix systems is the only selective metal sintering system that can fruit chemically fuel, full events, metal and ceramic parts from very fine powders with the granularity of 6 to 9 microns creating an unmatched portfolio with differentiated performance at every price point.
On July 11th, DDD and Deloitte announced an extensive alliance to adopt and integrate 3D products.
On July 10th, DDD announced that together with Innovation Factory of Chicago, it plans to power Chicago's bid to become an innovation hub and design.
These big partnerships make DDD a great position for the future.
In late June, Microsoft (NASDAQ:MSFT) stated that the new Windows 8 will include an API that allows application developers to support 3D printers from MakerBot. MakerBot was recently acquired by Stratasys Ltd. (NASDAQ:SSYS).
Latest earnings report
The last earnings report was a stellar one. Some key points:
- Revenue grew over 31% over the previous year and came in at an impressive $102.1m. This included a 61% increase in printers and other product, and 22.1% overall organic growth.
- Gross profit increased 38% and gross profit margin expanded 250 basis points to 52.4%.
- Print materials grew to $28.7 million and made up 28% of total revenue, and services revenue increased some $5.1 million to $33.6 million and made up 33% of total revenue.
- Revenue from U.S. operations increased 25% to $57.2 million on higher volume. Revenue from European operations grew 38% to $28.6 million in 2013. Revenue from Asia-Pacific operations increased 45% to $16.3 million.
Fundamentals
- Market cap of $4.35b
- Float of 86m shares
- 32% of the float is short as of June 28th.
- Total cash of $95m (After Phenix acquisition).
Technical analysis
We like the set up here. We believe the chart is forming a nice cup and handle that is getting ready for a big breakout to all-time highs. We are keeping an eye on volume as this will signify new highs are around the corner. The daily chart is shown below. We like the action over the 50-day moving average.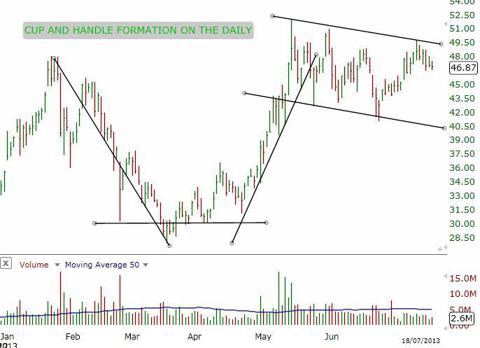 The weekly chart is also one we like. We are looking at the 10-day moving average on the weekly as a level of support. Stochastics and volume look bullish.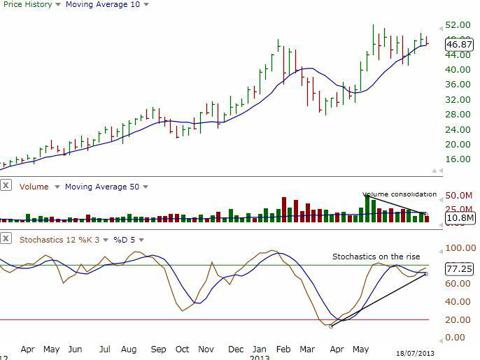 Conclusion
We remain bullish on DDD or 3D systems stocks. Most stocks are on a beautiful uptrend as seen in stocks like XONE, SSYS and PRLB. Our favorite remains DDD as a result of the cup and handle formation, bullish consolidation, rising earnings estimates and recent partnerships, together with the short float which can cause a short squeeze anytime.
Disclosure: I am long DDD. I wrote this article myself, and it expresses my own opinions. I am not receiving compensation for it (other than from Seeking Alpha). I have no business relationship with any company whose stock is mentioned in this article.