On Thursday, July 18, Apache Corporation (NYSE:APA) announced that the company has agreed to sell its Gulf of Mexico Shelf operations and properties to Fieldwood Energy for $3.75B in cash. The move is in-line with previously announced plans to divest $4B in older assets this year in order to pay down debt, repurchase shares, and focus on new projects. In the wake of Apache Corporation's (APA) announcement I wanted to not only examine the company's recent performance, but also take a look at several catalysts behind my decision to consider a long-term position in the company.
Performance and Trend Status
On Thursday, shares of Apache Corporation (APA), which currently possesses a market cap of $32.77 billion, a P/E ratio of 18.06, a forward P/E ratio of 9.12, and a forward yield of 0.96% ($0.80), settled at $83.60. Based on Thursday's closing price, shares of Apache Corporation (APA) are trading 1.02% above their 20-day simple moving average, 0.58% above their 50-day simple moving average, and 5.02% above their 200-day simple moving average. These numbers indicate short-term, mid-term, and long-term uptrends for the stock, which generally translates into a buying mode for most traders.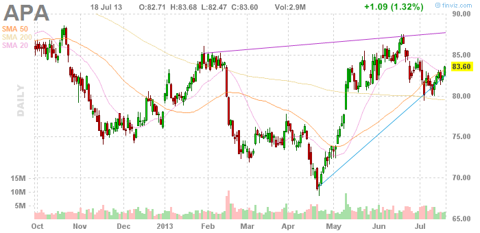 Stag-48H Shows Potential
Although most eyes have been focused on how Apache Corporation (APA) is going to overcome the civil and military-based unrest that has taken place in Egypt, I've actually begun to take a closer look at the company's assets in another key region of the world, Australia. With interests in 30 exploration permits, 17 production licenses, and 13 retention leases that cover a total area of 7.9 million gross acres located in offshore Western Australia, horizontal drilling could have an impact on the company's long-term growth in the region.
Apache Corporation's (APA) holdings in Australia are focused primarily offshore in an area of Western Australia known as the Carnarvon basin, where the company has operated since acquiring the gas processing facilities on Varanus Island and a number of the adjacent producing properties in 1993.
According to the company's website, "In total, Apache Corporation (APA) controls approximately 8.8 million gross acres in Australia through 35 exploration permits, 16 production licenses, and 10 retention leases and at least 90 percent of the company's acreage is undeveloped". So how are the company's Australian assets working out? If we examine how well the company's horizontal oil development project is doing, I'm sure we'll get a better understanding of Stag-48H's potential.
During the first quarter of 2013, "the Stag-48H horizontal oil development well was drilled from the Stag oil platform and logs indicate that the well intersected a total of 1,549 feet of high resistivity oil pay. The well results validated the interpretation of hydrocarbon distribution based on both the reservoir engineering simulation model and the Stag OBC seismic inversion model". If subsequent wells can continue to mimic the performance of Stag-48H, I personally think Apache Corporation's (APA) growth in the region could exceed expectations over the next 12-24 months.
Recent Dividend Behavior
Since July 20, 2011, Apache Corporation (APA) has increased its quarterly distribution twice in the last nine payable quarters. From an income perspective, the company's forward yield of 0.96% ($0.80) coupled with its continued distribution increases make this particular stock a very viable income option for long-term investors in search of a conservative-yielding play in the independent oil & gas sector.
Conclusion
When it comes to those who may be looking to establish a position in Apache Corporation (APA), I'd continue to keep a watchful eye on not only the company's dividend behavior over the next 12-24 months, but also pay very close attention to any growth that may directly related to an increase in the number horizontal wells the company develops. Since Apache Corporation (APA) is heavily dependent on the price of oil it should be noted that any significant drop could have a negative effect of both profits and subsequent distributions.
Disclosure: I am long APA. I wrote this article myself, and it expresses my own opinions. I am not receiving compensation for it (other than from Seeking Alpha). I have no business relationship with any company whose stock is mentioned in this article.