Cocoa futures have traded to a 5 week high after data was released yesterday on NA grinding numbers. Second quarter cocoa grindings far exceeded the market's expectations with an 11.8% jump… far above estimates that came in at 3-5%. A bullish number in Europe, NA and Asia all seeing year-on-year increases in Q2 in spite of global headwinds in the EU, a lackluster recovery domestically and a slowdown in the emerging economies. This is the demand side of the equation. As for the supply side, we are also starting to see glimmers of hope with news that the Ivory Coast has already forward sold 750,000 tonnes of next season's crop. Early estimates for the 13/14 crop out of this region (the 800 lb gorilla) call for a decline of 100,000 tonnes below the current year. If we experience a reduction in Ghanna, a combination of rebounding demand and lower supplies could keep cocoa well supported. Big picture, these circumstances could mean 2700-3000. Shorter-term, I think futures have gotten ahead of themselves as I am looking just to play a counter trend move with clients.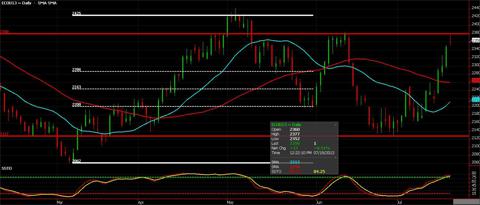 Since bottoming on 6/28, September cocoa futures have appreciated 12%. I drew these red horizontal lines weeks ago on this chart by observing support and resistance levels over the last five months. One can clearly see that we have bounced off the lower line and it appears that we are finding resistance at the upper line. My stance is futures back off in the coming weeks and trade back below the 50 day MA (red line).
I've been fortunate enough to trade both sides of this market in the last few months... will our luck continue? My suggested strategy is short September futures while simultaneously buying just out of the money calls 1:1 as a hedge. On a move lower, we will make money on the futures and lose money on our options. In the coming weeks, I am targeting a move in this contract back to 2225/2250.
Risk Disclaimer: This information is not to be construed as an offer to sell or a solicitation or an offer to buy the financial products herein named. Trading futures, options, and Forex involves substantial risk of loss and is not suitable for all investors. Past performance is not necessarily indicative of future results. This report contains research as defined in applicable CFTC regulations. Both RCM Asset Management and the research analyst may have positions in the financial products discussed.
Disclosure: I have no positions in any stocks mentioned, and no plans to initiate any positions within the next 72 hours. I wrote this article myself, and it expresses my own opinions. I am not receiving compensation for it. I have no business relationship with any company whose stock is mentioned in this article.