In early July, I wrote about the strategies at work at Baidu (NASDAQ:BIDU), and suggested the recent efforts to shift its approach to demographic changes had positioned the company to make a major bull run higher. Since the article was published, Baidu's stock has seen gains of 24.3%. It had some additional moves higher propelled by the decision to acquire 91 Wireless, a third-party app store developer that will give Baidu exposure to key areas of the market that have been largely neglected up until this point. Baidu is the owner of China's largest search engine, but the developments seen this week should send a clear signal to markets and let investors know that Baidu plans to step up its presence in areas beyond its traditional search services.
The acquisition of 91 Wireless marks a critical strategy change that will support the stock's outlook going forward, as well as remove some of the comparative disadvantages Baidu has so far faced relative to its main Chinese competitors -- Qihoo (NYSE:QIHU), Alibaba, and Tencent (OTCPK:TCTZF). The Internet sector in China has seen a large number of acquisitions in recent months, with key examples seen in Alibaba's 18% purchase of Weibo (China's version of Twitter) for $586 million, and Baidu's previous acquisition purchase of PPStream, an online video company, for $370 million. Nearly 60% of 91 Wireless will be purchased from NetDragon (OTC:NDWTY), its parent company, for just over $1 billion.
We have already seen criticisms suggesting that this overvalues 91 Wireless, but when we consider how this will benefit Baidu in deficient areas, these criticisms become much less valid. First-quarter revenues from the mobile businesses at NetDragon grew by more than 300% relative to last year, coming in at $23.5 million, which is more than three times what was seen in last year's earnings report. Most of those gains were generated by 91 Wireless, with product offerings that include the 91 Assistant and HiMarket apps that run on devices using the Android operating system from Google (NASDAQ:GOOG). These products make up the core of NetDragon's total business.
The last earnings report from NetDragon showed that the HiMarket and 91 Assistant app stores have over 10 billion combined app downloads, in addition to their app development capabilities. 91 Wireless commands 15.6% market share in mainland China's app distribution, which is the second place position. First place is still seen with Qihoo's Mobile Assistant, which holds 27.4% market share in those markets. Given the level of direct competition that is seen between Baidu and Qihoo, the acquisition starts to look much more vital and aids the longer-term prospects for Baidu's stock value.
At this stage, it is clear that Baidu is focused on strengthening its mobile presence, as markets and consumers slowly drift away from desktop usage (an area where Baidu has a commanding lead). With Wireless 91, Baidu now has a sustainable app download gateway with the ability to access mobile devices, and build on its previous deficiencies relative to their its main Chinese competitors. To illustrate this point, Baidu now commands 82% of the desktop search queries made in China, but on the mobile end, Baidu's smartphone app is used only 9% of the time. When viewed in this light, it becomes clear that Baidu absolutely needs to make significant moves in this area in order to capitalize on the changing demographics that are seen in most of the Chinese user base.
Chart Perspective
Click to enlarge image.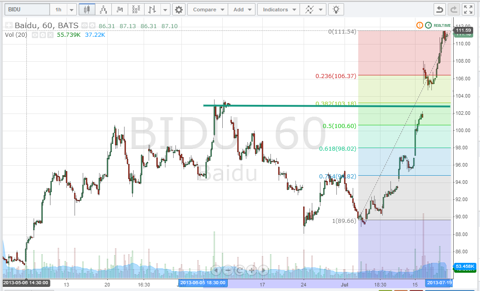 Recent bull rallies have come from Baidu's ability to show markets that strategic changes are being made and that the company is open to new transitions. This is highly positive for stock values going forward, as the longer-term uptrend looks to solidify itself. The stock has seen a big run-up since the original trade call was made in early July, but the bias remains bullish as long as Fib support at 103.05 holds. Support at 105.40, however, should contain prices going forward.
Disclosure: I have no positions in any stocks mentioned, and no plans to initiate any positions within the next 72 hours. I wrote this article myself, and it expresses my own opinions. I am not receiving compensation for it (other than from Seeking Alpha). I have no business relationship with any company whose stock is mentioned in this article.