What's Behind The Numbers by John Del Vecchio and Tom Jacobs is a great book on the subject of forensic accounting, protecting your portfolio and financial statement analysis. The book's aim is to provide a "Guide To Exposing Financial Chicanery And Avoiding Huge Losses In Your Portfolio." Although this is a value book Del Vecchio is also a short seller and trader, so you get some interesting viewpoints, but it all comes back to value in the end.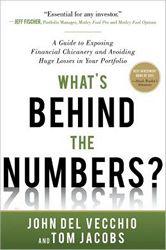 One of the main topics of the book is identifying companies in your portfolio that are showing red flags. It's true that companies practice dishonest accounting. The principle here is to look for companies you own that may be using aggressive accounting practices or number manipulations to please Wall Street.
What's Behind The Numbers provides fantastic guides on what to look for in cash flow statements, income statements, and balance sheets. Even if your accounting isn't top notch, it's easy enough to understand and follow along.
What Accounting Tricks Are Being Used?
There are a myriad of financial shenanigans that companies employ just to meet their quarterly earnings. There are companies that will give their customers a huge discount in order to grow their income before the end of the quarter. Companies and salespeople aim to inflate numbers at the end of a quarter. For them, the higher the better. For shareholders, this is bad news as it sacrifices future revenue.
Tips like this is what this book is about. It's packed with practical advice. If I had to sum up the book in three words, it would be "avoid huge losses."
When you invest and smell something rotten in your portfolio, throw it out and leave it to stink somewhere else. What's Behind The Numbers also looks at conventional financial detective ratios such as days sales outstanding and days sales in inventory. These are metrics that are a part of the cash conversion cycle.
Is the Book for You?
In the book, Del Vecchio talks about how avoiding big losses has a higher positive impact in the long term than generating large gains. He introduces a shorting strategy based on fundamentals to do this. The book is well-written, easy to follow, and, best of all, it's practical. You can immediately start applying what you read.
You do need a little fundamental knowledge and understanding of the basics of financial statement analysis to really get the maximum benefit out of it, but it's a book you will want to keep at your side for sure. To read more about what's in the book, read this interview with co-author John Del Vecchio. It's a great interview with lots of insight and thoughts on how to position your portfolio.