By Todd McDonald
Overview
VMware (NYSE:VMW) is slated to report 2Q 2013 earnings after the close of trading on Tuesday, July 23. The results are typically released immediately after the closing bell and will be followed with a conference call at 5:00 p.m. ET. VMware is a leader in desktop virtualization and cloud-computing.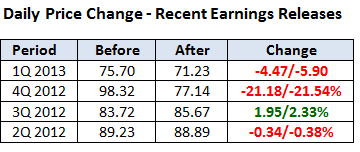 Outliers & Strategy
Non-GAAP Earnings Per Share: The current Street estimate is for Non-GAAP EPS of $0.77, at the mid-point of the projected range of $0.75 to $0.80. (Source: Yahoo! Finance)
Revenues: VMware previously said it expects total revenues for 2Q to range from $1.21 bln to $24 bln, or growth of approximately 8% to 10%. The current estimate is $1.23 bln.
Revenues Guidance (3Q 2013): The current consensus is for revenue of $1.28 bln for 3Q 2013, with a range of $1.26 bln to $1.31 bln.
Revenues Guidance (FY 2013): Revenues for 2013 are seen growing 12.40% Y/Y to $5.17 bln.
As of December 31, 2012, EMC Corp. (EMC) owned about 41 million shares of VMware, equating to a stake of 32%. As a result, keep close watch on EMC as the shares tend to react off the results from VMware. Other secondary moves are possible in stocks such as F5 Networks (NASDAQ:FFIV), Riverbed (NASDAQ:RVBD) and Juniper Networks (NYSE:JNPR).
Implied Volatility: The options market is pricing in an absolute move of approximately 6.7%, which is higher than the average move after earnings over the past two years (6.05%).
Recent News
07/15: VMware announced that the firm has completed its divestiture of Zimbra.
07/12: According to a post on StreetInsider.com, Evercore Partners cut its rating on VMware to Equal Weight from Overweight, with a $75 price target. The firm cites concerns over future growth rates and stiff competition.
07/10: Craig-Hallum maintained a Hold rating, while decreasing their price target from $80 to $75, according to a post on Barrons.com. The firm cited concerns about cheaper competition and delayed licensing revenues.
06/05: Deutsche Bank downgraded VMware to Hold from Buy, with a significantly lower price target of $80, from $110. According to the post on StreetInsider.com, the price target cut is mainly due to pricing pressures from competition such as Microsoft's (NASDAQ:MSFT) System Center.
Technical Review
VMware shares have dramatically underperformed the market, falling almost 24% this year. After recently failing to hold the 50-day SMA on 7/19, it is apparent that the moving average should be used as a reliable point of resistance. If earnings results disappoint, initial support can be found near the 52-week lows of $64.87. If shares break through those lows, VMware shares could see a significant move to the downside. If earnings results are bullish, look for initial resistance near $76, with $80 possible with any material improvement over analyst estimates. (Chart courtesy of StockCharts.com).
Summary
VMware has had a very soft first half of 2013. The provider of virtualization solutions and cloud infrastructure is experiencing concerns about slower growth, headwinds from more affordable competition, and delays in customer decisions ahead of the VMworld trade show. Given this backdrop, even a small surprise could send shares much higher. Be sure to pay attention to revenues guidance for both next quarter and fiscal year 2013.
Disclosure: I have no positions in any stocks mentioned, and no plans to initiate any positions within the next 72 hours. I wrote this article myself, and it expresses my own opinions. I am not receiving compensation for it (other than from Seeking Alpha). I have no business relationship with any company whose stock is mentioned in this article.
DISCLAIMER: By using this report, you acknowledge that Selerity, Inc. is in no way liable for losses or gains arising out of commentary, analysis, and or data in this report. Your investment decisions and recommendations are made entirely at your discretion. Selerity does not own securities in companies that they write about, is not an investment adviser, and the content contained herein is not an endorsement to buy or sell any securities. No content published as part of this report constitutes a recommendation that any particular investment, security, portfolio of securities, transaction or investment strategy is suitable for any specific person.