By Brendan Gilmartin, VP Research and Content
Netflix (NASDAQ:NFLX) is scheduled to report Q2 2013 earnings after the close of trading on Monday, July 22, at approximately 4:05 p.m. ET, with a conference call slated to follow at 6:00 p.m. Netflix shares have been rallying sharply since the Q1 earnings release back in April, rising more than 60% on renewed growth prospects and increased subscription revenues.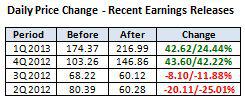 Outliers and Strategy
Netflix is expected to post EPS of $0.40 for the Q2 period. The range is $0.30 to $0.56 (source: Yahoo Finance). Back in April, Netflix said it was targeting Q1 EPS in the range of $0.23 to $0.48. Revenues are seen rising 20.6% to $1.07 billion (source: Yahoo Finance).
Keep an eye on guidance for the upcoming Q2 2013 period. Estimates are as follows:
Earnings Per Share: $0.45 (high estimate is $0.61)
Revenues: $1.10 billion (high estimate is $1.13 billion)
Following the recent run-up in Netflix shares, there are widespread concerns in the sell-side community that Netflix shares are highly overvalued. Note that short interest is back up in the 17% area -- an indication of increased bearishness. The options market is currently pricing in a 14.3% move off of earnings. In just the past four quarters, the average price change is 25%.
Recent News
July 17: Speaking from CNBC's "Delivering Alpha" conference, renowned investor Carl Icahn stated that he was still long Netflix.
July 16: Boutique firm Battle Road Research reiterated a Sell rating on Netflix and indicated it believes the shares are worth closer to $102, according to a post on Barron's online. Several factors contribute to the cautious outlook, including weaker gross margins, questions regarding its contribution margins, losses in international streaming, and declining free cash flow.
July 15: Bernstein maintained an Underperform rating on Netflix with a price target of $180, according to StreetInsider.com. The firm believes the Street is underestimating competitive threats from the likes of Google (NASDAQ:GOOG) and Amazon.com (NASDAQ:AMZN).
July 12: According to a post on StreetInsider.com, Barclay's raised its price target on Netflix from $220 to $250. The firm cited increased traffic trends and quality of original content, along with penetration in connected TVs and mobile devices.
Technical Review
Netflix shares are up more 60% since the April earnings release, touching a recent peak of $270.31 (as of July 18) -- not far from the all-time high established in May 2011 ($270.80). Against this backdrop, the bar is set pretty high heading into Monday's earnings. Should results come in meaningfully above consensus, there is little in the way of near-term resistance. Conversely, there is initial support in the $250 area, followed by the psychologically important $200 level. Note that the relative strength index (RSI) is well above the 70 level, signifying an overbought scenario and leaving Netflix vulnerable to steep downside risk.
Click to enlarge image.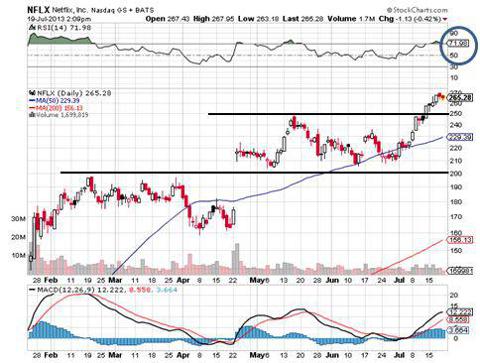 Summary
Netflix shares have been rallying over the past several months, benefiting from new content licensing agreements, expansion on social media platforms, and a more dominant market position -- resulting in increased subscriber additions and more flexibility on pricing. The fundamental improvements have resulted in a dramatic increase in sell-side sentiment.
However, the valuation side of the equation seems to have many concerned that the recent run-up was too much, too fast, with shares trading at rich premium to earnings and revenues on a relative historical basis. Against this backdrop, Netflix shares are vulnerable to even the slightest missteps. Conversely, another blowout quarter could easily push the shares well above the all-time high near $270.
Disclosure: I have no positions in any stocks mentioned, and no plans to initiate any positions within the next 72 hours. I wrote this article myself, and it expresses my own opinions. I am not receiving compensation for it (other than from Seeking Alpha). I have no business relationship with any company whose stock is mentioned in this article.
Disclaimer: By using this report, you acknowledge that Selerity, Inc. is in no way liable for losses or gains arising out of commentary, analysis, and or data in this report. Your investment decisions and recommendations are made entirely at your discretion. Selerity does not own securities in companies that they write about, is not an investment adviser, and the content contained herein is not an endorsement to buy or sell any securities. No content published as part of this report constitutes a recommendation that any particular investment, security, portfolio of securities, transaction or investment strategy is suitable for any specific person.