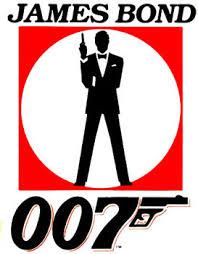 MGM Interactive entered into a strategic relationship with Glu Mobile (NASDAQ:GLUU) to purchase approximately 3.3 million warrants for $3.00 each ($10 million cash) according to Glu Mobile's 8-K form filed with the SEC on July 17, 2013. The strategic partnership licenses Glu to develop and release a new mobile game based on one of the most successful franchise names in history "007, James Bond." The licensing agreement includes a second game release based on "RoboCop," a 1987 blockbuster movie with 2 sequels, 2 TV series, a mini-series, a comic book and action figures. So, what does this mean for investors and Glu Mobile?
Sponsorship At $3.00
MGM's purchase of these warrants will establish a support level for Glu Mobile shares at or around $3.00 (see chart below). Investors buying shares under $3.00 are essentially buying at a discount to MGM. Glu's shares must trade above $3.00 for MGM to cash in its warrants. Obviously, MGM sees Glu going higher and has agreed to purchase the warrants for $3.00. Glu is currently trading around $2.70, making it a bargain. As I explained in a previous article, $4.50 is very likely a first tier target. In March 2013, Darren Aftahi shared the same target price:
Northland Capital's analyst, Darren Aftahi, who closely follows Glu Mobile, recently raised his price target to $4.50 with a market "Out Perform" upgrade.
The deal means $10 million cash for Glu's coffers and a huge revenue stream from two potentially blockbuster mobile games.
Technical Breakout at $3.65
Referencing the chart below, the red breakout line at $3.65 is where short sellers are most likely hiding and will be forced to start covering their short positions. This should provide enough momentum to move Glu higher as management continues to execute the vision that was explained in great detail here.
To exceed the $4.50 price target, Glu will need to penetrate those new revenue streams from real-money gaming and its GaaS games-as-a-service model. If the vision plays out as Glu's CEO Nicolo de Masi believes, we could see a second breakout above the $5.60 ceiling sometime around January 2014.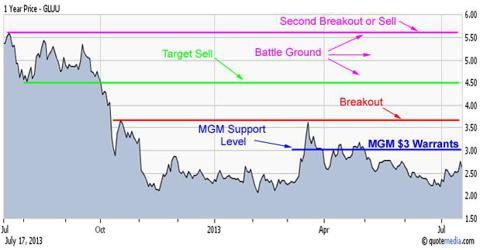 Key Fundamentals
Glu Mobile remains debt free and finished last quarter with $21.2 million in cash and equivalents. Glu Mobile has been transitioning away from the older featured phone games to the newer smart phone market and is generating about 87% of its revenue from games that were reworked or designed for the smartphone market (see slides here). Although Glu has been growing revenue over the past 3 years, it still is not profitable.
2010 Gross Revenue 42,813 Million
2011 Gross Revenue 47,818 Million
2012 Gross Revenue 74,770 Million
CEO de Masi shared his vision of Glu's GaaS "games-as-a-service" model and real-money gaming during the last conference call.
New Games and Relationships
"Deer Hunter Reload" for Androids will go live on the new Skillz real-money tournament platform where gamers pay-to-play and win cash prizes. About this, de Masi said:
Deer Hunter Reloaded has been downloaded by over 6 million users worldwide. Deer Hunter Reloaded for Android can be downloaded from Google Play and the Amazon Appstore. The parties expect that players of Deer Hunter Reloaded on Android will be able to compete in cash tournaments in 37 U.S. states by the end of the second quarter of 2013. Glu expects that Skillz tournaments will be available in additional Glu titles on Android during the second half of 2013.
The pay-to-play tournament platform is a real-money gaming site that provides social engagement, competition and a chance to win real-money. Andrew Paradise, the company's founder, said Skillz is the "world's first cash tournament SDK" platform that reaches over 25 million users.
"Tons of Guns" was just released this month and is being called a "barrel-smokin, bullet-spittin" game where you fight your way through the streets to win tons of guns. This should become huge on the Skillz tournament platform.
"Zombies Ate My Friends" was just released Thursday, July 18, 2013, along with "Black Gate: Inferno." You can read more about these new mobile games here.
Looking Forward
During an interview with Pocket Gamer, when asked to predict what he believes will be some of the most important trends in 2013, de Masi said:
The first $100 million run-rate revenue freemium mobile game will have launched by the end of the year.
My suspicion is that de Masi believes Glu will be the first to achieve this goal.
Glu Mobile reports Q2 earnings after the bell on August 6, 2013. Analysts expect a $0.07 per share loss, but historically, Glu has been beating analyst expectations. I think Glu will once again report better than expected results.
Disclosure: I am long GLUU. I wrote this article myself, and it expresses my own opinions. I am not receiving compensation for it (other than from Seeking Alpha). I have no business relationship with any company whose stock is mentioned in this article.