Chipotle (NYSE:CMG) reported 2Q13 earnings on Thursday and the results are nothing short of impressive. With other fast casual restaurants reporting soon, can we take this as a sign of positive earnings reports to come? Panera (NASDAQ:PNRA) reports July 23rd, Jack-in-the-Box (NASDAQ:JACK) reports August 7th, Fiesta (NASDAQ:FRGI) reports August 8th, Cosi (NASDAQ:COSI) reports August 12th, and Noodles (NASDAQ:NDLS) has yet to announce.
In my last article, I analyzed Chipotle's growth strategy to imply a future stock price based on a set of my personal assumptions. In this article, I'd like to review Chipotle's results in the context of the long term plan I previously analyzed.
Increased Same Store Sales and Average Sales per Store:
Chipotle reported a same store sales increase for 2Q13 of 5.5%. This compares favorably to the previous quarter of 1% (3% adjusted). The company maintained guidance of low to mid same store sales for 2013E. This is highly encouraging as investors had to take some pause last quarter with the weaker same store sales results.
Average sales per store also increased to $2.119mm per store, which is up 0.6% from last quarter. I find this particularly impressive because Chipotle already has one of the highest sales per store metrics in the industry. Since around 55% of Chipotle's restaurant level margin is fixed or semi-fixed (labor), increased per store sales drop to the bottom line quickly.
Revenue / Profit Increase Quarter over Quarter:
Chipotle achieved quarter over quarter ('13 vs. '12) revenue and operating income growth of 18.2% and 9.4%, respectively. These are enormous growth rates and a clear sign that Chipotle is not decelerating its growth by any means.
New Stores:
Chipotle opened 44 new stores which means it has opened 92 new stores this year. Management has provided guidance that it will open 165-180 new stores for 2013. Annualizing the 92 new stores would get them to 184 new stores for the year, which would be a great achievement. If Chipotle does hit the upper end of their guidance, that would mean they grew stores by close to 14% for the year, which matches their historical compound annual growth rate since 2010. This is another impressive sign as Chipotle is not tapping the breaks at all in terms of store growth.
Concerns - Restaurant Operating Margin:
The one concern I have with Chipotle's earnings report is a reduction in restaurant operating margin of 1.6% compared to 2Q12. The explanation management has provided is that food costs, specifically salsa, dairy, and chicken prices have increased. Food accounted for 0.9% of the 1.6% decrease, so it appears that food is in fact the major culprit.
Although the margin contraction is concerning, there are some mitigating factors. First, labor actually decreased by 0.4% as a percent of sales. This is likely partially due to the increased sales, but I believe it is still a good sign that Chipotle has strong managers, even at the restaurant level, to keep their labor expenses in check. Another reason why the margin contraction is not a major concern for me is that management still has not increased their prices as they had previously indicated they were evaluating. Management will likely increase their prices if food costs increase too much. In this way, the price increase is a direct, controllable hedge against the rising food costs we see that deteriorated 2Q margin. Basically, management still has an ace in their pocket to play to get their restaurant margin back in check.
Questions Remain:
There are several questions related to Chipotle's long term growth strategy that I would like more guidance on from management to better tweak my model/forecast for Chipotle:
-What is the plan for international expansion, particularly in Europe?
-How fast will it ramp ShopHouse?
-How have the new products / breakfast test been going?
-Is the August roll out of catering still on track?
Valuation:
Chipotle continues to maintain a premium multiple compared to its competitors. Below is a chart of EBITDA multiples for Chipotle and its competitors in the fast casual space. I've excluded Noodles (because its valuation is so high since its recent IPO) and Cosi (because it is an outlier with low EBITDA).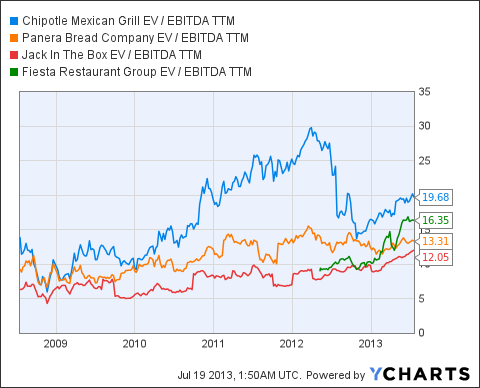 CMG EV / EBITDA TTM data by YCharts
As you can see, Chipotle is far and above its competitors in terms of valuation. While the valuation is rich, it is hard to argue that it achieved an impressive quarter and could be on a longer term growth path to grow its EBITDA and thus justify the higher multiple. The results this quarter have given me even more confidence that the growth projections I laid out in my last article are achievable and that there is a lot of runway for Chipotle's stock price.
How will Chipotle's competitors fare in their earnings report?
Although I believe that Chipotle is a best of breed, expertly managed business, I believe these results strengthen my thesis that the fast casual restaurant space is still early on in its growth trajectory. These restaurants are growing significantly faster than the traditional, sit-down restaurant space, and faster than most of the mature fast food restaurants.
Cosi is in a turnaround environment right now, so it is hard to use Chipotle's earnings report to glean any insight with regard to what Cosi will report. Chipotle's strong earnings release does bode very well for all of the other players in the fast casual space that will be reporting over the next few weeks. I especially think that Panera, with their relatively low valuation, could see some short term stock appreciation to get closer to the industry average if they report results that mirror the positive results announced by Chipotle.
Disclosure: I have no positions in any stocks mentioned, but may initiate a long position in CMG over the next 72 hours. I wrote this article myself, and it expresses my own opinions. I am not receiving compensation for it (other than from Seeking Alpha). I have no business relationship with any company whose stock is mentioned in this article.