Kinder Morgan Management (NYSE:KMR), a Zacks Rank No. 1 (Strong Buy), offers investors a way to participate in the North American energy revolution. It manages and controls the affairs of Kinder Morgan Energy Partners (NYSE:KMP), a Zacks Rank No. 3, which operates approximately 46,000 pipelines and 180 terminals dedicated to the transport of energy products.
U.S. Energy Output Has the Potential to Explode
Over the past four weeks, U.S. oil production rose 18.4% year over year to 7.35 mbd. Production has displayed solid growth in recent years and is up from the 5.0 to 5.5 mbd level in the mid-2000s. In its Annual Energy Outlook and under a favorable scenario analysis, the U.S. Energy Information Agency projected that U.S. oil production could reach 10 mbd by 2030. Likewise, U.S. natural gas production could rise from 23.0 trillion cubic feet in 2011 to as much as 36.1 trillion cubic feet in 2035, with most of the gain occurring between 2011 and 2025.
Earnings Estimates Are Working Higher
Three earnings estimates for 2013 and 2014 have been raised in the past 30 days, while the 2013 and 2014 Zacks Consensus Estimate for earnings per share have worked higher over the same period. The 2013 Zacks Consensus EPS Estimate has risen $0.17 to $2.67, while the 2014 Zacks Consensus EPS Estimate has jumped $0.20 to $2.90. The price and consensus chart highlights the recent upswing in earnings estimates.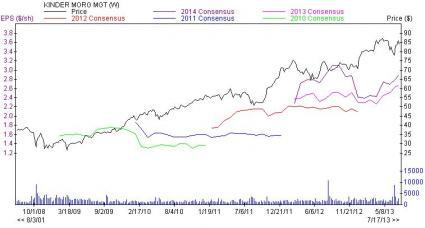 Underlying Business Activity Looks Healthy
Kinder Morgan Energy Partners recently increased its quarterly cash distribution per common to $1.32, which is a 7% increase from the year prior. CEO Richard Kinder noted exceptional growth opportunities across all businesses, noting the infrastructure needs from oil shale plays in the U.S. and Canada. His comments seem to confirm the underlying macro trend for stronger North American energy production.
Kinder Morgan Management Pays a Quarterly Stock Dividend
Those looking to accumulate shares and build their interest in the energy transport and storage sector may be interested in fact that Kinder Morgan Management pays a quarterly stock dividend. One should always seek council of a tax advisor, but under IRC §305(a), stock dividends of KMR are not taxable upon receipt to the stockholder. However, the stock dividend does affect the basis of each individual unit held by the stockholder. The dividend may provide a way to accumulate interest in the North American energy revolution. The last dividend paid in May amounted to .014770 per unit.
Kinder Morgan Energy Partners: Free Stock Analysis Report (email registration required)
Kinder Morgan Management: Free Stock Analysis Report (email registration required)