Income investors usually favor stable businesses, with good profitability levels and a strong cash flow generation capacity. One sector which usually meets these criteria is the utilities sector. Moreover, utilities regularly pay a large part of their profits as dividends, and usually are relatively resilient to macroeconomic cycles making them a safe harbor over the long-term. In the US, the utilities sector (NYSEARCA:IDU) offers on average a dividend yield of about 4%, which is attractive for income investors. However, there is higher-yielding stocks in foreign utilities, like Red Electrica de Espana (OTCPK:RDEIY) that currently offers a dividend yield of 5.5%. This yield compares favorably against some major American utilities, such as Duke Energy (NYSE:DUK) which yields 4.4%, or American Electric Power Company (NYSE:AEP) at 4.15%.
Company Background
Red Eléctrica de España is a Spanish utility company founded in 1985. It was the first company in the world to be exclusively dedicated to the transmission of electricity and the operation of electricity systems. The company is nowadays the sole transmission agent and operator of the Spanish electricity system, and its business is to ensure the continuity and security of the electricity supply in the country. As system operator, it guarantees the continuity and security of the electricity supply maintaining the constant balance between generation and consumption.
Red Electrica has been listed since 1999 and its largest shareholder is the Kingdom of Spain, through a public enterprise called SEPI, with a stake of 20%. The remaining 80% trades as free-float. Red Electrica's market capitalization is about $7.7 billion, and trades in the US in the over-the-counter (OTC) market. However, due to small liquidity, investors who can buy directly on the Spanish stock exchange should avoid the company's ADR.
Despite the sluggish macroeconomic environment in Spain over the past few years, Red Electrica's business has been growing, showing its resilience throughout the economic cycle. Despite the housing bubble, huge unemployment rate and lower economic activity overall, the company was able to achieve good growth rates, both in sales and earnings during this period. This happens because electricity is a basic human need that is on demand. Even tough electricity demand can fall during downturns, over the long-term is usually stable and Red Electrica as the sole operator of the electricity system has therefore a resilient business.
This safe business is reflected in the company's very strong financial figures. In 2012, the company achieved $2.3 billion in sales, an increase of 7.2% from the previous year. This growth is justified by its international interconnections to Portugal, France and Morocco, allowing for higher electricity volumes in the company's network. The company's profitability is extremely high, given its EBITDA of $1.7 billion in the last year. This represents an EBITDA margin of 74%, which is impressive. Moreover, this margin has increased over the past few years, from 68.5% in 2008 to 74% last year showing the company's improved efficiency.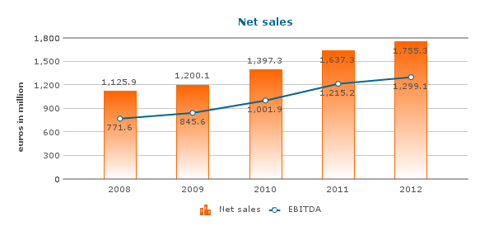 Moreover, the company's cash flow generation is also very good. In 2012, it generated more than $1.3 billion in cash flow after taxes, or about 58% of net sales. The cash flow generation has also improved over the past few years, showing the quality of Red Electrica's business model. On the other hand, Red Electrica's debt levels are quite high, taking into account that at the end of 2012 its net debt was about $6.4 billion. This means a net debt-to-EBITDA ratio of 3.75x and a gearing ratio (net debt-to-equity) of 71%, which for a safe and growing business with high levels of profitability (EBITDA margin of 74%) is acceptable.
Dividends
Contrary to most European companies that pay only one dividend per year, Red Eléctrica pays two dividends during the year. An interim dividend is usually paid at the close of the fiscal year (January), and a supplementary dividend is paid once the dividend for the fiscal year has been approved. For the past few years, this supplementary dividend has been paid at the beginning of July.
The company's dividend track record is impressive, given that its dividend is growing every year since 1999. Related to fiscal year 2012, the company paid an annual dividend of €2.37 ($3.10 ) per share, representing an increase of 6.9% from the previous year. Over the past five years, the dividend average annual growth rate was 16%. Moreover, the dividend payout ratio was stable between 60% to 65% of its earnings during this period, which given Red Eléctrica's stable and mature business could even be a little higher. Therefore, the company's dividends should continue to increase over the next few years, despite the fact that Spain's macroeconomic outlook is not bright.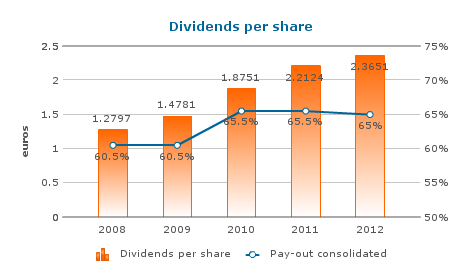 Moreover, Red Electrica's capital expenditures were about $1 billion in 2012. For the next four years the company expects its investment needs to be lower, with capex declining to about $750 million per year. This is also supportive for the company's dividend payments as it will have more cash flow available to distribute to shareholders.
Conclusion
Red Electrica de Espana is a great dividend investment, offering a very attractive and safe dividend yield of 5.5%. Despite the pain in Spain, this company is growing and improving its profitability levels, showing that is not much affected by the economic crisis. However, its debt levels are relatively high and if a credit crunch happens again in Europe it may have some problems to roll over its debt. Nevertheless, this usually doesn't last longer than a few months and only in 2015 Red Electrica has debt to rollover (about $750 million). Therefore, its dividend seems to be safe over the long-term and therefore Red Electrica offers good value to income investors.
Disclosure: I have no positions in any stocks mentioned, but may initiate a long position in OTCPK:RDEIY over the next 72 hours. I wrote this article myself, and it expresses my own opinions. I am not receiving compensation for it (other than from Seeking Alpha). I have no business relationship with any company whose stock is mentioned in this article.