There was intensive insider buying in Navidea Biopharmaceuticals (NYSEMKT:NAVB) in March when the stock was trading at $2.70. The stock is currently trading at $3.14 or 16.3% above the level that the insiders bought the stock.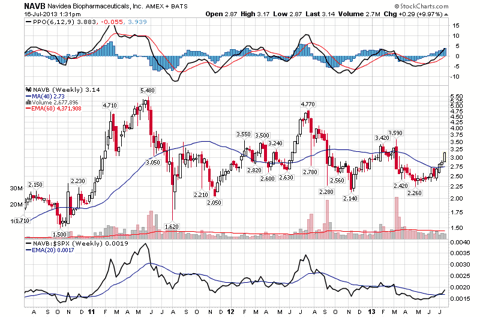 Navidea is actively developing four radiopharmaceutical agent platforms: Lymphoseek, NAV4694, NAV5001 and RIGScan. Lymphoseek faces three major catalysts this year.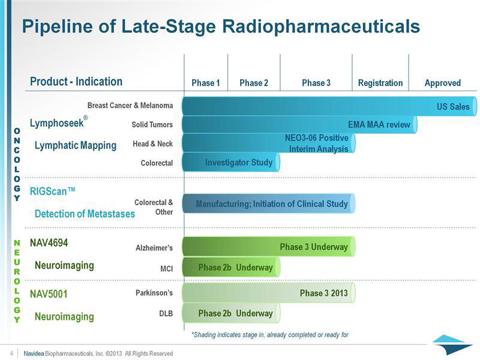 Lymphoseek
Lymphoseek (Technetium Tc99m Tilmanocept) Injection is a first-in-class mannose receptor (CD206) binding radiopharmaceutical agent developed for use in external lymph node imaging (lymphoscintigraphy) and intra-operative lymphatic mapping [ILM].
On March 13 the US FDA approved Lymphoseek (technetium Tc 99m tilmanocept) Injection for use in lymphatic mapping procedures to assist in the localization of lymph nodes draining a primary tumor in patients with breast cancer or melanoma.
On May 1 Navidea launched Lymphoseek with Cardinal Health (NYSE:CAH) with a price of $300 per procedure. Cardinal is a very strong marketing partner with over 140 nuclear pharmacies and more than 400 radiopharmacists. As a result, they can reach 99% of the nuclear medicine customers within 3 hours after receiving an order. While Lymphoseek is reimbursed under the CMS A-Code A4641 Radiopharmaceutical, diagnostic, not otherwise classified, Navidea expects to receive a unique pass-through C-Code on October 1. Navidea and Cardinal share roughly 50%/50% on the $300 price with gross margins expected to be 75%-80% which translates to 35%-40% of Cardinal Health's sales revenue for Lymphoseek to Navidea.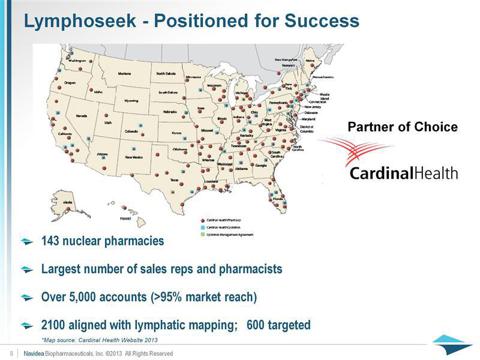 In addition to Phase 3 clinical trials in breast cancer and melanoma which supported the Lymphoseek approval, Navidea is conducting an additional Phase 3 clinical trial in patients with head and neck cancer. This trial reached a pre-planned interim analysis point in 2013. Positive topline results demonstrated that Lymphoseek met the primary efficacy endpoint of accurately identifying sentinel lymph nodes [SLNs] in subjects with squamous cell carcinoma of the head or in the mouth, as compared to the removal of all lymph nodes during multiple level nodal dissection surgery of the head and neck. Following the completion of the full dataset and secondary analyses of the head and neck trial, Navidea will evaluate the possibility of filing a Supplemental New Drug Application [sNDA] late in 2013. Additional studies of Lymphoseek in other cancer types by the company or by investigators are also anticipated.
Navidea has filed the Marketing Authorization Application seeking approval of Lymphoseek in the EU for use in intraoperative lymphatic mapping not specific to any particular solid tumor type. The company hopes to receive the Day 120 feedback from the EMA this quarter. Based on this timeline, a positive CHMP opinion could come as early as the fourth quarter of this year. Navidea is taking steps to prepare for commercialization in the EU and is engaged in active discussions to secure a partner in that region and continues to be hopeful that it will be in a position to announce an agreement with the EU soon. Beyond this filing, Navidea plans to focus on those countries that allow marketing based on U.S. or EU approval such as Mexico, Israel, Singapore, Saudi Arabia, the Philippines and others, where the company is evaluating the merit and process of pursuing sales in those markets.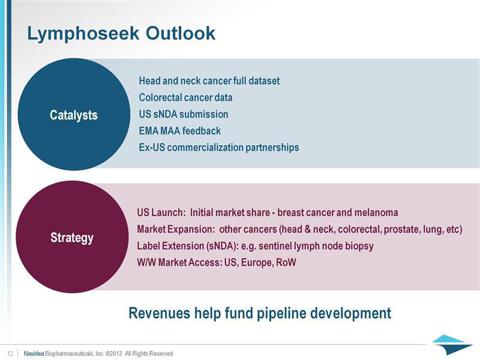 Lymphoseek competition
Surgeons who practice the lymphatic mapping procedure for which Lymphoseek is intended currently use other radiopharmaceuticals such as a sulfur colloid compound in the U.S., and other colloidal compounds in other markets. In addition, many surgeons use vital blue dyes to assist in the visual identification of the draining lymphatic tissue around a primary tumor. In the U.S., sulfur colloid is manufactured by Pharmalucence. Sulfur colloid had been used "off-label" in the U.S. for ILM until July 2011, when it was approved by the FDA for use in lymphatic mapping in breast cancer patients based on a statistical meta-analysis of published literature that compared the use of sulfur colloid with that of the vital blue dyes. The product label for sulfur colloid was expanded to cover lymphatic mapping in melanoma in August 2012, again on the basis of a meta-analysis of published literature. In the EU and certain Pacific Rim markets, there are other colloidal-based compounds with various levels of approved labeling for use in lymphatic mapping, although a number of countries still employ the use of products used "off-label".
Navidea's goal is to expand the label for Lymphoseek to a sentinel lymph node biopsy claim. There are no FDA-approved imaging drugs for sentinel lymph node detection and if granted, Lymphoseek would represent a major game changer in the space.
Lymphoseek market potential
There are 1.2 million cancers amenable to lymphatic mapping in the US alone and 8-9 million worldwide. This gives over $125 million market potential for Navidea's Lymphoseek in the US and over $840 million market potential worldwide. This calculation is based on the assumption that Navidea and Cardinal share roughly 50%/50% on the $300 retail price with gross margins expected to be 75%-80% which translates to 35%-40% of Cardinal Health's sales revenue to Navidea. I am assuming similar partnerships to be announced for the rest of the world than in the US.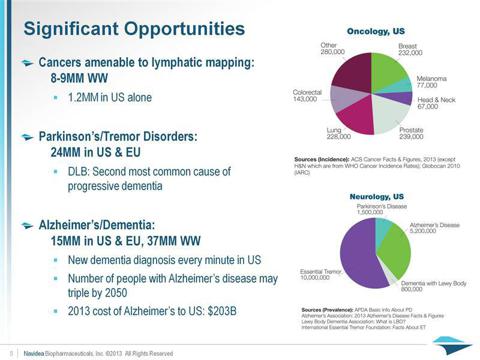 The market potential for Navidea's NAV4694 and NAV5001 are 2-3 times larger than the market potential for Lymphoseek.
NAV4694
NAV4694 is a Fluorine-18 labeled precision radiopharmaceutical candidate for use in the imaging and evaluation of patients with signs or symptoms of cognitive impairment such as Alzheimer's Disease [AD]. It binds to Beta-amyloid deposits in the brain that can then be imaged in positron emission tomography [PET] scans. Amyloid plaque pathology is a required feature of an Alzheimer's Disease diagnosis and the presence of amyloid pathology is a supportive feature for diagnosis of probable AD. Patients who are negative for amyloid pathology do not have AD.
Based on the data accumulated to date, NAV4694 appears to have very high sensitivity for detecting deposits of amyloid plaque in the brain. Due to its higher affinity for amyloid, markedly improved contrast has been observed displayed by an enhanced uptake in the amyloid-target regions of interest in the brain compared to background. The uptake in background tissue, referred to as white matter, is essentially negligible, providing optimized signal-to-noise ratios. Greater sensitivity and contrast may allow detection of smaller amounts of amyloid and may enable earlier identification of disease pathology.
NAV4694 has been studied in rigorous pre-clinical studies and several clinical trials in humans. Clinical studies through Phase 2 have included 140 subjects to date, both suspected AD patients and healthy volunteers. Results suggest that NAV4694 has the potential ability to image patients quickly and safely with high sensitivity and specificity. On March 27 Navidea initiated a Phase 2b trial in subjects with mild cognitive impairment and on June 27 a Phase 3 autopsy-based trial to support registration in the U.S. and the EU.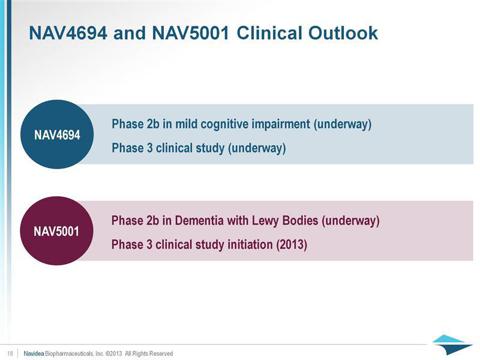 NAV4694 competition
Several potential competitive 18F products have been approved or are in development for use as biomarkers to aid in detection of AD. In April 2012 Eli Lilly's (NYSE:LLY) wholly-owned Avid Radiopharmaceuticals received FDA approval to market florbetapir. Florbetapir also received marketing authorization in the EU in January 2013.
Although all clinical trials have not been completed, preclinical and Phase I & II data indicates that NAV4694 may have significantly better sensitivity with improved contrast resulting in a higher precision scan and presumably earlier detection. It also may provide improved ease-of-use allowing for shorter imaging times.
NAV5001
NAV5001 is an Iodine-123 radiolabeled single photon emission computed tomography [SPECT] imaging agent being developed as an aid in the diagnosis of Parkinson's disease [PD] and other movement disorders.
NAV5001 has been administered to over 600 subjects to date. Results from clinical trials have demonstrated that NAV5001 has high affinity for DAT and rapid kinetics which enable the generation of clean images quickly, beginning within about 20 minutes after injection, while other agents typically have waiting periods from 4 to 24 hours before imaging can occur. In addition to its potential use as an aid in the differential diagnosis of PD and movement disorders, NAV5001 may also be useful in the diagnosis of Dementia with Lewy Bodies [DLB], one of the most common forms of dementia after AD. On April 3 Navidea initiated a Phase 2b trial in subjects with DLB. Navidea plans to initiate a Phase 3 trial in subjects with PD in the second half of 2013.
NAV5001 competition
In July 2000, GE Healthcare received EMA approval to market DaTscan (Ioflupane 123I Injection), a radiopharmaceutical agent intended for use with SPECT imaging for the detection of dopamine transporters in the brains of adult patients with suspected Parkinsonian syndromes, in the EU. GE Healthcare received FDA approval to market DaTscan in the U.S. in January 2011.
The potential advantages of Navidea's NAV5001 is its high affinity that can generate clean images quickly, beginning within approximately 15 minutes after injection as opposed to waiting periods of 3-6 hours and up to 24 hours as required with other agents due to their background noise.
RIGScan
RadioImmunoGuided Surgery [RIGS] is a technique to provide diagnostic information during cancer surgery. RIGS is intended to enable a surgeon to identify and delineate occult or metastatic cancerous tissue "targeted" through the use of RIGScan, a radiolabeled, cancer-specific targeting antibody. RIGScan is administered prior to surgery and is identified by pre-operative imaging or during surgery with a gamma detection probe, thereby assisting a surgeon in identifying the location of cancerous tissues. Before surgery, a cancer patient is injected with the antibody which circulates throughout the patient's body and binds specifically to cancer cell antigens or receptors. Concentrations of the antibody within affected tissue are then detected using imaging methods prior to surgery or a gamma probe during surgery to direct the surgeon to targeted tissue for removal.
In September 2012, Navidea was awarded a grant from the National Institutes of Health [NIH] to further the development of RIGScan.
RIGScan competition
Navidea does not believe that there are any intraoperative diagnostic radiopharmaceuticals directly competitive with RIGScan that would be used in the colorectal cancer application at which RIGScan is initially targeted. There are other radiopharmaceuticals that are used as preoperative imaging agents, however, Navidea is unaware of any that could be used as a real-time diagnostic aid during surgery such as RIGScan.
Financials
The company reported the first-quarter financial results on May 8 with the following highlights:
| | |
| --- | --- |
| Revenue | $0 |
| Net loss | $7.3 million |
| Cash | $9.8 million |
| Debt | $13.0 million |
On April 24 Navidea announced that it had sold 2,100,000 shares in an at-market transaction for a price of $2.43 per share for gross proceeds of approximately $5.1 million.
On June 26 Navidea announced that it had closed a $25 million debt financing transaction led by GE Capital, Healthcare Financial Services.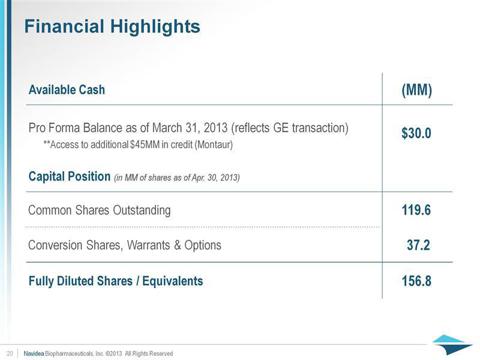 Conclusion
There are seven analyst buy ratings, one neutral rating and one sell rating with an average target price of $5.19. Navidea saw intensive insider buying in March. Navidea is well capitalized with $30 million in cash and a $45 million credit line available. The company's current cash burn is approximately $30 million annually.
The next three major catalysts for the stock will be the EU approval decision for Lymphoseek, EU partner for Lymphoseek and the filing of a sNDA for sentinel lymph node biopsy. All three of these catalysts are expected this year. I believe positive outcomes from these catalysts could move the stock above $4. If the company fails to gain the EU approval, the stock could dip below $2.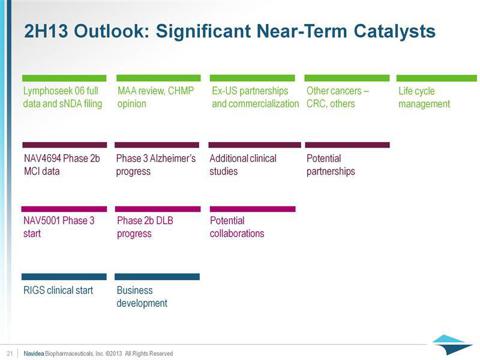 Disclosure: I am long NAVB. I wrote this article myself, and it expresses my own opinions. I am not receiving compensation for it (other than from Seeking Alpha). I have no business relationship with any company whose stock is mentioned in this article.