Penn West Petroleum (NYSE:PWE) has been a disappointment to many investors since it traded at roughly $30 a share in 2009.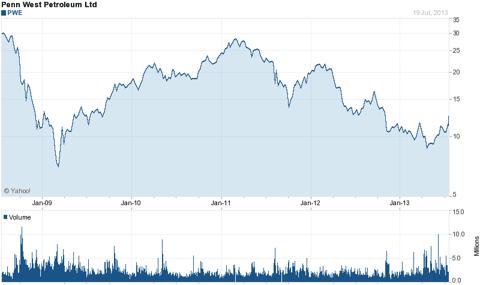 Despite a terrific asset base and a good mix of drilling opportunities, for several years, Penn West's capital efficiencies were, well, inefficient. The key metric in any oil & gas company is Recycle Ratio, which is more or less the ratio of reserves added for reserves depleted in funding the drilling that added the reserves. Sounds complicated? It isn't. Generate $100 from selling oil & gas from producing wells and spend that $100 drilling, and if you find $150 in reserves, you have a recycle ratio of 1.5 to 1. Spend $100 drilling and find $90 in reserves and you are headed for the trash heap. Penn West provides a bit more formal definition: "Recycle ratio is calculated as the overall netback for the period per BOE divided by the finding and development costs per BOE." A recycle ratio less than 1:1 is a disaster and, if it persists for long, you are out of business. A healthy recycle ratio in my view is at least 1.5 to 1 and many top tier oil & gas companies have recycle ratios higher than 2:1.
Penn West's recycle ratio was not impressive:
2006 - 1.1
2007 - 1.0
2008 - 1.5
2009 - 0.8
2010 - 1.0
2011 - 1.0
2012 - 0.3
Making the issue a bit more complex is that the industry likes to use the term BOE or barrels of oil equivalent. Since those BOE can include gas, oil and liquids, the right "equivalent" metric is important. For many years, the industry has converted gas to oil equivalent on the basis of 6 million cubic feet of gas for 1 barrel of oil. It is pretty rough and tumble and stems from the number of British Thermal Units (BTUs) of energy contained in 1 barrel of oil (about 5.5 million BTU's) and for simplicity round it to 6 and there is the standard.
Not all BTUs are created equal from an economical perspective. When natural gas was $10 for a million cubic feet (MCF) and oil was $60 a barrel, it was a good standard. When gas hit $2 per Mcf and oil went through $100 per barrel, it did not make a lot of sense. Neither the industry nor many analysts bothered to alter their analysis based on the obvious and even absurd result it created. A netback of $20 per BOE from sales of natural gas could be reinvested to find oil having a netback of $45 or $50 but still have a recycle ratio of 1:1 based on BOE equivalence according to the industry standard.
Penn West reported its recycle ratio in its 2013 press release as follows:
"Our three year average finding and development cost performance continues to support in excess of a two times recycle ratio on new light oil development."
Maybe a better report would have stated: "While our recycle ratio is low overall, it is acceptable in drilling for light oil and that is where we are putting our capital dollars." Anyway, they said what they said.
Penn West had a large natural gas component to its mix of resources and made very solid profits when gas prices were high. When they fell, it was producing gas for significantly lower net backs (i.e., what is left after lifting costs, royalties, taxes, etc.) and drilling for gas made no sense but shifting to drilling for only oil is more challenging than it might seem. Back in the day, Penn West was a so-called "income trust" designed to pay out its cash flow to investors transferring income tax from the corporate level to the individual level and allowing more money to be distributed to investors, a lot like the Master Limited Partnerships that seem to populate Eagle Ford in the United States.
A few years of low gas prices, low recycle ratios and high payouts and Penn West began to have balance sheet strain that made investors flee the stock. Down in went, from over $30 to less than $10. Part of the problem was the relatively low recycle ratio, part was the unsustainably high payout (distribution while an income trust and dividend thereafter), and part was simply the time it takes to shift capital from gas to oil and alter the mix to a more profitable one.
The Penn West board did what boards should do. They cut the dividend and approved the disposition of non-core assets. As an aside, I wonder if the then board thought those assets were "non-core" when the company acquired them. In any event, after letting management explain the poor performance for several years and showing a high level of patience with the issues beyond management's control, they finally decided it was time for change. First, the second-tier managers reporting to then CEO Murray Nunn were replaced and not that long after Nunn was also out and the whole team had turned over. At the same time, industry heavyweights Rick George and Allan Markin joined the board and put their money where their mouth was by buying a substantial amount of stock.
Not long after, Markin resigned. No reason was given and I certainly put no spin on his resignation. He did nonetheless commit several million dollars to Penn West stock. Some pundits speculate it might be as a result of some M&A planned by Penn West that put him in conflict with his interest in Canadian Natural Resources (NYSE:CNQ) where he spent many years as Chairman, or maybe he just wants to spend more time with his hockey team - the Calgary Flames. In any event, he has an impressive pedigree, and I doubt his decision to step down was based on anything negative in Penn West.
It is early days since the changes took place. In the meantime the price of gas has recovered from less than $2 per Mcf to almost double that amount; oil prices have moved northwards to over $100 a barrel, and the company has a credible plan going forward.
Investing at this stage is a bet that the company can improve its capital efficiencies and achieve a recycle ratio well north of 1.5:1. And, based on what I have seen of its peers operating in the same areas, there is no reason it should not be able to do so.
I like what I see. It pays a decent dividend north of 4%. It has an impressive board and a new team. The commodity prices are a bit firmer than they were a year ago. For those reasons, I am long the stock.
Disclosure: I am long PWE. I wrote this article myself, and it expresses my own opinions. I am not receiving compensation for it (other than from Seeking Alpha). I have no business relationship with any company whose stock is mentioned in this article.