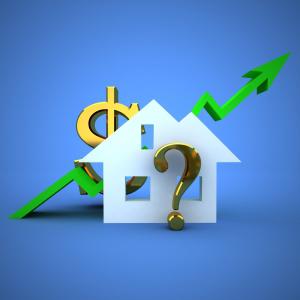 The good news continues for both the housing market (demand and prices up, foreclosure supply diminishing) and homebuilders (activity and confidence up). Real estate has become desirable again, spurring buyers, investors and lenders. The only "bad" news has been higher fixed mortgage rates. In 2 Reasons Rate Rise Makes Homebuilders A Buy, I discussed why, contrary to the numerous media reports, this rate rise is an incentive to both buyers and lenders. Now we get two additional pieces of information adding to housing's positive outlook.
Note: I cite two articles from today's (7/20) U-T Business section that focus on San Diego city and county. While real estate markets vary by locale, the major U.S. influences we've experienced (such as Fed activities, interest rate moves, mortgage lending actions and the Great Recession) continue to drive developments. Moreover, San Diego County has many diverse housing segments that provide good insight and indications of general housing market health.
Mortgage rate worry? Think ARMs
In Getting Adjusted the reawakening of adjustable-rate mortgage (ARM) usage is discussed.
As numbers for fixed-rate loans climb, interest stirs again in adjustable rate mortgages. [ARMs,] which fell out of favor during the recession and recovery, are stirring consumer interest again in the local market.

The recent run-up in 30- and 15-year fixed loan rates has sparked more inquiries into adjustables, or ARMs, because these loans generally offer lower rates at first. That may translate to savings upfront.
This increasing interest is showing up in the numbers. In San Diego County, ARMs accounted for over 8% of home-purchase loans in June, up from about 5% last month and from the less than 2% trough in 2009. (Data source: DataQuick.)
ARM usage has varied widely over the years, driven both by the level of interest rates and, especially, the difference between fixed and adjustable rate mortgages. Here is the picture since 1988: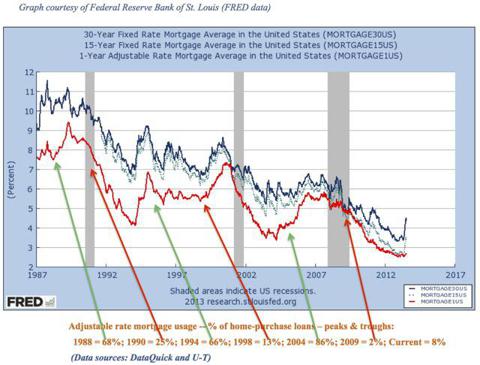 Click to enlarge
Let's look at the last three periods of note: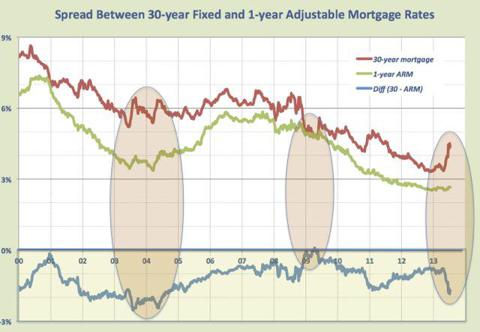 Click to enlarge
(Data source: Federal Reserve Bank of St. Louis - FRED)
2004's 86% peak usage came with the 30-year rate around 6% and the spread between the 30-year fixed and 1-year ARM rates at 2+%.
2009's 2% trough usage came with the 30-year rate falling to about 4-1/2%, the same level as ARMs.
The current (7/18) low, but climbing, 8% usage is being driven by the recent 30-year fixed rate rise to 4-1/2% from 3-1/2%. With the ARM rate remaining about 2-1/2%, the difference is now up to that high 2% level of 2004.
Consider, then, these points:
Today's 4-1/2% 30-year mortgage rate, while up from the Fed-driven, abnormal low, is, nevertheless, at 2009's low and well below the rates that accompanied previous normal housing markets.
The ARM rate is the place to focus because it is a recognized and viable option to buyers. Besides being low, it is based on the short-term rates that the Fed continues to influence.
Behind that rental demand: Home buying demand
In Apartment Renting Still Sees Big Demand, the strong health of the San Diego rental market is discussed.
The downtown San Diego rate was especially affected by rising demand. Vacancies plummeted by three percentage points to 3.6 percent, even as rents soared 10.9 percent to $1,799. [Both comparisons are first quarter to second quarter.]

While apartment construction has continued to be strong, rental demand remains even stronger. That's because rising mortgage interest rates are making it harder for would-be homebuyers to get an affordable mortgage.
We'll discuss that "affordable mortgage" rationale in a moment, but first some more high points:
The outlook may look worse for tenants but not for investors. "We feel rents will continue to rise - it's a good time to own apartment buildings," said Marcus & Millichap's Chris Zorbas, first vice president for investments in San Diego.

Zorbas said San Diego's apartment market is strengthening despite the influx of condos and houses lost to foreclosure and turned into rentals. "That did not really affect vacancy rates countywide," he said. "It just shows how resilient our market is and there really is a demand for new units."

He said new projects are renting faster than projected and by many tenants in their 20s who might otherwise be financially able to buy. They're paying $2.25 per square foot - more than $2,200 per month for a 1,000-square-foot unit. "I think there's been a paradigm shift in terms of homeownership, especially with what has gone on," he said. "If you look at a lot of the new projects, they're tailored for Gen Y in terms of the amenities offered."
Okay, time to sort out what all this means to home buying.
First, all that new supply that is renting out quickly is coming from organic growth. Those 20+ year olds are engaged in household formation, a natural process that got put on hold during the Great Recession's weak period. With confidence back, they are playing catch-up.
Second, they have the willingness to pay up. The rents mentioned in the article ($1,799 and $2,200) compare to a 4.5% 30-year $250,000 mortgage payment of $1,267 (before the interest tax deduction). Perhaps more important, those rental payments can rise, while the 30-year fixed mortgage payments will not.
Third, remember that renting offers no ownership benefits, nor does it provide any tax benefits. Those two items have always been powerful reasons for buying a home.
Fourth, all this household formation is not limited to rentals. The other option is home purchase for those able to raise the down payment. In other words, household formation means independent living growth, whether by renting or owning.
Fifth, to the extent that up-to-date amenities are desired, home buyers will focus on homebuilders' new products.
The bottom line
Home ownership is back, in the view of consumers, investors and lenders. Home formation, improving finances and greater confidence are driving the housing market back to normal. Although up, the 4-1/2% 30-year fixed rate mortgage is historically attractive. Moreover, ARMs, an acceptable alternative, at only 2-1/2% make home ownership very affordable.
So, where to invest?
In D.R. Horton: Built To Ride Housing's New Upswing, I discussed my reasons for choosing D.R. Horton (NYSE:DHI).
The important point in evaluating homebuilders now is that the recent mortgage rate rise has reversed May's investor optimism. In spite of the continuing good news, homebuilder stocks have been on hold awaiting further confirmation that their prospects remain positive.
This coming week should provide a good insight into the new home market's health as well as how the homebuilders are faring. Three major builders will be reporting their quarterly earnings and discussing the state of the market as well as their outlooks:
Here is this year's stock performance thus far for the three companies: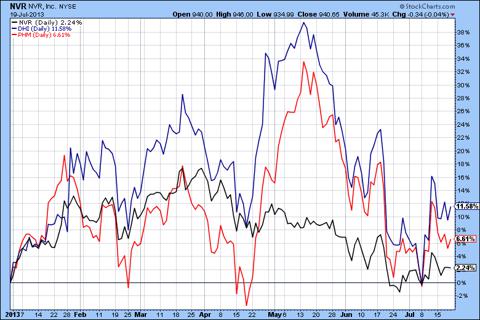 Click to enlarge
(Stock chart courtesy of StockCharts.com)
Disclosure: I am long DHI. I wrote this article myself, and it expresses my own opinions. I am not receiving compensation for it (other than from Seeking Alpha). I have no business relationship with any company whose stock is mentioned in this article.