In today's article, we will be looking at Costco Wholesale Corporation (NASDAQ:COST). COST is the largest membership-only warehouse club in the USA, with revenues reaching close to 100 billion dollars per year. Costco currently operates 627 warehouses, including 449 in the United States and Puerto Rico, 85 in Canada, 33 in Mexico, 24 in the United Kingdom, 15 in Japan, 9 in Taiwan, 9 in Korea and 3 in Australia.
Costco's shares have climbed by almost 20% since the beginning of this year. Can this be justified by better fundamentals, or should investors steer clear of COST for now?

First, let's take a look at COST's most recent results. I will be using data found in Costco's third quarterly report for the current fiscal year (2013). It shows us COST has had some very impressive results so far, this year. Net sales for the first 36 weeks are up 8.5% compared to last year, while diluted EPS is at $3.23 compared to $2.50 (+29%).
Analysts estimate Costco's EPS will reach $4.56 in 2013 and $5.05 in 2014. Over the years, COST has shown its ability to increase EPS by double digits annually. Between 2003 and 2012, earnings per share have gone up from $1.53 to $3.89, giving COST an average yearly growth rate of just under 11%.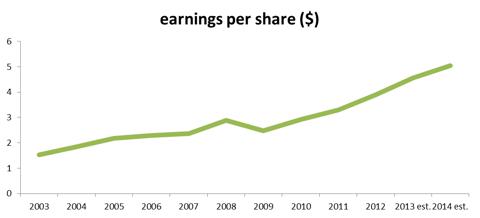 Dividends have grown at an amazing rate since COST first paid out a dividend in 2004. The current yield is at 1.05%. While this is not an incredibly high yield, the double digit growth rate means investors should see increasing returns. Over the past four years (2009-2012), Costco's payout ratio has been very stable, between 26 and 27%.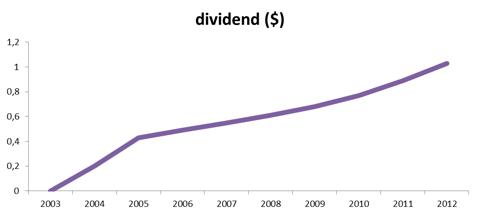 One more thing I really like about Costco is its share repurchases. Between 2003 and 2012, the total number of shares has dropped by 40 million, from 479 to 439 million. This boosts EPS, as the profit will be split over fewer shares.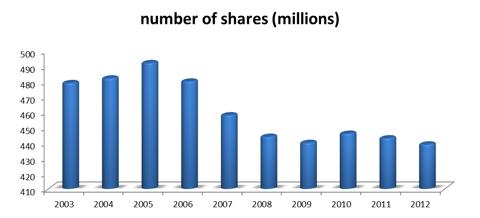 Despite the fact Costco has opened a lot of new warehouses over the past ten years (there were only 397 at the end of 2003), the profit margin (net income divided by total revenues) hasn't changed too much. In 2003, the profit margin was at 1.69%. In 2012, this number was at 1.71%. This shows COST's ability to grow sustainably.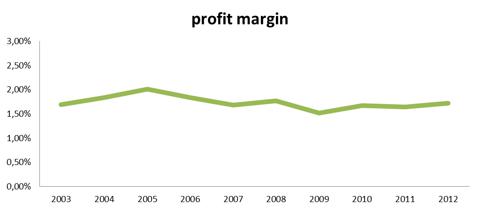 Finally, I'd like to take a look at Costco's historical valuations. I have made a graph showing the p/e ratios for COST over the past 10 years. We can clearly see the effect the large rise in stock price has had this year. Costco's p/e is currently at 26.0, which is quite a bit higher than both its 5- and 10-year averages.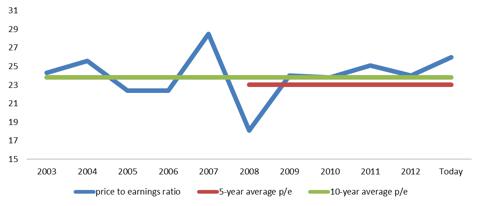 At a price of $118.07 per share, COST's 2013 forward p/e is at 25.9, while its 2014 forward p/e is at 23.4. Even though I believe Costco is a great company, I feel its recent run-up in price has made it overvalued. I'm confident Costco's earnings will grow, as it opens up more warehouses, but at this point in time, I'd prefer to wait for its shares to drop in price. I will be buying if and when the share price drops to back to the level it was on at the beginning of this year.
Disclosure: I have no positions in any stocks mentioned, and no plans to initiate any positions within the next 72 hours. I wrote this article myself, and it expresses my own opinions. I am not receiving compensation for it (other than from Seeking Alpha). I have no business relationship with any company whose stock is mentioned in this article.