It was only a month ago that the skies had turned dark over investment markets. Driven by concerns that the easy money policies that had bolstered the markets throughout the post crisis period might finally be going away, investors took flight from capital markets across all asset classes. But in the few weeks since, these ominous clouds have broken and the sun began shining anew over investors with stocks recovering to reach fresh new highs. While this has certainly been a welcome development, investors should beware becoming too complacent in heading back out into the markets, as the thunderclouds continue to build on the horizon.
The revival of the stock market over the last several weeks has been most impressive. After dropping by over -7% from May 22 to June 24, stocks as measured by the S&P 500 Index (NYSEARCA:SPY) suddenly reversed higher and have spent hardly a moment looking back. In the 18 trading days since the June 24 bottom, stocks have advanced in 15 of these sessions. This is an incredible 83% winning percentage for a market that appeared on the brink of cascading lower when the latest rally got underway.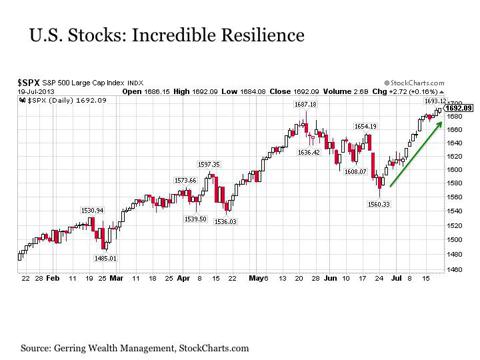 This, of course, raises a very important question. What exactly changed that has caused the market to react so positively? The even more remarkable answer is not really much at all.
The More Stocks Rise, The More Things Stay The Same
So what exactly do we know today roughly a month after the market bottom?
First, policy makers have reinforced many of the concerns that had the market in correction mode from May 22 to June 24.
Indeed, the U.S. Federal Reserve will almost certainly be scaling back on their QE3 asset purchases in the months ahead. And barring some major economic cataclysm in the coming weeks, the tapering is likely to get underway in September.
Looking beyond the U.S., the second largest economy in the world, China, is already in tightening mode. Blessed with the wisdom of understanding that long-term prosperity often comes as a result of short-term sacrifice, the new leadership in China (NYSEARCA:FXI) is opting for much needed restructuring to their economy and are willing to absorb the necessary pain in the meantime to make these changes happen. This does not mean that China's leadership is going to allow their economy to collapse, however. And if they do provide stimulus in the event that growth rate falls too far - it should be noted that the required threshold for economic growth seems to keep moving back from 7.5% to 7.0% and now 6.5% - it is not likely to flow to the speculators that have goosed asset prices, as this is part of the problem the current leadership is now trying to address.
Thus, the game has still changed. This does not mean that the market is going to react to it right away, however. After all, liquidity is going to continue to flow like Cuervo from the Fed each and every trading day from now through at least mid-September, and it will continue to stream in albeit at a slower rate for months after tapering gets started. Moreover, Japanese policy makers remain at full throttle with their own stimulus plan, which is adding another $75 billion to the global economy on top of the $85 billion from the Fed. So even if the Fed completely steps away, Japan (NYSEARCA:EWJ) will still be pumping a lot of liquidity into the system through the end of next year. And with central bankers in the United Kingdom (NYSEARCA:EWU) and the Eurozone (BATS:EZU) openly talking about providing forward guidance of their own, the commitment to prolonged stimulus is also firmly entrenched across the Atlantic. So while the amount of stimulus will gradually become less as we move forward through time, it will still be flowing in many parts of the world for the foreseeable future.
While stocks are reacting enthusiastically to such prospects, it should be noted that most other major asset classes are not necessarily sharing in this cheer.
Leading among these is the bond market. While they have recovered somewhat in recent days, investment grade bonds as measured by the Vanguard Total Bond Market ETF (NYSEARCA:BND) still remain well below June 19 levels.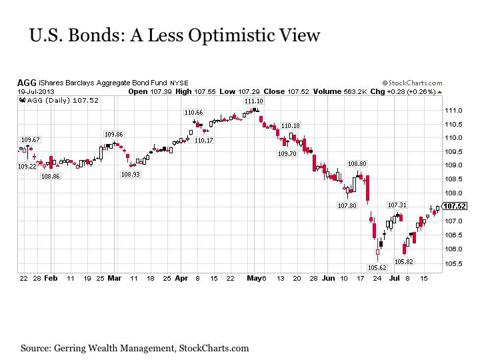 More specifically, the benchmark 10-year U.S. Treasury yield has made little progress to date in recovering any of the ground lost since early May when rates spiked astronomically from a convexity standpoint by over a full percentage point from 1.61% to 2.67% over the course of a few weeks. Along the way, 10-year Treasuries smashed through critical support at 2.40%. And in the month since, they have battled to try and sustainably move back below 2.50% much less even attempt to approach the 2.40% level that will now likely represent major resistance.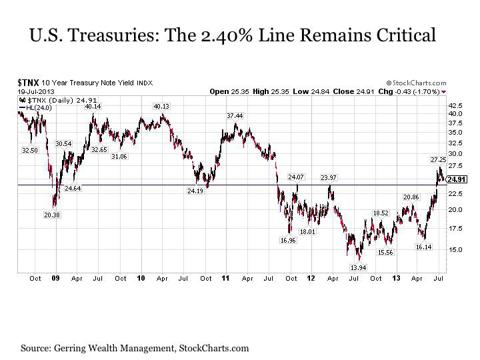 While it is tempting to suggest that the recent spike in Treasury yields is being driven by increased optimism over the U.S. economy, this is not likely the case. Recent economic readings have been at best no better and arguably have deteriorated since early May when the rise in yields first got underway. Moreover, the latest round of corporate earnings have so far been messy at best despite the "beat expectations" farce that gets played out in the media every quarter (as a brief editorial aside, if corporations over time beat analysts' earnings estimates 63% of the time according to Thomson Reuters, why exactly haven't analysts adjusted their models along the way to correct for the error that their estimates are repeatedly too low? After all, this "beat" number should be less than 50% if their models were actually working correctly - of course, we all know the answer to this question).
Instead, both the magnitude and sustainability of the recent move in yields reinforce the idea that something has indeed changed on the policy front. Although stocks have been able to shake this notion off for now, they may struggle to continue to do so as time marches on.
Precious metals are another major asset class that suggests increasing clouds are looming on the policy horizon. For example, gold (NYSEARCA:GLD) has been savagely beaten for much of 2013 and the pace of selling only accelerated to the downside amid the chaos that erupted across investment markets in late June. While gold has recovered some of its lost ground in the weeks since, the recovery has lacked any meaningful pop and instead has been rather sluggish.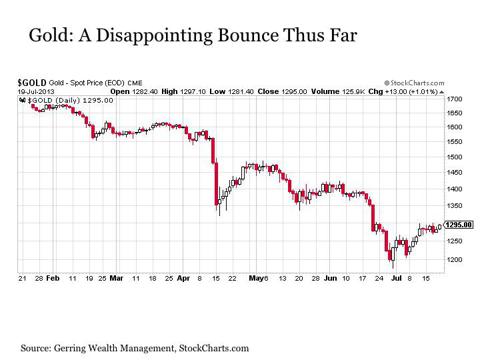 The bounce back for silver (NYSEARCA:SLV) has been even more disappointing. Yes, it is trading above its late June lows, but the trajectory of the price recovery has been sideways and grinding at best.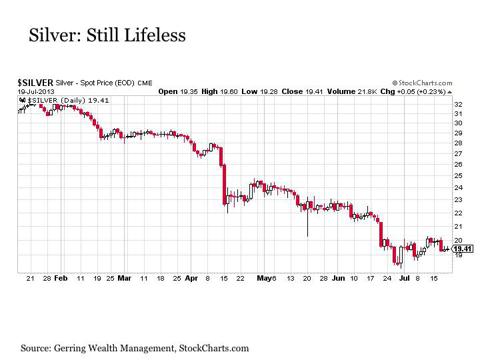 The fact that the precious metals are showing little sign of life in the wake of such a precipitous decline is troubling for stock investors for one key reason in particular. While precious metals can be argued and dissected on a variety of grounds, one way in which they are fairly pure is measuring the flow of liquidity in the global financial system. For if liquidity is flowing freely and without restrictions, it would more than likely find its way into gold and silver given that they are assets in finite supply. So the fact that the prices of these metals have not only dropped so far but are also so languid on any countertrend rallies suggests that aggregate liquidity is neither bountiful nor flowing freely in the global financial system any longer.
All of this leads to an important conclusion for investment markets in the months ahead. Central bank stimulus is continuing to flow into the financial system, but the associated liquidity being generated in support of higher asset prices is diminishing. Instead of flowing freely into all asset classes the way it had for the first four years after the financial crisis, this liquidity is now becoming increasingly selective. It first spurned precious metals, industrial commodities (NYSEARCA:DBB) and emerging market stocks (NYSEARCA:EEM) and has since cast away the global bond markets.
Clearly, the destination of choice for this diminishing liquidity remains the stock market, particularly the U.S. and selected other developed markets. But the question looking forward for stock investors is for how much longer will this last? A year? At least through September? Until the next Fed meeting at the end of July? Sooner? We will likely know the answer to this question only after the stock market has been in correction for several weeks and fails to respond to support the way it has so many times in the past to the utter shock and horror of the many ultra optimistic stock investors that are "as bullish as they've ever been and cannot even perceive of a reason why the stock market would move lower at this point."
What To Do While Waiting For The Rains To Come
The current bull market is now in an advanced stage. Some categories like stocks, real estate (NYSEARCA:VNQ) and high-yield bonds (NYSEARCA:HYG) are continuing their advance higher. For others such as bonds and commodities, the correction is already underway. And for a few such as precious metals, their recent bear market may soon be over. It promises to be a very interesting and turbulent time in investment markets over the next 12 to 18 months, but that does not mean that it will not be without ample opportunities along the way.
The advanced stages of bull markets are often accompanied by sudden and violent swings in volatility (NYSEARCA:VXX). Stocks in recent months are a perfect example of this phenomenon. After undergoing a period where it seemed that all was lost from late May to late June, it suddenly switched into not having a care in the world from late June to late July. But make no mistake; a market that goes up in 15 out of 18 trading days is just as fundamentally unstable as a market that goes down in 15 out of 18 trading days. As a result, investors are best to avoid becoming too complacent, as we are only one uttered sentence from a global policy maker away from the next sharp market reversal.
Focusing specifically on equities, a sustained reversal to the downside for U.S. stocks would be a more than reasonable outcome at this stage. After all, stocks gains over the last 18 months have come almost exclusively as a result of multiple expansion, as earnings growth has effectively stalled at less than 1% since the beginning of 2012 while the operating price-to-earnings ratio has risen from 13 times earnings to 17 times earnings over the same time period. Looking ahead, underlying economic growth remains sluggish and the acceleration in growth that so many have used to justify the move higher in stocks to this point keeps getting pushed back. Thus, stocks have already largely priced in a future pick up in growth that may never actually materialize in the end. If nothing else, this implies that risks are now tilted to the downside for stocks, particularly once the tailwind of monetary stimulus finally comes to an end.
With this in mind, market participants are best served from a risk control perspective to keep very close watch and maintain a more short-term tactical view on portfolio allocations, even if it is in the context of building a longer term position in a selected name or area of the market. For as we have seen on a number of occasions across asset classes since the turn of the millennium, once the downside momentum accelerates in a given investment category, it can quickly become relentless and unforgiving in providing virtually no way out other than to capitulate and absorb the losses.
What does this mean for specific asset classes today?
The U.S. stock market remains the asset class of choice today. For despite the increasingly challenging outlook on the horizon, it is the one category that continues to reliably work to the upside. Moreover, it is demonstrating that it is prepared to make a push toward another leg higher in the weeks ahead in what might otherwise be a fairly quiet rest of the summer from a policy and data perspective. Thus, it remains worthwhile at least for now to hold allocations to the U.S. stock market but to keep these positions on a very short leash for potential action if necessary. This includes broad allocations to both U.S. large caps via the Vanguard S&P 500 ETF (NYSEARCA:VOO) and U.S. small caps (NYSEARCA:IWM) through the iShares Core S&P Small-Cap ETF (NYSEARCA:IJR). Specific sectors also appear particularly attractive in the current environment, including industrials (NYSEARCA:XLI) that provide more cyclical and less yield sensitive exposure to the market and financials (NYSEARCA:XLF) that have trailed the broader market throughout most of the post crisis period but have the potential to benefit not only from any sustained housing recovery but also from rising interest rates.
The Japanese stock market also continues to offer appeal in the current environment. Although the outlook for the Japanese economy remains unexciting from a fundamental perspective, the fact remains that the Bank of Japan intends to print an extraordinary volume of yen over the next 18 months, and a good deal of this liquidity is likely to continue flowing into Japanese stocks. The preferred allocation in this regard is the Wisdom Tree Japan Hedged Equity ETF (NYSEARCA:DXJ), which is an attractive choice given the expectation for the Japanese yen to continue weakening relative to the U.S. dollar.
The bond market continues to offer attractive long-term appeal from a fundamental perspective. In the end, the aggressive monetary policies by global central bankers are unlikely to result in any sustained economic expansion. Instead, we will likely need to endure a period of disinflationary if not deflationary slow growth while allowing the global economy to finally cleanse itself of its past excesses and restructure toward what will ultimately be the dawn of a new secular growth phase. Such a slow growth period sets up to be particularly favorable for high quality bonds, including U.S. Treasuries (NYSEARCA:IEF) and long-term U.S. Treasuries (NYSEARCA:TLT).
In the meantime, however, bonds remain stuck in a corrective phase with yields still in a sustainable uptrend that may have higher to go in the near term before it is completed. A close watch on the direction in yields on 10-year and 30-year U.S. Treasuries will be critical in the days ahead to determine exactly when the time has come to establish fresh long positions. Key levels to watch include 2.40% on the 10-year and 3.5% on the 30-year. Any decisive break below these levels would be bullish for Treasuries in the months ahead.
Gold is also quite attractive from a fundamental and market perspective. While the paper market remains in shambles, the physical market remains robust with demand continuing to exceed supply in most major global regions. And despite its recent challenges, the fact remains that it continues to provide a long-term hedge for a broader investment strategy and serves as a store of value against both aggressive monetary policy and potential crisis. The fact that the major commercial institutions that operate in the gold market are now net long and the gold forward rate remains in negative territory are also bullish signals.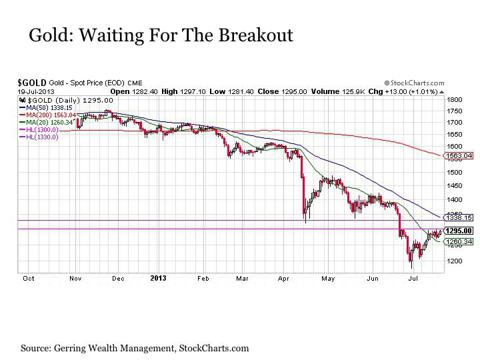 Despite these fundamental advantages, gold continues to struggle mightily from a technical and sentiment perspective. While gold did manage to move above its downward sloping 20-day moving average, the trajectory of this advance has been lackluster at best. This is worrisome for gold in the near-term, for the last six times since November 2012 that gold broke above its 20-day moving average in a similar manner, it subsequently broke to fresh new lows. Gold also remains stubbornly trapped below $1,300 despite repeated attempts to move above this level over the last seven trading days. Once again, we saw similar battles take place at $1,700 in December and January, $1,600 in February and March, $1,475 in late April into early May, and $1,400 in late May into early June. In each past instance, gold eventually lost the battle and was pushed lower. Perhaps it will be different this time, but definitive proof of a decisive upside breakout should be required before reestablishing long positions in the yellow metal, preferably in either the Sprott Physical Gold Trust (NYSEARCA:PHYS) or the Central GoldTrust (NYSEMKT:GTU).
So while the stock market continues to send signals to investors that all is well, it is more than likely that we are currently in the calm before the storm. For not only are bonds and commodities not confirming the stock market optimism to this point, but the major global central banks in the United States and China remain on course to either scale back on stimulus or withdraw it all together in the months ahead. Thus, unless we begin to see a marked improvement in the global outlook going forward, the stock market may find it increasingly difficult to add on to the gains already implied by its lofty expectations for the economy going forward. Exactly when the thundercrack will finally awaken the stock market to this stark reality remains to be seen, but once it sets in, the diminishing liquidity flowing into capital markets may seek out a new destination of choice. It will be interesting to see how it all plays out in the days, weeks and months ahead.
This post is for information purposes only. There are risks involved with investing including loss of principal. Gerring Wealth Management (GWM) makes no explicit or implicit guarantee with respect to performance or the outcome of any investment or projections made by GWM. There is no guarantee that the goals of the strategies discussed by GWM will be met.
Disclosure: I am long IJR, DXJ, XLI, VNQ, XLF, VOO. I wrote this article myself, and it expresses my own opinions. I am not receiving compensation for it (other than from Seeking Alpha). I have no business relationship with any company whose stock is mentioned in this article.