High yield spreads (spread between yield on high yield bonds vs. comparable US Treasuries) are an indicator we like to watch for confirmation of the equity market's trend. When stocks are rising, you want to see spreads narrowing (investors demanding less yield), while a declining market is usually accompanied by higher spreads (investors demanding more yield).
The chart below shows high yield spreads so far in 2013. As shown, after reaching a low of 423 bps back in May, spreads widened out by more than 100 basis points (bps) to 534 in late June. Since then, though, we have seen a reversal back to 457 bps. While that is still higher than it was back in May, high yield spreads have erased more than two-thirds of the move higher that they saw from May to late June.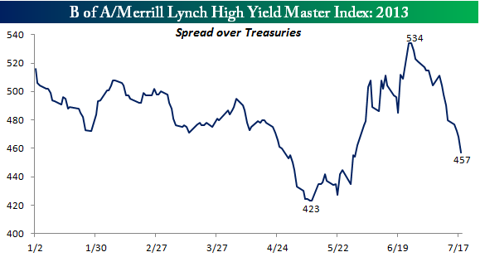 On a longer term basis, the move in high yield spreads is even more encouraging. The chart below shows spreads in the Merrill Lynch High Yield Master Index going back to 2008. Ever since their peak at 2,182 bps back in late 2008, it has been a clear trend of lower highs. Until this trend sees a meaningful break to the upside, high yield spreads are confirming the move higher in equities.