Watching Advanced Micro Devices (NASDAQ:AMD) the day before and after the earnings call was a rollercoaster ride for AMD longs. Immediately prior to the call, AMD was in the $4.70s. After the call, most investors at the time seemed content with earnings as AMD settled out in the $4.50s after hours. Then before 11 AM Friday we saw shares in the mid $3.80s, and finally ended the trading day around $4.00.
The market has a mixed view on AMD and its future, and there is a lot of uncertainty baked into the stock price.
In this article, I would like to point out some examples of specific stock moving events during the last quarter, as well focus on the Computing Solutions group.
Investor Sentiment and AMD's Volatility

The above chart, courtesy of Ycharts.com, depicts the 3 month stock price of AMD. There are three important things that I see when I look at this chart.
On May 16th, Goldman Sachs downgraded AMD. This put a halt in AMD's rise, and AMD settled around the $4.00 range. The news of the downgrade caused shares to fall around 15%. Reasons cited for this downgrade were weak sales in their Computing Solutions group and unattractive valuation at the given stock price.
AMD exhibited strong support at $4.00 until it received a series of upgrades on July 11th, causing it to break out to the upside. Then Friday morning, downgrades caused shares to fall quickly to $3.85, finally coming back to $4.00 at the day's end.
When I made the statement in my 'Cheat Sheet' article that I considered AMD a speculative play, I made it with these types of events in mind. I also stated that a 'miss' during the conference call had the potential to be worse than normal and not to stray too far from a computer in case things went south. If AMD were a solid, profitable company, we would not be buying shares at $4.00. Risks for AMD include the company dipping below their optimal cash level, approaching debt in 2015, being dependent on other foundries for products, macroeconomic weakness, an uncertain PC market, and no dividend to give the stock a solid base. The reason for the wild fluctuations in price after earnings were caused by downgrades due to a console margin miss and possibly some profit taking.
To me it seems that a good portion of the money in AMD is not in it for the long haul. Downgrades are able to sway the price 15%. You can see this if you look at the trading volume with the associated downgrades I mentioned. And because AMD has no dividend and weak financials, downgrades more easily sway investors. AMD is a speculative play, and I treat it as such. As AMD has broken out of the $2 range, it has attracted attention, and investors should expect more upgrades and downgrades to move the stock going forward. And the $4 support, although it appears strong, is by no means a guarantee.
My Take on Q2 Earnings
Overall, Q2 left me positive, after a big sigh Friday morning.
In my 'Cheat Sheet' article, I stated that the PC market was showing signs of a slack in the decline and stated I expected 'Computing Solutions' to remain flat based on Temash and Kabini. I expected 'Graphics' to take a hit based on the aging consumer GPU line. Lastly I stated console wins should help drive AMD to their goal of 20% of revenue from semi-custom/embedded by the end of the year. This last point was a major reason for the downgrades Friday.
In this article, I will only focus on the Computing Solutions group, because the news of console margins seems to be drowning out a major positive from Q2. AMD derives the majority of their revenue from this group, so it deserves a fair amount of attention.
Computing Solutions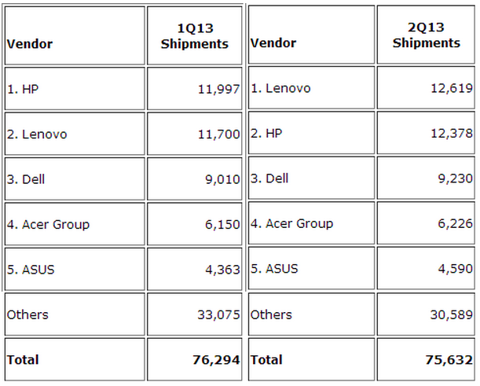 I used the above graphic from PC World, based on IDC numbers, to illustrate that PC sales seemed to be reaching a bottom. PC sales are expected to decline 7.8% YoY according to IDC and 10.9% according to Gartner. Given PC sales in 2012 totaled 352M according to IDC, using a 12% drop, which is higher than what both Gartner and IDC predict, means roughly 310M PCs should ship this year. Given that 152M have already shipped for the year, we could see a small uptick in total PC sales during the back half. Back to school and holiday seasonality should support this rise.
During Intel's (NASDAQ:INTC) earnings call, AMD's larger rival stated that their "PC group grew 1% sequentially", and overall Intel's revenue grew 2%.
Compare this to 12% sequential growth for AMD's Computing Solutions group, with revenue for this group reaching $841M vs. my prediction of flat at $750M. AMD's total revenue was up 7% sequentially, totaling $1.16B vs. my $1.08B prediction, based on growing revenues in their largest division that has been fighting both a market share loss to Intel and a declining PC market. To me that's a major win.
During the conference call, Mr. Read stated that PC prices of $300 to $600 are the "sweet spot of the market." Mr. Kumar stated:
Computing Solutions segment revenue was $841 million up 12% sequentially due to significantly higher notebook and higher server and desktop unit shipments primarily driven by demand for our new Kabini and Temash offerings as well as our latest Opteron 6300 series of products.
Here I will turn from financials to technology for a second. Many were expecting Intel's Bay Trail launch next quarter to be complete blowout of the competition.

This benchmark was "leaked" after it was discovered that the AnTuTu benchmark skipped certain steps when ran on Intel's mobile CPUs, leading to an artificially high score. SA contributor Ashraf Eassa explains the situation very well. But apparently some tech sites have not received the message.
I do not, nor have I ever, expected Bay Trail to destroy the competition. My prediction is that Bay Trail will have better performance per watt than AMD's Temash, while Temash should have a slight lead in graphics performance and price.
Source: AnandTech

While I do not subscribe to the idea it was intentional, I will point out that the PR surrounding Bay Trail appear to use the questionable benchmarks.
But, other benchmarks show a different story. In order, the below compare what I believe to be Samsung's Ativ 9 lite (based on chip name, I am not sure if this is the custom design or not) to Intel's z3770, an Acer V5-122P probably sporting an ssd against Intel, and 2 Acer V5-122Ps to show what I believe compares the same platforms, but with the higher scoring unit using an ssd.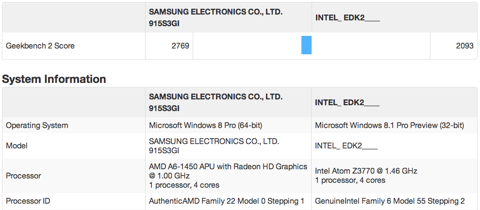 The other thing I will point out is that a 15W TDP Ivy Bridge ULV CPU receives almost a 50% clock speed haircut and operates at 800 MHz in a 7W 'SDP' envelope. Assuming the '2.4 GHz', '2W' SDP z3770 scales roughly the same, this would mean that the 1.46 GHz clock speed listed in now both AnTuTu and GeekBench is probably accurate (800 MHz/1.5 GHz * 2.4 GHz = 1.3 GHz for the z3770). That would mean the 2W 'SDP' is probably closer to a 5W TDP. This is my speculation, based on the data above. And GeekBench has an issue that could cause errors in benchmarking FP data, but what is not clear is if this only affects Intel. Also, a GeekBench update in August should address this. I have emailed Primate Labs for more information. Thanks to John from Primate Labs for the help!
Since specific platform differences above are not known and could throw off results, very detailed conclusions about performance should not be drawn. I am only using these results to illustrate the point that I do not think Bay Trail will give Intel an insurmountable performance advantage. A moderate performance advantage at a lower power consumption for Bay Trail would not surprise; I just do not think it will be as spectacular as others.
The point of that wordy explanation is to demonstrate that I think AMD should remain competitive against Intel when Bay Trail launches 2H 2013. Bay Trail-T may outperform Temash, but it will probably not open up any new computing experiences that AMD cannot provide. The average consumer will probably care more about aesthetic design and price over performance; again, my speculation.
This is important for AMD. Mr. Read stated $300-$600 is the "sweet spot" of the PC market. This is backed by IDC data pointing to a tablet ASP of $381 and a PC ASP of $635. Mr. Kumar's statements pointed to Temash and Kabini aiding in driving up revenues, leading to a positive surprise. AMD needs to remain competitive in the lower priced segment of the PC market. Based on the technical data I have reviewed, I believe this will be the case. Intel may surprise everyone and release a tablet SoC that crushes the competition by some wide margins, but most likely, it will not be Earth shattering. I have used a Kabini-powered laptop and the performance was fine. The design was the issue.
Prior to next quarter, AMD and Samsung will release a laptop based on a custom APU. Personally, I do not believe it is a coincidence that Samsung is breaking the mold by releasing a well designed laptop based on AMD IP, given their ties in the HSA Foundation. AMD partnering with a major OEM in this way is a huge win. I am very interested in how well this laptop sales. It will provide indication of AMD's ability to compete with Intel when placed in an attractive, mainstream platform, and it will do so before the Q3 report. With companies like Acer and Asus bleeding marketshare, they need to release competitive designs (think SSD, good screen, small form factor, and solid state storage) at lower ASPs to compete with tablets. I have made the point prior that Acer could use slightly larger battery and swap the HDD for a smaller SSD in their V5-122P and sale an attractive design with more functionality than a tablet via x86 support for software, and keep the retail price in the mid-$500's.
Conclusion
I will release an article at a later point regarding AMD's other operating segments and my take on the business model for semi-custom solutions.
I wanted to leave this piece a separate article to ensure this point is not lost in the noise. Recall Goldman Sach's reasons above for downgrading AMD: weak Computing Solution sales and over-valued at a price around $4.40. Now seems like a good time for GS to re-visit their downgrade from earlier this year. This is by no means a guarantee, but illustrates my point of AMD possibly receiving more attention during Q3. I will say that I still consider AMD speculative play facing substantial headwinds. Most of their revenue is still based on an uncertain PC market, and as such, they are very dependent on the global economy. This could turn out to be an unspoken plus for AMD though, as their portfolio of products allows them to compete very well at low prices. Also, Kabini/Temash have only been available for a short time, meaning we have no track record of their sustained success.
But AMD has now had positive earnings surprises for the previous three quarters, sales picked up this quarter in their Computing Solutions group based largely on Kabini/Temash, they have reduced OPEX according to their plan, and they have stated they expect to return to positive cash flow next quarter based on the mid-point of their guidance.
Disclosure: I am long AMD. I actively trade my AMD position. I may add or subtract from my position at anytime. I wrote this article myself, and it expresses my own opinions. I am not receiving compensation for it (other than from Seeking Alpha). I have no business relationship with any company whose stock is mentioned in this article.
I