Introduction
It is not every company that can boast of maintaining top market position in more than 80% of the segments it covers, maintain up to 70% sole-source sales while at the same time, maintaining an enviable stable financial position with strong cash flows.
One of the companies that can authoritatively lay claim to all these is Park-Ohio Holdings Corp. (NASDAQ:PKOH). It is a diversified manufacturing services and products holding company with its market cap at $461.8 million and stock currently trading at $37.28. The company has over 3,000 employees and operates from 80 locations in approximately 16 countries. Park-Ohio has shown strong growth potentials which will in the long run favor long-term investors.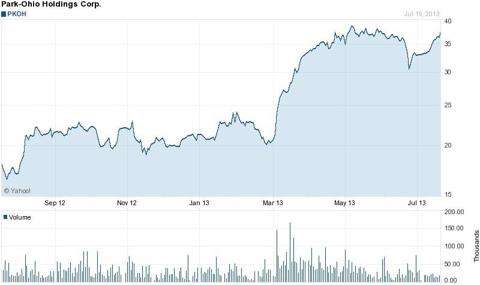 Basic chart showing the stock's trend in the last one year
Source: finance.yahoo
A little about the company
Park-Ohio Holdings Corp was established in 1961 with its headquarters in Cleveland, Ohio. Through its subsidiaries, the company operates in three major segments in the Industrial Specialties industry: Supply Technologies, Assembly Components and Engineered Products.

Source: company presentation
The company's products are manufactured both domestically and other international facilities located in Canada, United Kingdom, Mexico, Belgium, Poland, China, Germany and Japan.
Supply Technologies: This segment offers Total Supply Management services which cover engineering and design support, supplier selection, part usage and cost analysis, bar coding, quality assurance, product packaging and tracking, point-of-use delivery, technical support and electronic billing services. In terms of components, it offers steering, valves, electro-mechanical hardware, fittings and others. The industries it serves include HVAC, recreational equipment, electrical distribution and controls, recreational vehicles, automotive and vehicle parts, consumer electronics, heavy-duty truck, agricultural and construction equipment, aerospace and defense, semiconductor equipment and appliance industries.
Assembly Components: This particular segment is saddled with the responsibility of manufacturing automotive and industrial rubber, cast aluminum components, fuel fillers, thermoplastic products and hydraulic assemblies for agricultural equipment, heavy-duty truck, construction equipment, automotive and marine equipment industries. Other services rendered by this segment include part assembly, machining, and design and engineering services.
Engineered Products: This segment's services is targeted towards OEMs and end users in the forging, steel, foundry, coatings, construction, oil and gas, automotive, rail and locomotive manufacturing, heavy-duty truck, and aerospace and defense industries. The services it offers include construction, engineering, services, and repair of induction heating and melting systems.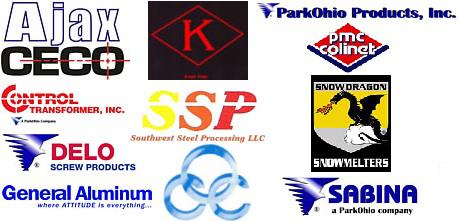 Some of the company's subsidiaries
Source: company presentation
History of acquisitions
A good number of companies have been able to embrace a certain level of growth opportunities through acquisitions, and Park-Ohio is not an exception. Although the company has maintained a commendable growth rate, it has been able to achieve further expansion through a couple of acquisitions.
Park-Ohio completed the acquisition of Fluid Routing Solutions Holding Corp. on March 23, 2012. Fluid Routing Solutions is a leading manufacturer of automotive and industrial hose products. It also takes the lead in the manufacture of fuel filler and hydraulic fluid assemblies. The acquisition was an all cash transaction valued approximately $96.0 million.
With the acquired company's customer base spanning across North America, Europe and Asia and its five production facilities strategically located in Ohio, Tennessee, Florida, Michigan and Czech Republic, I believe it would aid in the company's (Park-Ohio) expansion strategy.
On April 26, 2013, Park-Ohio also acquired certain assets of Bates. This acquisition is valued at approximately $20.4 million and is also an all cash transaction. Bates serves the Transportation and Industrial markets and maintains a top position in the manufacture of extruded, formed and molded products and assemblies. The company has its production facilities located in Tennessee. Park-Ohio funded the acquisition from its revolving credit facility.
Growth
Park-Ohio derives its strength from multiple areas, and this includes the continued increase in its stock price in the past couple of years. Even though the company's profit margins are low, it has not faltered as far as impressive earnings per share growth is concerned. It has also maintained an enviable trait of net income growth, revenue growth as well as notable return on equity.

Revenue (Trailing 12 Quarters)
Source: thestreet
Another thing that has been fueling the growth of this company is its customer base, which is made up of a good number of Global 2000 infrastructure and business/personal/household products companies. With all these, the company keeps seeing growth potentials at every turn.
Risks
There are certain risks that could affect the company's business and in turn, have adverse effect on results of the company's operations and overall financial condition. These risks include:
Cyclicality of the industries the company operates in: It is no longer news that cyclical industries always go with the prevailing economic trend. What this means is that if the economy is bad, business slows down, but if the economy improves, revenues grow. In terms of demand for products, it should be expected that the company will experience increases and decreases in business volume all through the economic cycles. This applies to the industrial equipment, HVAC, steel, electrical components, electrical distribution and controls, vehicle parts, rail, heavy-duty truck, appliance and semiconductor equipment industries. Should there be a slowdown in business volume in any of these industries, it is sure to have adverse effects on the company's financial condition and liquidity.
The company operates in highly competitive industries: The three markets in which the company's products are sold are highly competitive. Of major concern is the fact that a good number of the competitors are large companies with greater financial resources than Park-Ohio can lay claim to. However, the company has been able to continually stay afloat by maintaining long-term business partnership through reliable and timely supplies of high quality products and services exceeding customer expectations. Its design and engineering capabilities have also helped the company to survive amidst this stiff competition.
The possibility of being able to expand its business through targeted acquisitions: The company has engaged in a couple of acquisitions which it hopes would complement its business, but there is always the risk of not being able to integrate the operations of an acquired company. If this happens, it will surely affect the company's expansion plans and financial condition.
One of the company's business segment depends on third parties for almost all of the company's component parts: The Supply technologies segment depends wholly on third-part suppliers and manufacturers for its component parts. This means that any default on the part of the suppliers will have an adverse effect on revenues from that segment and generally, the company's liquidity and results of operations.
Q1 fiscal 2013 financial results
Park-Ohio reported its Q1 of fiscal 2013 financial results in May, 2013. The report showed net sales of $285.1 million, an increase of $22.0 million in comparison to $263.1 million reported in the same quarter of the previous fiscal year. A higher percentage of the sales came from the Assembly Components segment of the company as sales in that area increased 107%.
There were declines in the Engineered Products (8%) and Supply Technologies (14%) segments. The decline recorded in the ST segment was mainly attributed to the volume decreases in the appliance, HVAC, heavy-duty truck, electrical and aerospace and defense industries.
The company reported $233.2 million as cost of products sold, in comparison to $214.2 million reported in the same quarter of the previous fiscal year. This indicates an increase of $19.0 million which is mainly attributed to incremental sales levels related to the FRS acquisition. The company's gross margin for Q1 stood at 18.2% which is a decline in comparison to 18.6% reported in the same quarter of the previous year. Although there was an increase in gross margin in the Supply Technologies and Assembly Components segments, the decrease in gross margin in the Engineered Products segment affected the overall gross margin percentage. This decrease was as a result of volume declines in the capital equipment business unit.
Cash from operating activities stood at $16.4 million, a decrease when compared to $17.1 million reported in the same quarter of the previous fiscal year. This decrease of $0.7 million was attributed to a decrease in the company's operating assets and liabilities which was partially offset by an increase in the company's net income. Use of cash was $6.0 million and it went solely into capital expenditures.
Cash and liquidity
At the end of Q1 of fiscal 2013, Park-Ohio had $98.2 million as outstanding debt under its revolving credit facility. The company also reported unused $94.8 million under its revolving credit facility. Park-Ohio's primary sources of liquidity are three: funds from operations, funds from its revolving credit facility and funds from the sale of the company's Senior Notes.
The company's cash and cash equivalents held by foreign subsidiaries stood at $46.0 million at the end of Q1 of fiscal 2013.
Valuation
The company's stock currently maintains a P/E ratio of 12.68, which shows the company is trading at a discount in comparison to the S&P 500 average of 19.10 and a significant discount in comparison to the industry average of 65.74. The stocks price-to-book ratio stands at 3.84 which shows it is trading at a premium in comparison to the S&P 500 average of 2.43 but a significant discount when compared to the industry average of 12.80.
Its price-to-sales ratio of 0.37 is well below the industry average of 1.24 and the S&P 500 average. It is no longer news that when a company's sales growth rate exceeds that of its peers, it simply means the company is gaining market share more than its peers. Park-Ohio's current sales growth rate of 17.01 is significant above its industry average of 3.03. With these valuation criteria, it simply points to the fact that Park-Ohio is trading at a discount in comparison to other investment alternatives in the Air Freight & Logistics industry.
Conclusion
From the financial results, the company's gross profit margin is not much different from the same quarter of the previous year. In comparison to the same quarter of the previous fiscal year, the company was able to outpace its peers in terms of sales and net income growth. Although the company's liquidity is average, there was an increase in its liquidity in comparison to the same quarter of 2012. With a Quick Ratio of 1.07, it (Park-Ohio) will be able to cover any short-term cash needs that might arise in the near future.
In terms of long-term EPS growth, the company has exceeded the average 15% as it stands at 33.36%. Also, stockholders' equity experienced a tremendous increase as it shot up by 46.82% in comparison to the same quarter of the previous year. In all, Park-Ohio Holdings Corp. is a Buy for me.
Disclosure: I have no positions in any stocks mentioned, and no plans to initiate any positions within the next 72 hours. I wrote this article myself, and it expresses my own opinions. I am not receiving compensation for it (other than from Seeking Alpha). I have no business relationship with any company whose stock is mentioned in this article.