If you are invested in Arena Pharmaceuticals (NASDAQ:ARNA) you are likely aware of the long road it took to get the anti-obesity drug Belviq to the market. You are also are likely aware of the high expectations that the anti-obesity space had after the FDA approved Belviq and Vivus' (NASDAQ:VVUS) Qsymia last summer.
Qsymia was first to market but hampered by REMS restrictions. The drug had a slow launch and disappointed the street as well as investors. Ultimately activist shareholder First Manhattan led a proxy fight to sieze control of the board and management of Vivus. That proxy battle was resolved last week.
With Qsymia seeing a slow launch, investors were not quite sure what type of expectations to place on Arena's Belviq. Talk of blockbuster status ($1 billion of sales in 1 year) evaporated last Fall. Analysts built models, but there were not many clues as to how well a prescription anti-obesity drug would fare with doctors, patients, and insurance companies.
In mid May of 2013 Arena marketing partner Eisai outlined at a shareholder conference that it was anticipating Belviq sales to be $200 million by March 31st of 2014 (the fiscal year end for Eisai). I covered that projection at the time, while in many circles it flew under the radar. That $200 million figure was a much more substantial than what analysts had projected. This left investors pondering whether to believe the company that was going to be responsible for launching and marketing Belviq (Eisai), or the analysts that cover the sector.
Three weeks after the $200 million figure was discussed by Eisai's CEO, and on the day Belviq launched, Eisai executive Lionel Coates appeared on national television and stated that "We are hoping to do $150 million this year" (Eisais Coates On 2013 sales Of Arena's Anti-Obesity Drug). Subsequent to the $150 million announcement, Jack Lief, CEO of Arena stated at the annual shareholder meeting that the $150 million was conservative.
After the launch of Belviq, the timing of the $150 million became a topic of debate. Many long term investors that were excited about the prospects of $150 million in sales by December suddenly began to take a stance that the $150 million figure was actually meant for March 31st of 2014, and not December 31st of this year. That debate continues to this day. In order to believe that the $150 million outlined by Coates is March 31st you must consider the following and find it plausible:
Mid-May 2013 - Eisai CEO (Global) informs his investors that the sales goal for Belviq was $200 million by March 31st.
Three weeks later an Eisai America CEO appears on national television and states that the sales goal is $150 million.
Arena CEO states that the $150 million is conservative.
Is it likely that the CEO of Eisai would guide Eisai investors to $200 million and then in the subsequent three weeks trim that number by 25%?
Is it likely that Coates went out on his own undercutting his CEO by trimming the goal by 25%?
Is it likely that a highly anticipated drug launch would have its goal trimmed by 25% without a single analyst or a single headline regarding the subject?
Readers can arrive at their own opinions on the subject. Personally I believe that the $150 million was referring to this year. I believe that undercutting the CEO's stated goals at a shareholder meeting is not in the company culture of Eisai. It is for this reason that I track the weekly scripts against $150 million in gross sales by the end of the year.
With all of that being said, I get a lot of emails that essentially say that tracking prescription sales to a company's stated goal is not being fair to the company. I happen to disagree. I think that a company's stated goal is of great importance even if it is not offered as official guidance. I also believe that a lot of debate and speculation could be retired if Arena or Eisai issued some form of guidance.
What I am seeing now is a lot of requests from investors that want to see the weekly prescriptions compared to analyst expectations, which are much lower, than to company stated goals. I suspect that the main reason that long term investors want to see this comparison instead is because the launch of Belviq, while positive, has not been setting any records. There are many reasons for this. They include getting doctors up to speed, a lack of insurance coverage, and the fact that anti-obesity drugs are considered expensive by many.
Two analyst firms that cover Arena most closely are Jefferies and Leerink Swan. Both actually carry similar $12 price targets and similar sales goals. What I am seeing most often are investors quoting that expectations are about $34 million in sales in 2013. What most investors are missing is that the $12 price target is not based on sales, but rather the anticipated $10 million in revenue that Jefferies and Leering Swan are anticipating that Arena will receive.
These analysts built their models prior to the launch, and prior to the realization that Eisai was going to offer substantial discounts immediately. One discount is for a free $15 day trial (a wholesale cost of $100). The other is a $75 per month rebate. If you take a moment to consider the price target on Arena, it is based on Arena seeing about $10 million in royalty revenue. With the discounts in play, it will take more prescription sales to deliver the same $10 million.
Arena will receive 31.5% of the NET revenue. Items like discounts, shipping, etc. all come out of the Gross Revenue to derive NET revenue. If we consider that NET Revenue on prescriptions is about $125, it will take 272,000 prescriptions by the end of the year to get there. Essentially, if 272,000 prescriptions sell, analysts see the equity at a fair value of $12 per share. I have added an analysts line to my tracking below. The analyst model is graphed in yellow. The gray line models to the 750,000 prescriptions that will be needed to reach $150 million. The blue line represents a second model to 750,000 prescriptions. The orange line illustrates the current pace using channel check numbers that I adjust upward by 30%.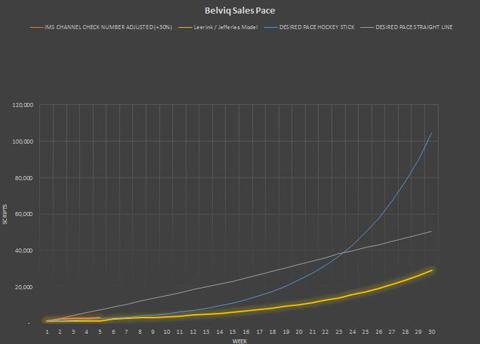 As you can see in the graph, the current sales pace is above the blue hockey stick model as well as the analysts model. Current sales are tracking well below the more straight line path to 750,000 prescriptions.
In the Jefferies analysis there are two additional targets. The downside scenario places a price target of $3 if Belviq sales have limited traction. The Jefferies upside has a price target of $33 if Belviq sales show a "much faster launch trajectory than they assume as a monotherapy through 2014." The revenue Jefferies projects for 2014 is about $27 million. Investors can assign their own assumption to what "much faster" is, but it would likely be at least double what Jefferies is modeling.
What we have in the first 5 weeks of launch is a pace is slightly above the base Jefferies and Leerink Swan models. I think it is fair to state that this is not a "much faster trajectory. The yellow analyst line is tracking to $54 million in sales by the end of 2013. Current Belviq sales are trending in that range or slightly higher (on a straight line basis). If the sales begin to gain exponential traction, and we see a hockey stick take shape, the sales, and thus revenue to Arena, will increase.
Some important factors investors need to consider:
I assigned NET Revenue per script a $125 value. If that value is lower, more prescriptions will need to sell and the Arena share per script will be less. If it is higher, then less prescriptions will be needed to derive the revenue.
Current sales pace (though early) is on target to justify the analysts $12 price target or slightly higher.
Current sales pace will not achieve the $150 million by year end unless the hockey stick forms. With advertising not happening until December or January that will be more difficult.
Getting more insurance companies to cover ant-obesity drugs will be a compelling motivator to increase sales as well as improve the bottom line. The discounting is happening because of a lack of insurance coverage.
To see a higher price target and upgrades Gross Sales will need to get upwards of $70 million (assuming that the 31.5% split is based on $125 NET)
Eisai getting to its own sales goals carries importance. Missing $150 million can happen by a pretty wide margin and $12 is still a safe target. If sales can top $100 million it will boost the 2014 models and deliver some much higher price targets ($25 or better)
Advertising should start by December of this year. That can ramp things substantially. The wrench in those works is insurance. Advertising translate into sales much better if Insurance is covering.
Eisai has a goal of 40% insurance coverage by the end of the year. It is currently estimated to be between 30% and 35%. If Insurance can get to 50% and beyond savvy investors will see the opportunity before analysts report it.
Summary
There are many things to look at and track with this equity. Tracking overall sales, NET sales, prescription numbers, insurance coverage, and street expectations all mean that the homework required by investors can be extensive. This drug, equity, and sector all have potential, but it is too soon to determine how much potential there is. As quarters pass the fundamental story will gain importance as well. Stay tuned.
Disclosure: I am long ARNA. I have no position in Vivus (VVUS). I wrote this article myself, and it expresses my own opinions. I am not receiving compensation for it (other than from Seeking Alpha). I have no business relationship with any company whose stock is mentioned in this article.
.