Actionable Items:
Highest Positive Spread: Kayne Anderson Energy (NYSE:KYE)
Focus Stock: First Trust Energy Infra Fund (NYSE:FIF)
Last Week's Focus Stock: First Trust Energy Infra Fund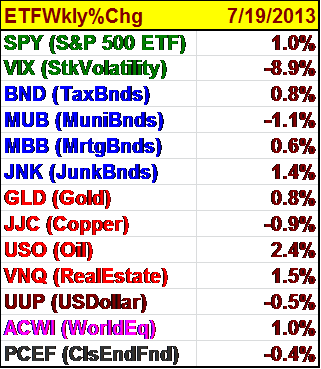 So, Fed Speaks: If you were concerned about Mr. Bernanke's remarks, "we've not changed policy. We are not talking about tightening monetary policy". Mr. Bernanke's main goal is designed to push down long-term rates and push up prices of stocks, homes and other assets. So, there it is.
Buy Assets? The $85 billion a month inflow into the Fed reserves has now reached $3.5 trillion in federal debt from $1.0 trillion from 2008. While the government has kept rates low, the rates are coming from the "general populous". Retail folks who lend our funds to financial institutions at rock-bottom rates? If that's not enough, the junk bond desks are there with yield equivalents that may have unlimited risks. Thanks for that.
Employment Growth: You're likely to see employment rates increase as all the under 30-hour workforce will compete for jobs: jobs at restaurants, hotels and stocking of items. Employers will not have to pay for "health insurance" if the 29-hour work week is enforced. So, employers will not pay a "fine" for lack of health insurance. So, employment goes up!
Can It Last? Can buyers of equity and bond markets accurately predict whether the economy is strong enough to successfully manage the Fed's pull-back? I can see a two-in-five change that rates will merge and the economy will proceed accordingly. However, the balance of the three-in-five would unnerve the equity and bond markets.
Congress Out of a Job: The burdens of sequester, government spending on healthcare and massive debt restructuring is looming. Unless you can get them out of the way, Congress could be out of a job.
However, Fed policy speaks, the markets react.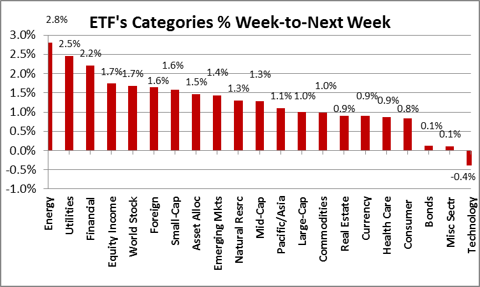 ETF's % Change Week-to-Week: Energy (+2.8%), Utilities (+2.5%) and Financial (+2.2%) were the leaders this week over the previous week. Technology (-0.4%), MiscSectr (+0.1%) and Bonds (+0.1%) were laggards for the week.
Energy was the leader this week while it was in the mid-sections last week. Technology was in the doldrums this week (Microsoft and Google and were down) with a -0.4% decline.
Both Gold (NYSEARCA:GLD) was positive +0.8% and Copper (NYSEARCA:JJC) was a negative -0.9%. US Dollar was down -0.5%. While Detroit declared bankruptcy, munis (MUB) were off this week; fixed-rate interest rates were higher. (See "Chart 1")
CEF Weekly Fund Type Performance: This week saw price rises for WrldIncFnds (+1.1%), ConvtSecFnds (+1.1%) and SpecEqFnds (+1.0%). The laggards were NatlMuniBndFnds (-1.5%), SingleStMuniFnds (-1.1%) and OtherFnds (-0.4%). Some of the positive PrcNAVSprds were both ConvtSecFnds and SpecEqFnds at a +0.1% a piece.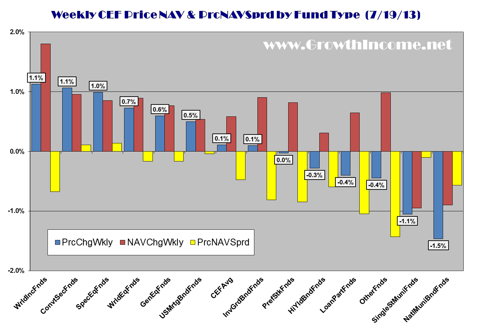 "Highest Spread" for the Week: Our "Highest Spread" for the week was Kayne Anderson Energy . KYE had a positive share price of +4.5% and a negative NAV of -1.1%. The PrcNAVSprd was +5.6% (A positive number may mean a future decline in share price). KYE has a total return with an emphasis on current income through investment in securities of companies engaged in the energy industry.
KYE, a SpecEqFnds, has a premium of 2.8% which is slightly ahead of its 52 week premium of 2.1%. The total assets were $1.5 billion with effective leverage of 31.1% (Mandatory Redemption Preferred Shares). The annualized monthly distribution yield is 6.4%. Its quarterly ex-dividend date is 7/2/2013 for a distribution of $0.48 per share (recently passed).
Lowest Spread and "Focus Stock" for the Week: First Trust Energy Infra Fund was our "Focus" Stock" for a second week in a row. FIF share price was negative -2.0% and its NAV per share was a negative -0.3%. Its PrcNAVSprd decline was -1.7%. (Stock prices typically go up.)
This stock is about energy. Net assets were $581.3 million and the total debt was 26.3%. The monthly distributions are early in the month (distributions to be announced next week). FIF has two of the leading stocks in Kayne Anderson Energy ("Highest Spread") portfolio, and a third to the top 10.
Energy was a week-to-week ETF favorite (2.8%). The 14 CEF energy stocks completed the week with gain of +1.1%. FIF came in down -2.0%.
Focus Stock & High Price for Last Week: Last week's "Focus Stock" for the week was First Trust Energy Infra Fund . FIF shares were down -2.1% this week from last week. The "Highest Spread" for the week is PIMCO Dynamic Income Fund (NYSE:PDI) ("Highest Spread" seems to go down) where it went down a negative -0.8%.
This is the first time in a long time that a "Focus Stock" was below the "Highest Spread".

Disclosure: I have no positions in any stocks mentioned, and no plans to initiate any positions within the next 72 hours. I wrote this article myself, and it expresses my own opinions. I am not receiving compensation for it. I have no business relationship with any company whose stock is mentioned in this article.