Hartford Financial Services Group (NYSE:HIG) agreed to refund $48.2 million to workers' compensation policyholders in Florida as it earned excess profits on such policies it issued between 2004 and 2006.

On Wednesday, the Florida Office of Insurance Regulation said that it has instructed Hartford to take this action as its profits exceeded the state law, which prohibits insurers from earning excess profits and requires surpluses to be refunded to policyholders.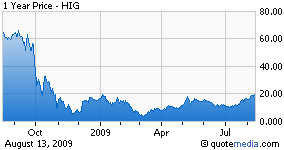 This refund brings the total amount of refund to all workers' compensation policyholders in Florida to approximately $98.8 million this year. During the last year, more than $29.7 million in excess workers' compensation profits were refunded.

The refund of $48.2 million is really significant for Florida at this point as the state is going through a challenging period precipitated by the ongoing economic turmoil.

Among the other insurers, Hartford was the first to receive government money. In June, the company received $3.4 billion from the federal Troubled Asset Relief Program (TARP). As a result, Hartford's capital position became stronger giving it much-needed financial flexibility. However, the company would have to pay an initial 5% annual dividend on the preferred shares it issued the government.

Hartford was one of the six big insurers including Principal Financial Group Inc. (NYSE:PFG), Prudential Financial Inc. (NYSE:PRU), Allstate Corp. (NYSE:ALL), Ameriprise Financial Inc. (NYSE:AMP) and Lincoln Financial Group (NYSE:LNC), who qualified for the bailout funds under TARP in May. Only Lincoln and Hartford Financial took the bailout while the other four declined.

Though the second quarter results of Hartford surpassed all estimates, we remain concerned with Hartford's exposure to variable annuities and capital levels. We also suspect that the company will continue to incur increasing losses on its investment portfolio. The company will also experience $48.2 million cash outflow due to the mandatory refund.