Gold's precipitous decline in past months has shaken the industry, prompting operators to cut costs and go to cash. Of all the producers, none have suffered more than those in South Africa. Beside the drastically lower spot price for gold, three factors have contributed to the perilous state of South Africa's gold mining industry:
High cash costs per ounce recovered
A 16-percent year-to-date decline in the South African Rand compared to the U.S. dollar
Continued demands from labor for wage increases
Barclays Capital claims that South African gold producers received wage increase demands ranging from 14 percent to 150 percent. With an average South African cash cost of $1,233 per ounce in the first quarter, Barclays estimates that another series of wage increases could imply cash costs of $1246 per ounce, which does not even include sustaining capex, thought to be around $200/oz. With gold at $1295 per ounce at the time of this writing, there is little room for costs to rise if mining in that country is to remain profitable.
As this author discussed in a previous article, South African producers walk a precarious balance. The Chamber of Mines, which negotiates on behalf of the companies, offered a 4 percent wage increase to the unions, which was promptly rejected. The National Union of Mine Workers sought a rather unrealistic 61 percent raise for some entry-level employees. Despite the resolution of the Amplats (OTCPK:AAUKY) dispute last month, labor unrest in South Africa continues. A sit-in at Village Main Reef's (OTC:VMRFF) Consolidated Murchison mine has been in effect since July 10. Labor unrest last year cost the South African mining industry about $1.5 billion in lost output. With higher import costs on account of the weak Rand, the unions will likely expect their employers to make up the difference. Neither side is likely to concede much, as companies desperately try to keep costs down.
Producers in South Africa have reacted to this cost pressure by focusing on higher-grade production. This implies lower production rates, as ores now deemed marginal are avoided. AngloGold Ashanti (NYSE:AU) guided down production expectations for the year by 100-300,000 ounces in reaction to prevailing gold prices. Although they operate on four continents, 42 percent of AngloGold's reserves are in South Africa. Harmony Mining (NYSE:HMY) and Gold Fields (NYSE:GFI) both have three-quarters of their reserves in South Africa. Harmony already suffered labor disputes at its Kusasalethu facility during the past three quarters, which led them to advise recently on lower production for the fiscal year in the range of 2 to 4 percent. Ironically, Gold Fields' decline in production last quarter was attributed to strikes at mines in Ghana, not South Africa.
If conditions between management and labor do not improve, or if the spot price of gold continues its correction, these miners face the reality of shuttered mines and the specter of nationalization. Of the major South African companies, Harmony is perhaps on paper in a better position to weather this storm than AngloGold or Gold Fields. It has maintained a steady current account and has relatively little long-term debt. AngloGold witnessed a drastic drop in its current account over the past year and has yet to recover. It has much higher long-term debt ratios, although they are not unusual for gold miners of their size. Gold Fields has a similar long-term debt structure to AngloGold, but has an improving current account from past quarters.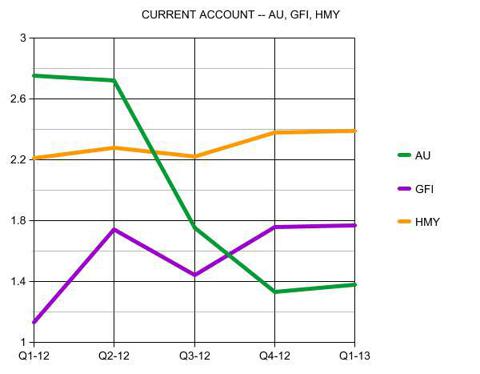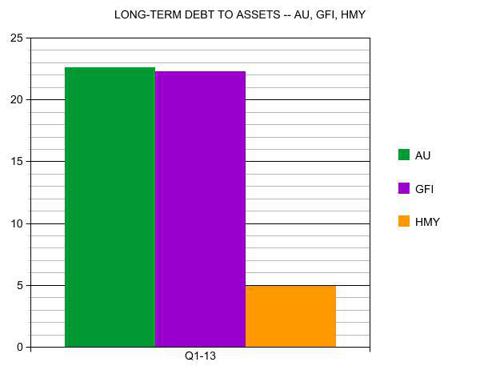 The problem for Harmony and the reason for its liquidity is that 92 percent of its production was from South Africa during the last reported quarter. Of the three companies, Harmony is by far the most heavily vested in domestic production. AngloGold and Gold Fields domestic production was only 36 and 12 percent, respectively. AngloGold and Gold Fields have steadily diversified their jurisdictional range and risk, while Harmony's ventures in Papua New Guinea are modest in comparison. The relative diversities of these companies assets could greatly influence their future.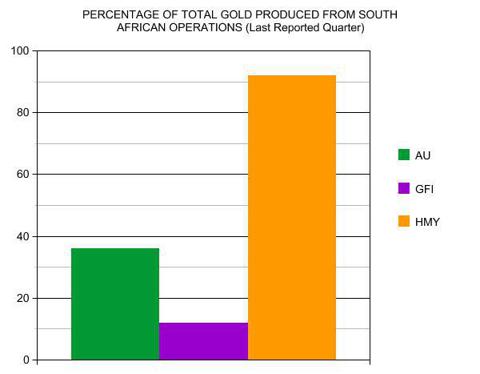 As a country with an official unemployment rate of 25 percent and a weakened currency, South Africa's government is ineptly handling the great expectations of its poor. Should the ANC lose any standing in political power, it will likely resort to a nationalization theme in an appeal to its base. Mining companies in South Africa can afford neither lower gold prices or further deterioration of domestic conditions. It is no wonder that companies from the once-premier gold producing country on the planet are looking elsewhere to do business.
Disclosure: I have no positions in any stocks mentioned, and no plans to initiate any positions within the next 72 hours. I wrote this article myself, and it expresses my own opinions. I am not receiving compensation for it (other than from Seeking Alpha). I have no business relationship with any company whose stock is mentioned in this article.