One way to evaluate growth potential for an industry sector is to evaluate the trend in the labor force composition. Movement in the labor force has been shown to follow growth industries. We look at this here, from the start of 2007 through the recent June labor report. Over this time, the labor force rose 3%, from 153 million to 157 million. See chart below.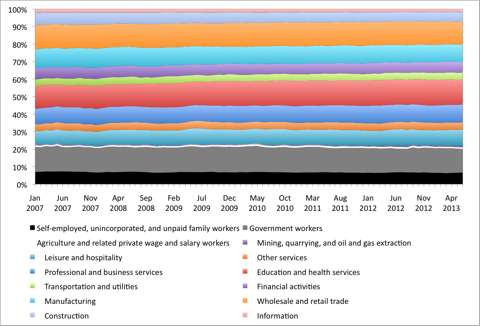 While the entire "non-agricultural" sector is shown, these three industries above are not included in the rest of the analysis:
Agriculture and related private wage and salary workers (e.g., the white color data in the chart above)
Government workers (e.g., the gray color data in the chart above)
Self-employed, unincorporated, and unpaid family workers (e.g., the black color data in the chart above)
Now these three excluded industries generally had an insignificantly reduced composition of the entire "over 16 years of age" labor force, through these 78 months, as one can tell from the chart above. A complementary rationale for exclusion is that there are no sector ETFs associated with these three industry classifications.
Now for the 11 non-agricultural industry classifications that remain, we continue with the sorted chart. It was sorted from the most statistically expansive (i.e., Mining) at the bottom of the chart, to the most statistically contractive (i.e., Information) at the top of the chart. See this chart below. Note that temporary employment services are components of the Professional and business services industry classification.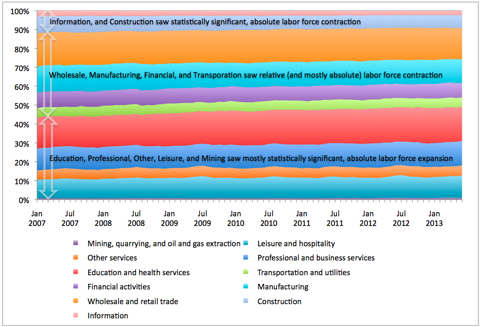 This is a new look at labor information since it is not available from the U.S. Department of Labor, but must be manually calculated. The data were calculated by the author from not seasonally adjusted unemployed count and rates. And a Chi-square statistical test was performed to rank the differences in labor force change per industry.
Market participants currently debate whether traditional earnings measures are a fair reflection of an industry sector's growth potential. Earnings can be manipulated through accounting adjustments, though overall economic expansion is more stable. Additionally, since 2007 we have dramatic steps taken by the Federal Reserve and the U.S. Department of the Treasury that have distorted risk measures relative to these industry's earnings. The author has some perspective on this topic having led the analytics team for TARP.
Each industry's GDP per capita should equal its GDI per capita. Or domestic income. And a fair representation of this income is to measure the employment prospects for those in the industry. Note, for example, that despite the high profits recently, there is a large transition of employment from the financial sector to the labor force of other industries, and this corresponds to a reduced price multiple for the financial services sector, implying this sector needs to struggle more for additional market price growth. The same could be said for some pockets of the information technology sphere. Yet in growth industries such as healthcare, this influx of employment opportunities is a clear signal of overall growth opportunities in the sector. The major healthcare ETF has seen less risk and rising multiples over this timeframe (e.g., post financial crisis). While GDP data is subject to revision and accounting distortion (e.g., on valuation of intangibles), leading economists also integrate labor data as a signal of overall potential for an industry.
Let's explore how we map these quantitative growth and labor risk factors to the relevant ETFs. We retain the ranking sort of labor opportunities among industries in the table below, and we show how labor industry classifications map to ETF sector classifications. With the exception of three labor industries, this is fairly a straightforward exercise since most employment in an industry is related to firms classified in that industry (e.g., working in healthcare industry generally means one works for a company classified as healthcare). For the Other and Professional labor industries, the S&P 500 was the proxy analyzed. And for the Wholesale labor industry, the capitalization weighted performance of consumer discretionary and staples were analyzed in concert.
The labor data, again, are taken from Table A of the monthly Bureau of Labor Statistics report, and the delineation of the ETF industry classifications are taken from the most recent S&P breakdown. This is how leading traders would also organize their data for performing investment analytics.
Labor signal

Labor

-->

market classification

Relevant ETF ticker

Growth

Leisure

-->

Consumer Discretionary

(NYSEARCA:XLY)

Growth

Education and Healthcare

-->

Healthcare

(NYSEARCA:XLV)

Growth

Professional, and Other

-->

S&P 500

(NYSEARCA:SPY)

Neutral

Transportation

-->

Industrial

(NYSEARCA:XLI)

Neutral

Mining

-->

Utilities

(NYSEARCA:XLU)

Neutral

Mining

-->

Energy

(NYSEARCA:XLE)

Neutral

Financial

-->

Financial

(NYSEARCA:XLF)

Neutral

Mining and Construction

-->

Materials

(NYSEARCA:XLB)

Neutral

Wholesale

-->

Consumer Discretionary, and Consumer Staples

Neutral

Manufacturing

-->

Consumer Staples

(NYSEARCA:XLP)

Loss

Information

-->

Technology

(NYSEARCA:XLK)
How do we know that this methodology adds value? In addition to the risk characteristics for industry sector described above, we can examine the non-parametric price performance for each of these labor industries versus their respective labor force growth. Both data are measured starting in 2007. This is shown in the illustration below, where we see an appropriately slightly-positive relationship that gives credence to a slight alpha advantage to using this information, yet not such a large distortion to render worry among investors.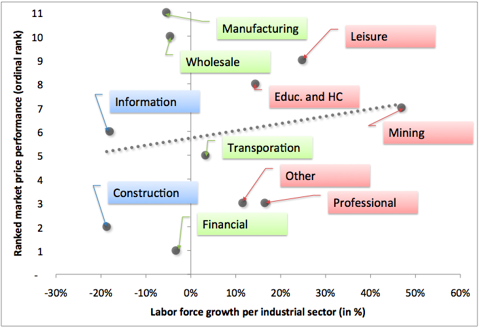 We see in the illustration above that the red industries we had shown have the most heated labor force growth, while the blue industries had the most cooled down contraction in labor force. In summary, we learn that through these additional economic drivers, such as the labor force changes, we have relevant fundamental and economic information that is useful for sector ETF investors.
Disclosure: I have no positions in any stocks mentioned, and no plans to initiate any positions within the next 72 hours. I wrote this article myself, and it expresses my own opinions. I am not receiving compensation for it (other than from Seeking Alpha). I have no business relationship with any company whose stock is mentioned in this article.