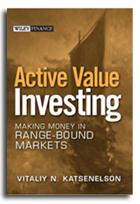 Vitaliy Katsenelson, director of research at Investment Management Associates and author of the book Active Value Investing, recently published a thought-provoking presentation on making money in range-bound markets. We found the following takeaways particularly noteworthy:
Investors typically describe markets as either bull or bear markets, ignoring the fact that markets are often "cowardly lion" or range-bound markets. In fact, the "bear markets" observed over the past century were actually range-bound markets that included both upward and downward moves in equity prices, ultimately leaving prices roughly flat over multi-year periods.
The past decade has been characterized by a range-bound market, in which volatility has been high but market indices have ultimately remained rather flat over nearly ten years.
Katsenelson argues that cycles in range-bound markets are not caused by the usual suspects, i.e., the economy, earnings growth, interest rates or inflation, but rather by one key factor: valuation.
Katsenelson also observes a "tight" relationship between interest rates and P/E multiples by analyzing historical data from 1960-2006. Not surprisingly, periods of low interest rates justified higher P/E multiples, while higher interest rates led to P/E multiple compression. Somewhat surprisingly, however, Katsenelson also shows that the relationship between interest rates and P/E multiples was "extremely weak" from 1900-1960.
A common feature of range-bound markets is modest earnings growth accompanied by P/E multiple compression, leading to low or no growth in stock prices. P/E multiple compression is at least in part caused by market psychology. The latter trumps both interest rates and inflation in terms of driving stock prices in the short term. Interest rates and inflation play a role in determining the length and extremes of market cycles.
We may be in a range-bound market, as valuations are still high and earnings growth is likely to slow. If earnings decline materially, we may enter a secular bear market.
Stocks outperform bonds over long periods of time, but they do not outperform materially in range-bound markets. The latter necessitate a "buy and sell" approach rather than a "buy and hold" approach to investing. Investors can earn excess returns by timing individual stocks based on their valuation rather than by timing the market.
For more information on Vitaliy Katsenelson's writings, visit ActiveValueInvesting.com.
Click here to buy Active Value Investing on Amazon.com.
Disclosures: None.