Christopher Williams of Barron's had recently noted that "by almost any metric, Hess (NYSE:HES) sells not only at a discount to many peers, but also at a discount to its historic valuation." The article went on to applaud the company for its recent shift toward becoming a pure E&P play and also predicted that asset sales could eventually bring in as much as $7B -- a portion of which could find its way to shareholders in the form of share buybacks or increased dividends.
In the wake of Mr. Williams' notes pertaining to Hess, I wanted to not only examine the company's recent performance, but also take a look at several catalysts behind my decision to consider a long-term position in the company.
Performance and Trend Status
On Friday, shares of Hess Corporation, which currently possesses a market cap of $25.08 billion, a P/E ratio of 9.50, a forward P/E ratio of 12.58, and a forward yield of 0.54% ($0.40), settled at $73.94. Based on Friday's closing price, shares of Hess Corporation are trading 9.01% above their 20-day simple moving average, 8.36% above their 50-day simple moving average, and 18.48% above their 200-day simple moving average. These numbers indicate short-term, mid-term, and long-term uptrends for the stock, which generally translates into a buying mode for most traders.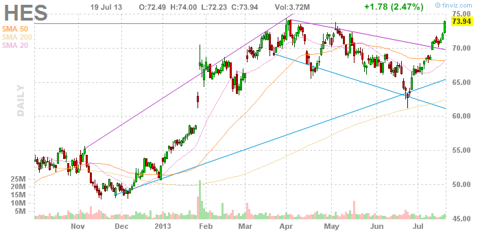 Libya's Es Sider Terminal Back On Track
Within the last two weeks, and after being shut down for an extended period of time due in part to the recent protesting and subsequent military coup in Egypt, Libya's Es Sider Terminal has been brought back online. According to an article featured on Nasdaq's website:
"The Es Sider terminal normally exports 300,000 barrels a day of crude, about a quarter of the 1.2 million barrels a day experts say Libya exported on average last year. Es Sider exports crude from the Waha Oil Co., which is one of Libya's largest joint ventures in which U.S. companies Marathon Oil Corp (NYSE:MRO), ConocoPhillips (NYSE:COP) and Hess Corp. are partners."
Although only offline for a short period of time, the shutdown played a key role in the near-term performance of crude oil and as a result prices had risen above the $108/barrel plateau for the first time in over a year.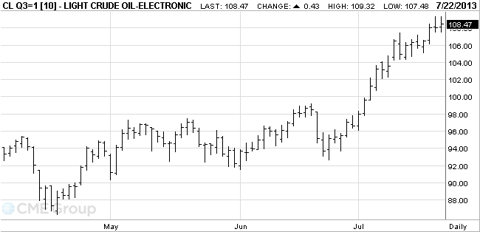 Hess Places Its Gas Station Business Up For Sale
On July 2nd it was announced that Hess Corp. had hired Goldman Sachs (NYSE:GS) to sell its gas station chain in an effort to transition to more of an E&P company. Hess is seeking a single-digit number in the billions of dollars for the chain and given recent estimates, the sale could fetch between $1.2B (according to recent valuation by Morningstar) and $3.4B (according to Credit Suisse). In my opinion, the company could attract an offer at the higher end of that price range ($3.1B and $3.4B, or higher) since most of the gas stations include convenience stores that carry higher profit margins when it comes items such as cigarettes, milk, bottled water and soft drinks.
5-Year Dividend Behavior
Since June 12, 2008, Hess Corporation has maintained its quarterly dividend distribution of $0.10/share. Although a quarterly payout of $0.10/share is relatively mundane, especially when shares are trading above $73/share, my interest has recently piqued given the fact Hess has hinted at the fact a portion of the $7B it intends on generating through asset sales could go toward stock buybacks. As an income-driven investor, my hope is that the company's dividend gets a boost as well. From an income perspective, the company's forward yield of 0.54% ($0.40) coupled with its payout ratio of 5.00% make this particular stock a very viable income option for long-term investors in search of an ultra-conservative yield in the oil & gas sector.
Conclusion
When it comes to those who may be looking to establish a position in Hess Corporation, I'd continue to keep a watchful eye on not only the company's continued asset sales over the next 6-12 months, but also pay very close attention to any other growth that may directly associated with the company's plans to transition into more of an E&P play.
Disclosure: I have no positions in any stocks mentioned, but may initiate a long position in HES over the next 72 hours. I wrote this article myself, and it expresses my own opinions. I am not receiving compensation for it (other than from Seeking Alpha). I have no business relationship with any company whose stock is mentioned in this article.