Kinross Gold Corporation's (NYSE:KGC) net earnings of 12 cents per share in the second quarter of 2009 just missed the Zacks Consensus Estimate of 13 cents. However, on a year-over-year basis, net earnings in the quarter were up 50%.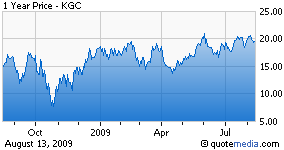 Boosted by higher volumes and lower cost of sales, revenues doubled to $598.1 million in the quarter from $298.7 million during the same period last year. Sales volumes increased by a robust 97% to 651,390 ounces of gold during the quarter. Cost of sales per gold equivalent ounce was down 7% to $434 in the quarter. Cost of sales per gold ounce on a by-product basis was down 8.6% to $382 in the second quarter, compared with $418 the previous year.

The average realized gold price also inched up to $915 per ounce compared with $903 per ounce in the second quarter of 2008. Production was up 38% to 560,479 gold ounces in the reported quarter from 406,032 ounces for the same period last year.

Higher revenues and lower cost of operations more than doubled Kinross' cash flows to $227.1 million in the quarter, or 33 cents per share, compared with $110.8 million, or $0.18 per share, over the same period last year.

Outlook

Delay in the expansion of the Paracatu mines in Brazil has forced Kinross to decrease its production guidance to 2.3-2.4 million gold ounces for the full year 2009 from the previous guidance of 2.5 million ounces. Cost of sales per gold equivalent ounce for the full year 2009 is expected to fall in the higher range of the previously stated guidance of $390 to $420 per ounce.

Kinross' key development projects are the Cerro Casale project in Chile -- a joint venture with Barrick Gold Corporation (NYSE:ABX) -- and the Fruta Del Norte deposit in Ecuador. Kinross is awaiting the Government's approval to restart drilling at the Ecuador mines. In 2008, the Government had halted all mining operations within the country's borders while rewriting mining laws.

Moreover, on Aug 1, unionized workers at the La Coipa mine in Chile accepted a new three-year collective agreement, ending a strike that had begun on Jul 8. The strike reduced La Coipa's forecast production for July by approximately 9,400 gold equivalent ounces. At the Lobo Marte property in Chile, Kinross expects yearly production of about 350,000 ounces at a cost of about $500 million.

Kinross revised its regional guidance for Brazil, where production for the full year 2009 is now expected to be 480,000 to 550,000 gold ounces at an average cost of sales of $525 to $570 per ounce. On a by-product accounting basis, Kinross now expects to produce 2.1 to 2.2 million ounces of gold and 12.0 to 12.5 million ounces of silver. Cost of sales per gold ounce on a by-product accounting basis is expected to be around $360 to $390, consistent with the previously stated guidance.

However, we remain cautious about Kinross' near-term performance due to rising cash costs and falling production numbers at some of its existing operations. Kinross' increasing cash costs, driven by increasing energy costs and higher royalty payments, are a matter of concern. The increased costs are also attributable to declining production levels across several operations (Musselwhite and Porcupine in Canada and Round Mountain in the U.S.).

In addition, Kinross is facing high general and administrative expenses. We expect burgeoning costs to squeeze near-term operating numbers. Meanwhile, the Brazilian real's appreciation against the U.S. dollar is leading to higher than budgeted costs associated with the Paracatu expansion. Further, acquisition of mines such as the Lobo- Marte, Harry Winston and Diavik Diamond mines have significantly increased Kinross' debt, which is another concern.