I predicted the Netflix (NASDAQ:NFLX) collapse of 2011-2012 on TV and in my research reports, and it may be time to short again. At the very least, the stock should be avoided due to MASSIVE warning signs.
After a huge 83% drop from $304.79 to $52.81, Netflix has skyrocketed 400% from the August 2012 bottom. But with the stock now quickly approaching the all-time peak again, can the rally continue? Is the recovery over? Will panic resume? Can Netflix survive?
I haven't written about Netflix since October 2011, and I have not recommended it as a short in over a year, but the opportunity could be here again. We'll get a lot more clarity in the Q2 earnings report, but even if the stock continues higher, there are many reasons it could crash again, and even more reasons to avoid buying it.
The Netflix Collapse:
The Netflix Recovery (or sharp bounce):
Positives
I. Massive Upside Momentum
There's no doubt that Netflix's "recovery" has been tremendous. The stock is up 400% since the August 2012 bottom, and the naysayers and short-sellers have been proven wrong time and time again. Though they may be correct in the longer-term, they should have waited for confirmation of slowing momentum or reversal instead of fighting a very powerful and sharp rally. I've also been waiting for the bad news to come, but it takes time to play out.
II. Carl Icahn Behind It
One of the top catalysts that sent Netflix shares soaring and helped solidify a bottom was the announcement on October 31, 2012 by billionaire Carl Icahn that he was investing in Netflix and had acquired a nearly 10% stake in the company. Not only did the news send NFLX shares up by over 20 percent for the day, but Icahn disclosed that he managed to buy 5.5 million shares for an average price of $58! His trade has been so successful that he is up over 350% on his position - exceeding $1 billion in profits.
However, while Icahn's large stake in the company served as tremendous support to the stock price up to now, it could be a big risk going forward. He says he hasn't sold a share since buying, but investors should expect it to come at some point. He's up a billion dollars; he will definitely take some profits, and could even liquidate the position.
Source: Yahoo Finance
III. Appears To Have Recovered (subscriber growth, earnings)
Together with billionaire support and an oversold bounce in the stock that morphed into an enormous rally, Netflix's rebound gave it more time to improve on the two most-watched numbers investors and analysts were focusing on (other than stock price) - Earnings and Subscribers.
Subscriber growth was at risk when Netflix attempted to change its name to "Qwikster" and when it disappointed its customers with a price hike. It has since recovered, however, and added a considerable number of new subscribers. In Q1 2013, it added more than 3 million streaming subscribers for a total of 36.3 million (29.2 million in the US and 7.1 million outside of the U.S.). The DVD subscriber base has been declining, but the streaming number is what matters to most people since it is where the company has been focusing its efforts.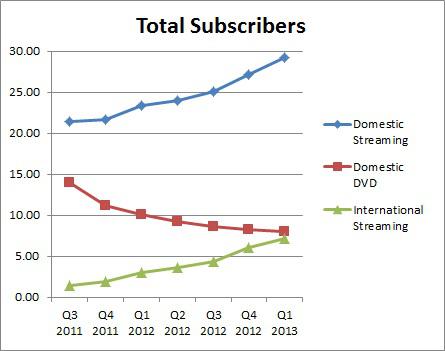 Netflix's earnings and gross profit margin fell off a cliff as the bad news materialized and as the stock price collapsed:
Source: YCharts.com
But over the past few quarters, the company has been mostly beating earnings estimates and surprising many investors. The question is: can Netflix keep it up?
IV. Original Content Opens Doors
Netflix has made history by becoming the first internet-based media company to earn Emmy Award nominations. The company's giant recovery over the past two years owes some of the success to its investments in original programming. The new and popular shows Netflix has put together include "House of Cards," "Arrested Development," "Hemlock Grove," and "Orange is the New Black." Netflix has many more shows on tap and ready to be rolled out over the next year or two. This original programming has been said to greatly improve the subscriber numbers and interest in Netflix, and could help the company "become the next HBO" and compete on a wider scale.
However, with the costs of producing original content standing at $100m just for "House of Cards" and millions of dollars per episode for a number of its other projects, while Netflix subscribers are paying only $8-$12 a month - is Netflix even going to make a profit on these ventures?
Negatives
I. ENORMOUS Valuations
Valuations look MUCH worse now than they did right before the 2011-2012 crash.
When I warned about Netflix in February and May 2011 right before the collapse, I pointed out high Price-to-Earnings (P/E) ratios of 70 and 80 as a big reason why the stock was overpriced. The stock fell 83% from the ensuing peak to the August 2012 bottom.
You think that was bad? The ridiculous P/E before the last crash was 80. What is it now? 648! Even the forward P/E is extreme.
Source: Yahoo Finance
A P/E of 10-15 is great; a P/E of 40 is a bit high; a P/E of 100 is what we saw in the Dot-Com technology bubble and in Facebook (NASDAQ:FB) at its IPO (right before it lost over half of its value); but a P/E of over 600? PURELY RIDICULOUS. Obviously, those who invest in Netflix right now are expecting earnings to pick up and the P/E ratio to drop to more reasonable levels. But why chase a stock which has soared 400% from its bottom and which continues to show major signs of overvaluation and risk that are even worse now than they were before the stock crashed?
Netflix P/E over time:
Source: YCharts.com
To put numbers in a practical sense:
Netflix currently earns only $2.50 per subscriber, while the current market valuation appraises each subscriber at $300+ in annual profit.

…

Consider Netflix's recent quarterly results on Jan. 23. The company generated $950 million in revenue during Q4 and spent $937 million to earn a small accounting profit -- $13 million in profit caused investors to add $5 billion in market capitalization to the stock.
It's one thing to buy a company you think is recovering or coming back to profitability. But when the valuations are so ridiculous, even the expected turnaround won't be enough to justify the price of the stock.
II. Critical Resistance at All-Time High
Netflix has soared 400% from its bottom, but the 2011 all-time high could be a major barrier.
As we rapidly approach the all-time high of $304.79, the risks are ever greater. There is no doubt the recovery was exceptional and there is definitely a possibility that Netflix will surprise to the upside with Q2 earnings, but at $264, the stock is only 15% away from a major resistance level. The reward for taking a risk of owning the stock here is not worth it.
As the stock price approaches a very important previous high, it usually struggles before breaking above it and could even fail to ever break above it. Yes, Netflix has shown a lot of momentum, seems to have stabilized its earnings, and has a number of very exciting and promising ventures underway. But does the stock truly deserve to be right back to where it was before the collapse? You can bet that there will be some investors selling their shares as Netflix approaches the $300 mark. Even worse, Carl Icahn could be one of them.
In addition to the major hurdle of $300-305, Netflix's stock also appears highly overextended when it comes to other technical indicators.
First, the stock price has soared far beyond its important moving averages. It is now over 70% above the 200-Day MA and over 15% from its 50-Day MA. Moving averages are usually a good indicator of the direction and speed of a trend. Moving averages also serve as a steady guide as to reasonable prices, and have been known to act as strong support or resistance as the stock price approaches. However, when the stock price moves far above or far below the moving average, it tends to "revert to the mean." In other words, the stock price usually makes its way back to the moving averages. In our case, especially with the 200-Day MA, the stock price either has to take a breather and let the moving average catch up to a much closer level or the stock price has to fall sharply to close the huge 70% gap that stands between them.

Source: ShortSqueeze.com
Second, the momentum indicators are pointing to a weakening rally. While the stock price has continued to rise significantly, it appears that the strength of the run-up peaked in January and February 2013. Though the momentum and strength indicators have not yet turned down or confirmed a peak, there is a clear divergence between the stock price trend and the Relative Strength Indicator (RSI) and MACD (see above chart: stock price continues higher but RSI and MACD have not made new highs since early 2013).
III. Still Huge Competition
A major dark cloud that never seems to go away for Netflix has been the huge competition always threatening to eat away at its profits. When it came to DVDs, Netflix had a near-monopoly and a top-notch business model. But as it has shifted its focus to streaming, the competition has continued to strengthen.
Fighting Blockbuster was one thing, but now Netflix is fighting some of the biggest and most powerful companies in the world. Even worse, streaming requires paying for content licensing and acquisition, and Netflix is like a drop in the ocean compared to its competitors when it comes to available cash or buying power.
Right now, Netflix is still in the lead, but is fighting a war on multiple fronts against Amazon (NASDAQ:AMZN), Hulu [owned by Comcast (NASDAQ:CMCSA), Disney (NYSE:DIS), and Fox (NASDAQ:FOX)], Google (NASDAQ:GOOG), Apple (NASDAQ:AAPL), and other top media companies. The competition threatens Netflix by making the content more expensive, buying exclusive content that Netflix doesn't have or can't afford, and even causing subscribers to leave Netflix for better content or better pricing.
When Netflix collapsed starting in July 2011, Amazon had only 9000 titles in its streaming library. Since then it has grown its library by over 340 percent!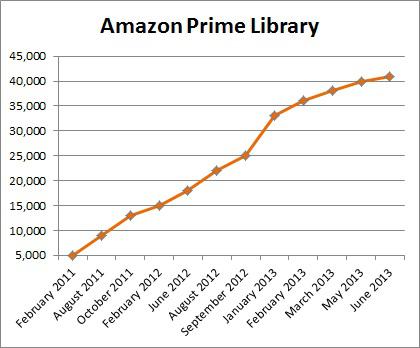 At around 60,000 titles, Netflix is still in the lead compared to Amazon's 40,000. However, Netflix doesn't have the money to keep buying content at the pace which Amazon has been buying. Soon enough, Amazon could be the new leader. Even better, Amazon's annual Prime membership costs only $79 compared to Netflix's $96 annual cost (and that is at the low $8 monthly subscription assuming Netflix isn't forced to raise prices). At an 18% discount compared to Netflix, it may be only a matter of time until more subscribers shift to Amazon.
IV. Dropping A Lot of Content
Netflix is even losing content. It has been focusing on original programming and buying certain shows which it thinks is critical to its success, but it has done so at the expense of having to cut 1794 titles from its library. Not only has Netflix struggled with maintaining content from certain providers such as Starz, but it has now lost content from Warner Brothers, MGM, and Universal. It also had to end its licensing deal with Viacom (NYSE:VIA) which includes Nickelodeon, BET, and MTV. It secured a big deal with Dreamworks (NASDAQ:DWA), but that might not be enough to offset the loss of 3% of its streaming library. After dropping so many classics, reality TV shows, children's favorites, and movies (such as James Bond, Scarface, SpongeBob SquarePants, and Storage Wars), some subscribers may soon see less value in Netflix or will have to look elsewhere to find the content they want.
V. Recovery Already Priced In?
Expectations are high again. Nearly everyone lost hope in Netflix as its stock price and earnings collapsed in 2011-2012, but the enthusiasm is definitely back.
With the stock price almost all the way back to where the trouble began, the Netflix comeback may already be priced-in and the expectations may be too high. At this point, the risk simply outweighs the reward. If you haven't owned Netflix over the past year, you missed it.
Why is it probably too late to get in? It's all about expectations. When the stock was plummeting and everyone was afraid to buy it, the company had a lot of room to surprise to the upside. Expectations were lowered by so much that the stock had the ability to soar higher just by releasing "less negative" news. Investors and analysts just wanted the bleeding to stop.
Expectations were so low that analysts lowered Netflix's earnings (EPS) forecasts very significantly. It became much easier for Netflix to beat earnings or exceed the really low expectations in the market. And in fact, Netflix did just that. It beat the consensus EPS forecast by a considerable margin (see chart below). The very low expectations helped Netflix appear to be doing much better than it actually was (if you just compare it to before the collapse).
So what's the problem? With higher performance come higher expectations. It was much easier for Netflix to beat estimates when almost nobody believed it was possible. But now that Netflix has proven ability to surpass expectations, the estimates have been raised much higher. Looking at the chart above, we can see how fast consensus EPS forecasts have risen since December 2012, and that Netflix is now expected to do much better in Q2 2013. Just as performance has improved so significantly, expectations have increased at least as much.
Considering that the last two earnings releases resulted in enormous price rises in the stock, the odds are much lower the third time around. Netflix may surprise again, but the move will likely not be as great as before.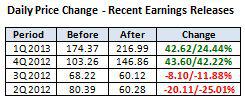 Just how high are expectations now? Analysts expect Netflix to earn 40-45 cents per share (up 246-264% year-over-year) and $1.07-$1.10 billion in sales (up 21-22%). Moreover, earnings growth is expected to be over 450% in 2013 and over 92% in 2014 (according to NASDAQ / Zacks Investment Research), or over 380% in 2013 and over 120% in 2014 (according to Yahoo Finance). Such tremendous expectations are not only extremely difficult to beat, but may signal that the stock price has already factored in even the best outcomes.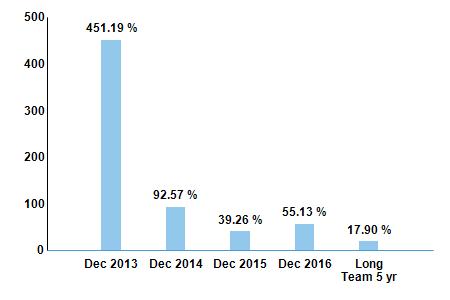 Especially considering earnings are nowhere near the level of 2011, the stock trading almost at the peak 2011 level again could signal extreme irrational behavior and expectations by investors.
Source: YCharts.com
VI. Massive Debt and Illusion (**the WORST part**)
There is a ton of terrible information about Netflix that most investors don't even know. Netflix has been very sneaky when it comes to its accounting. If you just look at their statements or financial ratios, it doesn't look as bad; it even sometimes looks good, as in the case of their available cash. But if you look a little further, you will find extreme manipulation of their data, illusions of profitability, and dangers so severe that they could eventually lead to bankruptcy.
A. Hidden Liabilities
The most glaring danger is the huge debt burden Netflix has. It's not even about the $3.55 billion in liabilities on its balance sheet. It's about Netflix's scheme of keeping $3.3 billion of contractual obligations and debt in off-balance sheet liabilities.
Netflix simply doesn't have any money to buy content, but it needs that content or it will lose many of its subscribers. If Netflix stopped adding to its content library, it could eventually lose to the competition and go bankrupt. So the only way Netflix could keep it going is by amassing giant debts and promising to pay for content in the future. And the only way Netflix could even pay these obligations which it promises to pay, is by attracting millions and millions of new subscribers with the new content. But the debts are so big that Netflix may never be profitable enough to pay them.
So while Netflix's balance sheet may show "only" $3.5 billion in liabilities, the number is closer to $6 billion!
Netflix has figured out how to keep $3.3 billion of contractual obligations hidden in the footnotes. Obviously they wouldn't get away with it completely, so management had a great excuse for doing so:
The Company had $5.7 billion and $5.6 billion of obligations at March 31, 2013 and December 31, 2012 , respectively, including agreements to license streaming content that represent current or long-term liabilities or that are not reflected on the Consolidated Balance Sheets because they do not meet content library asset recognition criteria. The license agreements that are not reflected on the Consolidated Balance Sheets do not meet content library asset recognition criteria because either the fee is not known or reasonably determinable for a specific title or it is known but the title is not yet available for streaming to members.

Source: Notes to Consolidated Financial Statement, 10-Q
This is so dishonest and misleading. A liability is a liability; just because Netflix doesn't know exactly what the fee is for a specific title or the title is not yet available to subscribers doesn't mean that Netflix doesn't owe money. It owes billions of dollars and it has legally agreed to pay it. It should therefore be included. The "asset recognition" criteria are a major loophole.
Even worse, the obligations could be more than $5.7 billion. Netflix continues in the footnotes to say that:
For those agreements with variable terms, the Company does not estimate what the total obligation may be beyond any minimum quantities and/or pricing… The Company has entered into certain license agreements that include an unspecified or a maximum number of titles that the Company may or may not receive in the future and/or that include pricing contingent upon certain variables, such as theatrical exhibition receipts for the title. As of the reporting date, it is unknown whether the Company will receive access to these titles or what the ultimate price per title will be. Accordingly, such amounts are not reflected in the commitments described below. However such amounts are expected to be significant.

Source: Notes to Consolidated Financial Statement, 10-Q
In other words, Netflix could have agreed to billions more in commitments and managed to keep it entirely secret. Management may have even figured out how to keep these obligations out of the footnotes!
According to another analysis, Netflix's liabilities could be even more than $8 billion: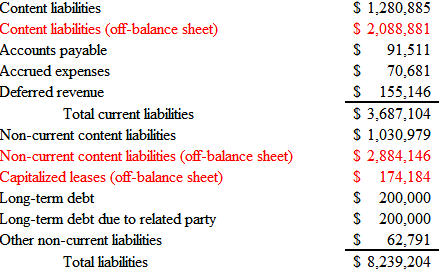 B. Fake Assets
While Netflix's liabilities have grown by billions of dollars, somehow its assets have as well.
Source: YCharts.com
How is it that, while the stock collapsed and the company went through major trouble, Netflix actually saw an increase in its assets? The first way it might have done so is by offsetting the billions of dollars in new liabilities with matching assets (in other words, it agrees to owe money for new content and in turn puts that new content on its balance sheet as assets). One must also keep in mind that perhaps Netflix even managed to load more assets onto the balance sheet that are the result of its off-balance-sheet liabilities (in other words, it may be inflating its assets while keeping its liabilities hidden - therefore looking much more financially stable and solvent than it really is).
The second way Netflix could have accomplished (and in fact did accomplish) to massively inflate the total assets on its balance sheet is by loading up on "Intangible Assets." Netflix has managed to add $1 billion of intangible assets in just over a year! It's much easier to appear to be financially stable when you create assets out of thin air.
If you just look at Netflix's balance sheet you'll see the clear bottom-line warning: "Net Tangible Assets" are NEGATIVE $763 million. That means that much of Netflix's assets could in fact be just fluff.
Source: Yahoo Finance
C. Inability To Pay
Even if Netflix continues to recover and grow rapidly, it still may not be able to pay its liabilities or remain profitable. Aside from the billions of dollars of obligations standing in the way or the enormous growth in earnings and subscriber base needed to save the company, there are a number of big warning signs.
Firstly, revenue is quickly falling behind. Netflix's "acquisition and amortization of streaming content is growing more than four times as fast as revenue:"
Secondly, Free Cash Flow is now negative. Many consider FCF to be one of, if not THE, most important indicator of growth and financial health of a company. If free cash flow is negative, it is a major warning. Even worse, Netflix has so much debt and so many bills to pay that a negative FCF could doom it.
Netflix reported a gain of $16 million in Q1 2013, but it had a negative FCF. The estimates of FCF differ, but they all point negative. One says negative $42 million. A second one points out that the tiny Net Income doesn't even matter; it's all about FCF, which peaked in early 2011 (and could have signaled the collapse):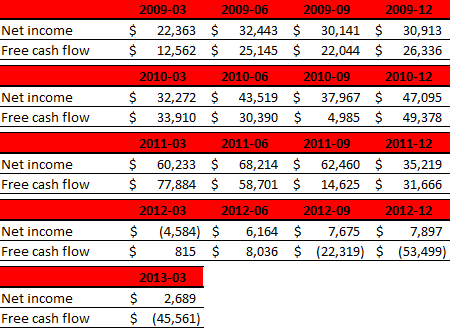 Thirdly, costs exceed cash flow. Not only is free cash flow negative, but "Cash from Operations" is negative and expenses are piling up in a major way:
Source: YCharts.com
How will Netflix stay solvent when its cost of goods sold and operating expenses continue to grow and it can't even afford them?
The only ways Netflix can continue to survive is by either increasing debt (financial risk) or issuing more stock (dilution). An increase in profitability and return to positive free cash flow would help, but it would likely not be enough.
VII. Falling Short Interest
The market's job is to prove most people wrong. If everyone is betting on the same thing, it will likely not happen. The same concept applies to short-selling: if too many people are betting against a company, it will likely not fall until after they give up. This was one of the big reasons I used in shorting Netflix in May 2011 - it was only after many of the bears gave up that I decided it was time to get short.
Counter-intuitive to what we'd assume, short interest has actually declined as Netflix stock continued to rise. If anything, as the stock price rises, short interest should increase as well - since a higher price has an even higher chance of falling. But that has not been the case; instead, as the stock has reached new all-time highs, the short interest has been falling. Since it is clear that many Netflix bears have removed their positions, now is actually a much better time to short - as the focus on the company has faded, and as the overcrowding by shorts has cleared.
It appears that the same concept can be applied now. Ironically, short interest in Netflix reached a peak at the late 2012 bottom (most investors are too bullish at tops and too bearish at bottoms). Since then, however, short interest has declined significantly: from a very high short interest of around 35% in late 2012, the number has fallen to below 17% as of the end of June 2013. The stock has continued to rise, forcing many shorts to cover their positions. With the stock price up an additional 25% in less than 20 trading days since then, it would be fairly safe to assume that even more shorts have covered their positions. With many of the bears now out of the trade, and the price even higher and approaching the all-time highs, now may be a much better time to short.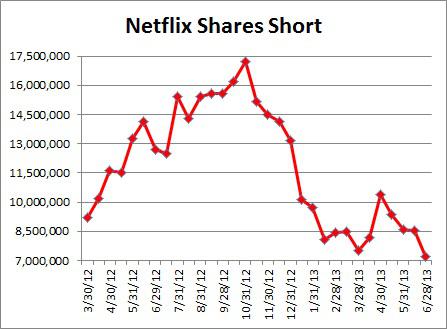 VIII. INSANE Insider Selling
Perhaps the most shocking of the warning signs on Netflix is the gigantic amount of insider selling.
Again, just as in the case of short interest, insider selling was one of the big reasons I predicted an impending collapse in Netflix stock in May 2011:
Heavy selling by insiders is many times a sign of a lack of faith in the company. If those insiders, or people working for the company - who actually have the best direct contact to the company and the most clarity and insight into the company's operations - don't believe the stock price will continue to rise, why should the rest of the investors?

…

It appears that insiders have lost faith in the company and the stock, and are selling fast.
But it gets even worse. Netflix collapsed shortly after I wrote that article, which pointed out that insiders sold over 695,000 shares over the previous 6 months, amounting to an 18.6% decrease in total insider shares held.
Netflix Insider Transactions - Last 6 Months, as of May 2011: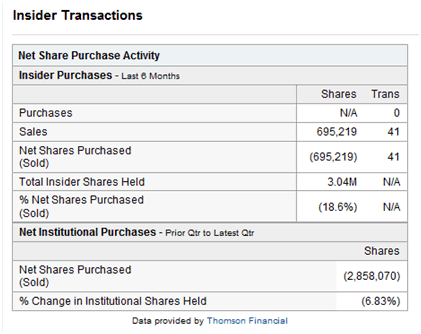 With the stock now approaching the all-time high again and the company's financials not looking any better than they did then, insiders have been selling even more than they did before the last crash.
Netflix Insider Transactions - Last 6 Months, as of July 2013:
The numbers are insane. Insiders have sold over 46% of their shares (over 1 million shares) in the past 6 months alone! Moreover, insiders now own less than half the shares they did in May 2011. Even worse, compared to the 6.83% decline in institutional shares held in May 2011, institutions have sold over 48% of their positions over the past 6 months - over 500% more shares than they sold before the 2011 crash.
A great example of insider selling is Netflix Director Jay Hoag. Not only has he sold over 450,000 shares since April 2013 for a total of nearly $100 million, but he seems to be pretty good at calling tops and bottoms in Netflix stock. He sold at $267 only days after the 2011 peak, right before the crash, and he then bought again in early May 2012 at $71-74, right near the bottom. Now that he's recently been selling so many shares, it may be time to get out as well.
It looks as if the insiders have almost no faith in the stock continuing to rise from here. They have sold so many shares, and they know so much more about the company than most investors, that we should really be paying attention. This is the highest insider selling I have ever seen. Add to that the huge institutional selling, and it appears almost certain that the late stages of this rally have been fueled almost entirely by the late-coming individual investors who may be about to get crushed.
Conclusion
Netflix could continue higher if it reports good earnings, but there are so many massive warning signs that the risks are too great to own the stock. The stock is up over 400% from its low and expectations have been raised dramatically, tremendously increasing the probability of a sharp pullback or even another crash.
Netflix doesn't deserve to be trading at a price where it was in 2011 right before the collapse. Earnings are nowhere near 2011 levels; valuations are overextended way beyond 2011 levels; competition has strengthened significantly; Netflix can't even afford new content; the company's debt has ballooned to $6 billion or more; its free cash flow is negative; and insiders are rapidly selling their shares as they reveal their lack of faith in the company's future.
To make matters much worse, there are some very suspicious accounting methods which have helped Netflix keep $3+ billion hidden off the balance sheet while adding over $1 billion in intangible assets to the balance sheet. The debt is not only highly unlikely to be paid for a long time, but could even deem the company insolvent, leading to its eventual bankruptcy if growth doesn't continue in a major way.
Add to that a potentially strong resistance at the all-time high of $304.79, falling short interest, and a weakening rally, and now may be a great time to enter a short position or at least to watch out.
Disclosure: I have no positions in any stocks mentioned, but may initiate a short position in NFLX over the next 72 hours. I wrote this article myself, and it expresses my own opinions. I am not receiving compensation for it (other than from Seeking Alpha). I have no business relationship with any company whose stock is mentioned in this article. I may initiate short positions in NFLX, only via put options.