All eyes this week will be on Apple (NASDAQ:AAPL), when the company announces its fiscal third quarter results after the bell on Tuesday. Expectations for the quarter are tremendously low, as no new product launches have set the company up for a possible year over year decline in revenues. There are a number of questions that need to be answered, and a lot of it might have more to do with Apple's future than the past. Today, I'll preview Apple's fiscal Q3 results, and look forward to what I think is the more important quarter, fiscal Q4.
A review of past results:
Before I get into the current quarter, it's always good to look back at past results. The table below shows fiscal Q3 in the last two years, with last year's Q3 period in yellow. I also included this fiscal year's Q2, so you can get an idea of how things are sequentially.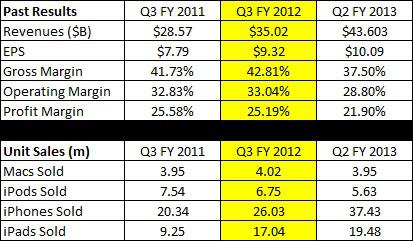 Here is what Apple guided to for fiscal Q3:
revenue between $33.5 billion and $35.5 billion.
gross margin between 36% and 37%.
operating expenses between $3.85 billion and $3.95 billion.
Other income of $300 million.
tax rate of 26%.
Obviously, this is not going to be a tremendous quarter for Apple. There was no March refresh of the iPad this year, and that will definitely have an impact on revenues and the bottom line. There is one other item I must really discuss before I get into the bulk of my article. Apple changed how it reports some of its revenues, adding an accessories category this year. In prior years, these accessories were counted in the product lines for the iPhone and iPad. Thus, the selling prices in those periods appeared much higher. Now that Apple has changed its way of reporting, with accessories as their own category, it appears that selling prices are very weak. They really aren't. We just need to look the sequential changes rather than the yearly ones. In one of my past Apple articles, I covered this change, so I encourage all to read that section as part of this earnings preview.
The iPhone:
Apple will report a sequential decline in iPhone sales on Tuesday, but the question is how much? It's been about ten months since the launch of the iPhone 5, and many are looking forwards to the launch of the iPhone 5S and potentially a cheaper iPhone. As of July 13th, analysts were expecting 27.15 million iPhones to be sold in Q3, representing 4.3% growth over the prior year period.
Verizon (NYSE:VZ) reported a decent iPhone sales number for their quarter, so maybe Apple can come in around 27.5 million or 28 million. That would certainly help margins, as you want to see more revenues come from the iPhone than the lower margin iPad (and iPad mini). In terms of average selling prices, Apple netted a little more than $613 in fiscal Q2. Since Apple is still selling a lot of iPhone 4 and 4S models, and we are ten months away from the launch of the 5, it is likely that the average selling price will decline. The $600 level seems to be key, although I personally would not be surprised if we were around $595. Obviously, every dollar counts, as you are talking about 25-30 million in revenues per dollar of selling price. That could be the difference between Apple meeting and missing analyst estimates.
The iPad:
The iPad seems to be the biggest wildcard in the Q3 report. Last fall, Apple launched the iPad mini, which has furthered the growth in this product line. However, they also refreshed the regular iPad at that time, meaning a refresh did not come in March like the pattern has been with the last few models. That leads to a lot of uncertainty, because you have the boost from the mini offset by no late Spring refresh. Apple sold just over 17 million iPads in last year's period, and the average estimate as of July 17th was for 18.09 million.
Obviously, the lower priced iPad mini has hurt average selling prices. In fiscal Q2, the average selling price was down to $449, and it could go lower if there is a higher percentage of minis sold in this quarter. Don't forget about Apple's revenue change that I mentioned above, as that could impact the prior year period numbers.
Macs:
The last year or so has been one of the weakest for the PC industry in quite some time. Apple has a lot to do with that, as the rise of tablets such as the iPad have seriously impacted PC demand. Apple may not be in the worst situation of the PC names, but is still expected to be hit. As of July 12th, the average Mac estimate called for sales of 3.83 million units, down about 5% from the $4.02 million in last year's period. In fiscal Q2, the average selling price was $1,378 per unit.
The iPod / other revenues:
Apple sold 6.75 million iPods in the year ago quarter, and as that product line continues to decline, we will see another sharp dropoff in sales. Apple also has "other revenues" which include the iTunes store, software, services, accessories, etc. The average estimate for iTunes is $4.17 billion against $3.2 billion in last year's quarter. Apple should also generate some decent revenues from accessories, which as I mentioned above, used to be counted in the individual product lines.
Analyst estimates:
One item I track constantly is the average analyst estimate. Especially in the past few quarters, analysts have been rather predictable, cutting estimates into Apple's report. The table below shows how Apple's average estimate has trended over time. The yellow line is where the estimate was going into the Q2 report, when Apple guided to $33.5 billion to $35.5 billion in revenues. Don't forget, Apple stopped providing earnings per share guidance.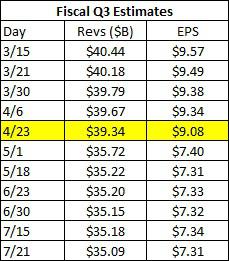 The biggest impact on estimates was obviously Apple's guidance. After the initial large cuts by analysts, we saw estimates trickle down over time. Despite an early July slight increase, some analysts have cut their estimates over the past week. The current estimate stands at the lowest point I've seen. Don't forget, my numbers are as of Sunday afternoon. I would find it very surprising if these numbers did not change by Tuesday afternoon, whether that be up or down. My guess is that they would go down, making a beat more likely. Or, it could make a miss a little smaller. You might see some estimate changes depending on AT&T's (NYSE:T) quarterly report.
A brief discussion on margins:
Apple's margins are expected to show a sharp decline over last year's period, and a sequential decline as well. Apple stated that product mix was the culprit this quarter. With the percentage of revenues coming from the iPhone expected to be down this quarter, that will hurt margins, because it also means a higher percentage of sales from the lower margin iPad mini. Apple guided to 36% to 37% gross margins for Q3. Don't forget, they came in at the lower end in Q2.
Balance sheet and buyback:
Apple finished fiscal Q2 with a little under $145 billion in its "cash pile", the total of cash and equivalents, short-term investments, and long-term investments. Investors started demanding a piece of that pile a couple of years ago, and Apple restarted its dividend last year, which it has since raised by 15% to $3.05 per quarter. As of Friday's close, Apple was yielding 2.87% on an annual basis, about 40 basis points more than a 10-Year US Treasury bond.
When Apple restarted that dividend, it also announced a $10 billion plan to repurchase some shares. This was not your true stock buyback program. Apple was buying back these shares to offset dilution from executive options and other share-based payments. Thus, this was not a plan to reduce the share count, but to stop it from rising further. But when Apple announced last quarter's results, they decided to add $50 billion onto the repurchase amount. Apple now has a true buyback, and everyone will be looking to see how many shares were repurchased in fiscal Q3. Remember, earnings per share are expected to fall by about $2.00 over last year's period, so any shares bought back will start to help earnings per share.
During the quarter, Apple took out $17 billion in debt as part of the plan to buyback shares. Since I personally don't think they bought back $17 billion during the quarter, it is likely that Apple's cash pile will rise above $150 billion this quarter. It is even possible that $160 billion could be topped, again depending on the buyback. Adding on the debt will make some of Apple's financial ratios appear worse, but I don't think anyone is concerned about Apple's balance sheet right now.
Looking forward to Q4:
Honestly, and I've been saying this for months, I think that fiscal Q3 is a throwaway quarter. Apple gave the quarter the kitchen sink treatment, as no new major product launches meant stagnant revenues. Everyone is waiting to see what Apple has up its sleeve for the fall lineup, which is why I think fiscal Q4 is more important. Here is what Apple did in last year's fiscal Q4.
Revenues of $35.97 billion, EPS of $8.67.
Gross margins of 40.04%, Operating margins of 30.43%, Net Profit margins of 22.86%.
4.92 million Macs sold.
5.34 million iPods sold.
26.91 million iPhones sold.
14.04 million iPads sold.
Those could be some tough numbers to achieve, especially since the Mac and iPod lines are likely to have sharp declines. Apple launched the iPhone 5 with about ten days left in fiscal Q4 last year, and that provided a late revenue bump for the quarter. I've stated multiple times already that if Apple does not launch any new products during the quarter, they will likely give lower than expected guidance. If Apple gives guidance similar to the Q3 guidance they gave, it most likely means nothing new is coming, or that any launches will be late in the quarter. But if they have some significant launches, particularly a bit earlier in the quarter, you could expect guidance in that $36 billion to $38 billion area.
I said above that I've tracked Apple estimates for a while, and I started Q4 tracking at the beginning of May. The following table shows the history of Q4 estimates.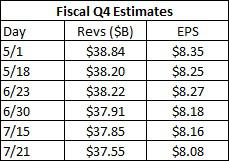 You can see that analysts have really lowered their guidance, which means they are more skeptical about product launches coming. This fiscal year was really a transitional one for Apple, so investors are waiting for the next step in the process. Tuesday's guidance will be key in knowing where Apple is going over the next two months, and at this point, investors really don't want to wait much longer. Apple needs to get some new products out.
My predictions:
Everyone has their own set of predictions, and I often get asked for mine. In the past, I haven't always provided my own predictions. In some of the recent quarters, I've only predicted average selling prices and tried to estimate where Apple needed to be to meet analyst estimates. But it seems like my readers want to know what my predictions are, so I might as well take a stab at them. Most sets of predictions, even many analyst ones, are pure guesses at times, and I've been dead on with some numbers in the past. So here are my predictions for unit sales per product line with their average selling prices, along with some other numbers.
3.70 million Macs, $1,365 ASP.
4.85 million iPods, $168 ASP.
27.65 million iPhones, $595 ASP.
17.6 million iPads, $435 ASP.
$5.3 billion in "other revenues".
Gross margin of 36.40%.
Operating margin of 25.54%.
Net profit margin of $19.53%.
Diluted share count of 939 million.
$35.273 billion in total revenues.
$7.34 in earnings per share.
Fiscal Q4 revenue guidance of $35 billion to $37 billion.
As of Sunday, I was approximately $183 million higher than the average analyst estimate for revenues, and three cents per share higher in earnings per share. I was a little below the top end of Apple's revenue range, which was $35.5 billion. In terms of Q4 revenue guidance, I am a bit below the current analyst estimate. I do think there will be a product launch late in the quarter, but I think the majority of Apple's launches will be in fiscal Q1, the October to December quarter. It will be interesting to see where my numbers stack up against the analyst community by Tuesday afternoon.
Final Thoughts:
Apple will report on Tuesday, and the world will be watching. Expectations should be fairly low, as the company went with a kitchen sink Q3. Q4 guidance will be the most important item in my opinion, as we look for Apple to start delivering, in terms of new products. Although Apple is off its recent lows, it still is well below that $705 high we saw last year. One must wonder how this stock will react if Apple disappoints again. Google (NASDAQ:GOOG) got a pass despite its earnings stinker, but Microsoft (NASDAQ:MSFT) was crushed for its earnings miss. Now it is Apple's turn.
Disclosure: I have no positions in any stocks mentioned, and no plans to initiate any positions within the next 72 hours. I wrote this article myself, and it expresses my own opinions. I am not receiving compensation for it (other than from Seeking Alpha). I have no business relationship with any company whose stock is mentioned in this article.
Additional disclosure: Investors are always reminded that before making any investment, you should do your own proper due diligence on any name directly or indirectly mentioned in this article. Investors should also consider seeking advice from a broker or financial adviser before making any investment decisions. Any material in this article should be considered general information, and not relied on as a formal investment recommendation.