We're just one misstep away from another recession! At least, that's what many in the financial media would like us to believe, with headlines like USA Today's "U.S. Economy isn't Yet a Pretty Picture" and The Wall Street Journal's "Global Tumult Grips Markets."
Heck, even overeducated analysts are in on the act. In recent research reports, PIMCO's top brass keeps referring to the current economic environment as a "stable disequilibrium."
I guess that whole "new normal" and "death of equities" thing wasn't working out for them (I told you so) with the S&P 500 Index up by double digits and all. In any event, whatever you do, don't believe the hype! We're not even close to another recession. And seeing that it's Myth-Busting Monday, here are five irrefutable signs to prove it …
Rates Rising Ahead of the Fed
In anticipation of a formal hike from the Federal reserve, investors shouldn't be freaking out over rising interest rates on U.S. Treasury bonds. They should be celebrating.
Why? "When rates rise, it is a reflection that the economy is recovering," says Morgan Stanley's CEO, James Gorman. And he's absolutely right.
Contrary to conventional wisdom that rising rates will undercut this economic recovery, it's actually a sign that the economy is getting back to normal and won't need the Fed to prop it up much longer. The sooner we can get off the Fed sauce, which we've been drunk on for months, the better.
Pennywise, Finally
A recent Bloomberg article suggests that consumer spending makes up 70% of the U.S. economy. Of course, we know the real number is closer to 40%. Either way, consumer spending is still a big deal.
The good news? Americans learned their lesson from the Great Recession. We're finally living within our means.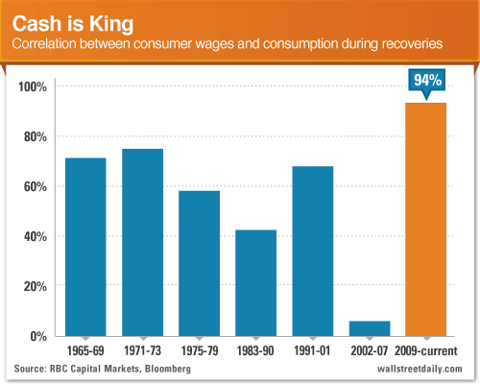 Click to enlarge
(Click to enlarge)
The latest data from RBC Capital Markets reveals that the correlation between wages and purchases during the recovery is the highest it's ever been since 1965.
"The consumer really has cleaned up their balance sheet … They're growing consumption based on the rate of growth of their earnings, which at the end of the day builds a more solid foundation," says Jacob Oubina, Senior Economist at RBC.
Oubina adds, "We'd like to see a little bit more credit usage, because it's been non-existent."
Speak for yourself, Mr. Oubina! Too much credit is what got us into this whole mess to begin with. I'll start worrying when consumers are quick to swipe the plastic. Thankfully, that's not happening now.
Raising the Roofs
For years the real estate market has been a drag on the U.S. economy. Specifically, residential fixed investment (RFI) detracted from GDP growth. But not anymore!
In the first quarter, RFI increased 14% to account for almost one-fifth of overall economic growth. As you can see in the chart, this isn't an anomaly, either. It's a clear reversal in the trend.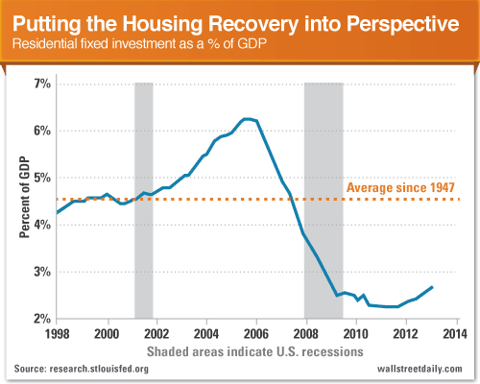 Click to enlarge
(Click to enlarge)
Since 1947, RFI accounted for an average of 4.6% of GDP. But even after the most recent uptick, it's only running at about 2.6% of GDP. So that means there's much more building to be done before we even get back to normal.
It's Sunny in Philly and New York
If the economy is in such trouble, somebody forgot to let manufacturers (and economists) know. I say that because the two latest manufacturing reports came in way ahead of expectations …
In July, the Empire State Manufacturing Survey hit 9.5 and the Philadelphia Fed Manufacturing Index hit 19.8. (Keep in mind, any reading above zero signals expansion.) No economist expected it to be that sunny.
The median projection of 50 economists for the Empire State reading checked in at just 5, whereas the median projection of 57 economists for the Philadelphia Index was only 10.
Much Less Joblessness
While no one can say that the labor market is healthy, it's definitely improving. Case in point: New applications for jobless benefits dipped to their lowest level in four months last week.
Scott Brown, Chief Economist at Raymond James, says, "This [level] is consistent with moderate job growth." Agreed. And it's way better than the 650,000 jobless claims we witnessed at the peak of the unemployment crisis.
It's also important to realize that the number of applications for jobless benefits serves as a proxy for layoffs. So the drop indicates that companies aren't cutting back on workers. In fact, the total number of layoffs over the last six months was the lowest since 2000.
Yes, the unemployment rate is still uncomfortably high. But, again, the labor market is on the mend, which is a sign of economic strength.
Bottom line: The U.S. economy is on solid ground, not quicksand. If you're still not convinced, consider that the two most reliable recession indicators on Earth aren't flashing any warning signals, either.