From January 2011 through June 2013, US sales of all hybrid and electric vehicles rose from monthly sales of 19,871 to 56,550 according to HybridCars, a 58% CAGR. The number of models actively being sold went from 26 to 52, a 35% CAGR.
During the same time period, the growth of plug in vehicle monthly sales has gone from 345 to 7,446, a CAGR of 2050%, while the number of vehicles has gone from two (Chevy Volt and Nissan Leaf), to 12, a CAGR of "only" 500%.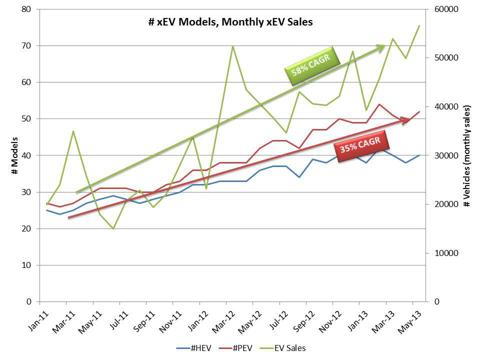 The total take rate (% of US car sales) has gone from 2.2% to 4.0%, an 80% increase. If the trend continues, then in 2015 EVs will account for over 7% of all auto sales in the USA. My bet is that if the economy heats up and gas prices increase, this may even accelerate.
The fact that the sales growth is outstripping vehicle introductions bodes well for the established players Tesla Motors (NASDAQ:TSLA), Toyota (NYSE:TM), Ford (NYSE:F), Nissan and General Motors (NYSE:GM). All are planning new model introductions, but it helps to have large and growing sales to begin with.
Additionally, a plug-in vehicle requires a battery 10x bigger than required for a hybrid vehicle. This means the battery requirements for May's 7,446 plug-in vehicles were almost 50% more than that required for the 49,104 hybrid vehicles sold, and makes the CAGR of the batteries requirements for these vehicles a whopping 107%.
Let me repeat this again: the battery requirements for plug-in vehicles is now 50% more than for hybrids, even though the number of vehicles is only 15%. The YOY growth rate for these vehicles is 168%.
A couple of personal perspectives:
NAATBatt Workshop: I helped lead a workshop on battery cost reductions a month ago that had participants from every level of the battery supply chain. As we went through the workshop, it became overwhelmingly clear that the cost of batteries for electric vehicles would be reduced by over 50% with no advances required in technology, but only by filling up the huge plants that have already been built. There is no reason for vehicle batteries to cost 2.5x what laptop batteries do, other than that they haven't reached scale yet. When they do, the battery cost will come down, and so will the cost of the vehicles, which will accelerate the acceptance.
Chinese Battery Market: I just returned from a ten day trip to China in which I visited people at many levels of battery production, including investors, battery manufacturers, people responsible for sales and marketing into the battery industry, government labs and government officials who have an interest in the battery industry. A few initial trends:
Material costs will come down at all levels of the industry, including the commodity cylindrical cells as well as automotive cells. Cost reductions of 50-75% are being offered today at low quality--when the quality improves, they will be adopted.
Large battery manufacturers are already beginning to adopt local Chinese produced materials, a trend change from what was largely an import market.
The best Chinese battery manufacturers have both design and quality that rival the best in the world. And they are very well funded.
There is a lot of raw information here. In future posts, I'll parse this for vehicle OEMs, for battery manufacturers, and for material suppliers, and give suggestions for pure-play stock picks as well as good portfolio participants. Here's a preview:
Vehicle manufacturers will see this become a large, profitable segment--think trucks, SUVs, and minivans, each in their heyday. Long stocks are General Motors, Ford and Toyota and the pure play Tesla.
Battery manufacturers will see further consolidation as the weaker players fail. Big suppliers will win, because nobody is going to take the risk of being another Fisker, unable to deliver vehicles because of faulty or unavailable batteries. Long are Johnson Controls (NYSE:JCI), Magna (NYSE:MGA) and Dow (NYSE:DOW) through their joint venture with Kokam. A bet on the mild-hybrid segment would include Maxwell Technologies (NASDAQ:MXWL) and perhaps Johnson Controls.
Material suppliers may have the most to gain, but be difficult investments because most are large conglomerates where the battery position is a small portion of their sales. One exception is Polypore (NYSE:PPO), on which I wrote a previous post.
Disclosure: I have no positions in any stocks mentioned, and no plans to initiate any positions within the next 72 hours. I wrote this article myself, and it expresses my own opinions. I am not receiving compensation for it (other than from Seeking Alpha). I have no business relationship with any company whose stock is mentioned in this article.