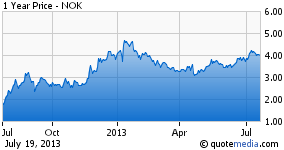 The last time we discussed the prospects of Nokia (NYSE:NOK), I compared the company's recovery potential to that of BlackBerry (NASDAQ:BBRY) and asked which of the two beleaguered tech giants would die first. Given my lack of trust in Nokia's management and what I then perceived to be Nokia's "all or nothing" attitude in its commitment to be powered by Microsoft's (NASDAQ:MSFT) Windows Phone OS, I was convinced Nokia would be the first to be killed off. Today, however, with the earnings reports of both companies in hand, I'm willing to reconsider.
Before we continue, I need to first point out that I don't have an investment interest in either Nokia or BlackBerry. I'm just drawn by two perfect examples of survival of the fittest. And both companies, regardless of their future from this point forward, will be studied in business schools for many years to come. They will become case studies for what happens when mediocre management and misguided goals cross paths with contentment.
I don't anticipate that some of these words will be appreciated by either camp, but they need to be said. Interestingly, though, after I've been accused of having been "too hard" on Nokia by some fellow authors, I am now coming to the company's defense from these same writers. Today, they are saying that Nokia's earnings were no better than "blah" - whatever that means. But I disagree.
Look, my record shows that I have not been Stephen Elop's biggest supporter. I'm not going to pretend that I'm suddenly raising the pom-poms on his behalf. But I also understand the deficits that this company has been working with - self-inflicted or otherwise - it doesn't matter. Nevertheless, Nokia deserves credit for the magnitude of its improvements.
I won't argue that Nokia's handset business were a bit light on the volume side. And I will grant that the 10% miss on the smartphone and the decline in the feature phone unit were both under my projected model. But let's not pretend that based on Nokia's first-quarter numbers, which were brutal, that the Street's second-quarter expectations weren't too high.
To that end, Samsung's weak report and BlackBerry's first-quarter miss should have also predicted what was likely to come for Nokia. Let's not also forget that even though BlackBerry's overall revenue was up 9% year over year, the company still disappointed the Street by as much as 50%. This is while telling investors that it will no longer disclose unit shipment or service subscriber numbers as its flagship BB10 phones that failed to gain any traction.
By contrast, Nokia's flagship Lumia line exceeded expectations. While the Street focused on the 4% drop in mobile phone revenue, many are discounting the 32% increase in Lumia sales, which indicated that Nokia is indeed stealing market share from BlackBerry. This is even with the slight miss in Lumia volumes.
What this means is that the marketing effort that Nokia invested in Lumia is paying dividends. Meanwhile, BlackBerry, which has pumped BB10 for nearly two years, refuse to admit what the Street already knows - the BB10 launch and any associated marketing effort was a disaster. While Nokia's overall revenue numbers were not overly flattering, they were nonetheless good enough.
What's more, Nokia's earnings have to be taken in greater context of what the company is trying to do and where it's heading. If it sounds odd that I've suddenly become so supportive, it shouldn't. If you've read my previous articles, the company is slowly building out precisely what I've asked for management to do.
These were also some of the conditions by which I said I would become bullish. I'm not fully there yet, nor has Nokia arrived. But I do see meaningful progress. And for writers to suggest that the company's earnings report was merely "blah" denotes that expectations were too high or perhaps some don't fully understand where the company is going or from where it came. Either scenario is disappointing.
In terms of the "death race" with BlackBerry, Nokia is far from it. The numbers have been reversed in a span of a couple of months and now show that these two companies are on different trajectories. In the meantime, I expect that both Nokia and BlackBerry will continue to be grouped together. I think its serves investors to be reminded of two things, first, the only guarantee on Wall Street is that a market leader does not hold that title infinitely. Second, it's ok to change your mind.
Disclosure: I have no positions in any stocks mentioned, and no plans to initiate any positions within the next 72 hours. I wrote this article myself, and it expresses my own opinions. I am not receiving compensation for it (other than from Seeking Alpha). I have no business relationship with any company whose stock is mentioned in this article.